Get new ideas on what snacks to serve with hummus as well as other creative ways to eat the creamy dip! These suggestions go well with plain hummus or flavored hummus, like my favorite Pine Nut Hummus.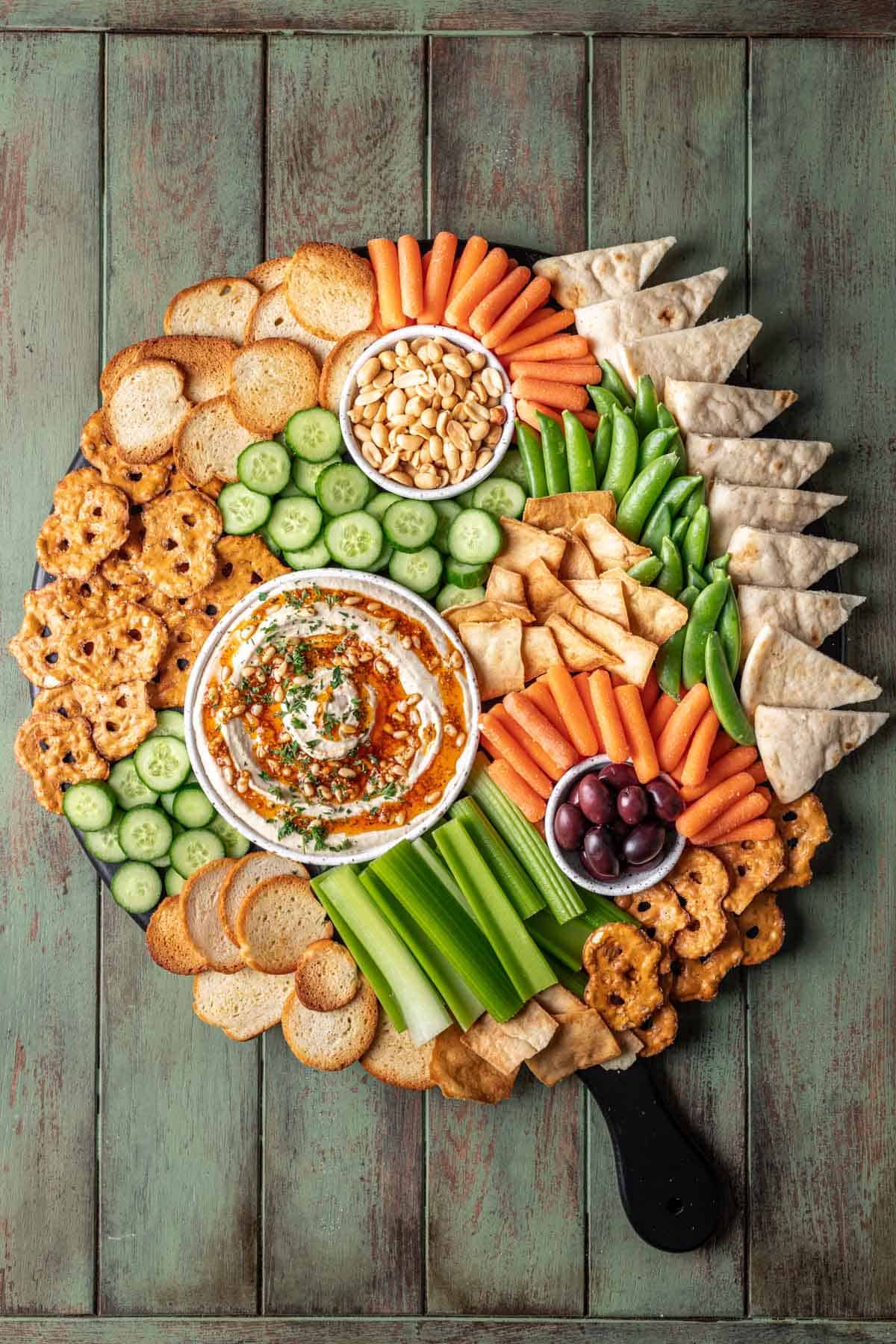 Jump to:
📋 What is hummus?
Hummus is a thick, creamy Middle Eastern dip typically made with a base of garbanzo beans, tahini, lemon juice, garlic, and olive oil. There are many varieties of hummus available today, like my favorite savory Pine Nut Hummus or even sweet, dessert hummuses too.
🛒 Snack Recommendations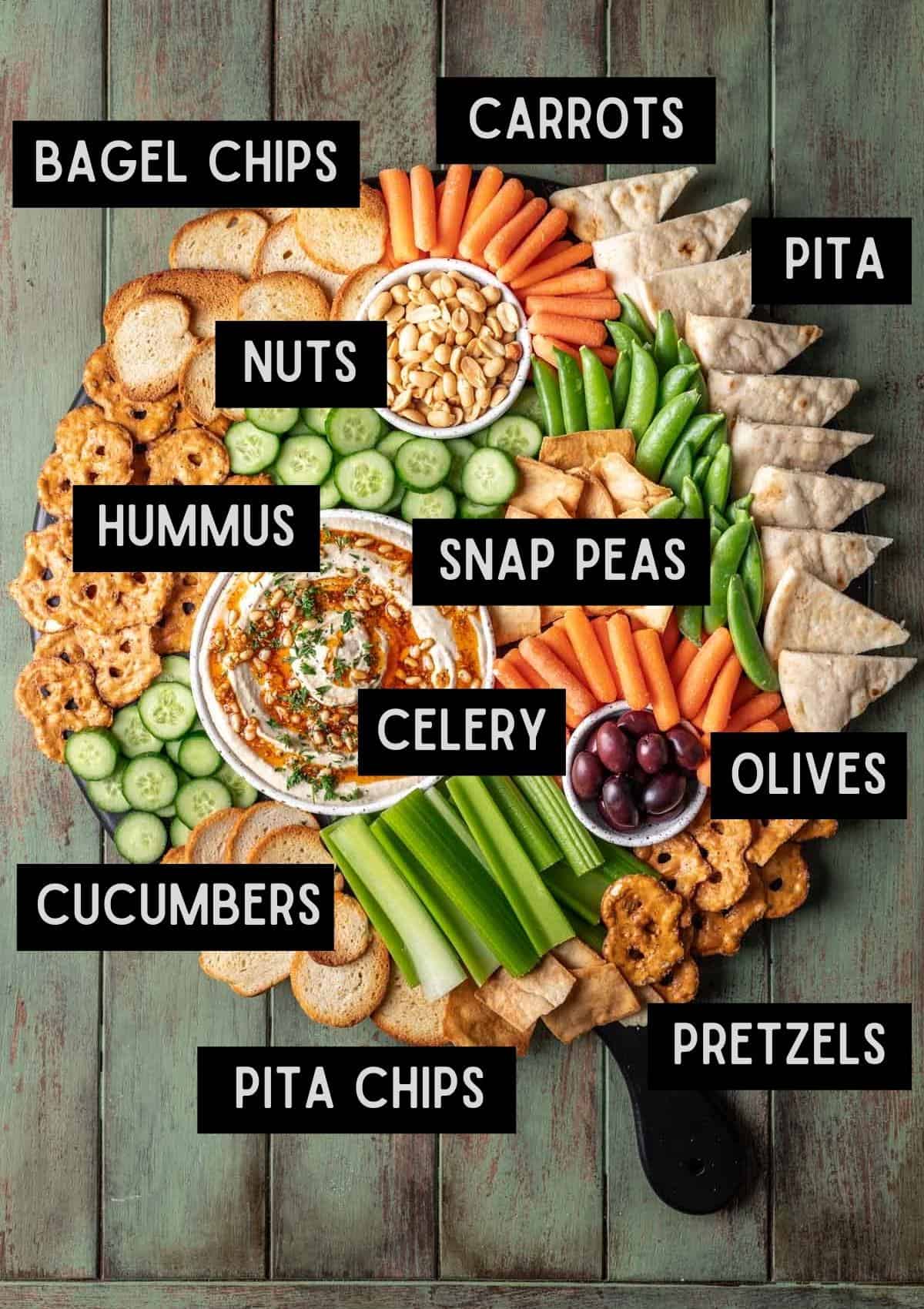 Crackers, bread, and chips - A classic snack to serve with hummus is pita bread or pita chips. They're lightly salted, neutral in flavor, and hearty enough to dip in hummus without breaking or tearing. I also love serving hummus with pretzel chips, bagel chips, or even tortilla chips. Any kind of neutral cracker or chip you have on hand is a great option.
Fresh veggies - Crunchy vegetables are perfect to serve with hummus because they hold their shape and make for great dippers. My favorites are carrot sticks, celery sticks, snap peas, and cucumber slices. You can also try bell pepper slices, radishes, raw broccoli florets, cauliflower florets, and cherry tomatoes!
Nuts - You may not think to serve hummus with nuts, but nuts like peanuts, cashews, pine nuts, and almonds all go well with the creamy dip.
Fruits - Pitted Kalamata olives (technically a fruit!) go great with hummus and any kind of charcuterie board. Even sweet fruits like apple slices and dried fruits go well with savory hummus as a balance of savory and sweet.
Falafel - Another classic to try. Falafel is a Middle Eastern fritter that is made with ground chickpeas, spices, breadcrumbs and deep fried until crispy. This is a great heartier option to serve if you're looking to make your snack board a meal.
❄️ How to Store Cut Fruits and Veggies
If you're planning to serve snacks with hummus for a get together or you're wanting to prep ahead so your family is more likely to eat them throughout the week, follow these steps in advance to make serving quick and easy.
To store cut fruits and vegetables: The most important thing to remember when chopping vegetables ahead of time is that they need to be stored without excess moisture to stay as fresh as possible.

For fruits and cruciferous vegetables like broccoli, cauliflower, carrots, etc., store them submerged in cool water in an airtight container in the refrigerator. This prevents them from oxidizing and becoming soft from condensation.
With softer vegetables like snap peas, bell pepper, and cucumber, cover with a dry paper towel and store in an airtight container in the refrigerator. The paper towel will absorb extra moisture.

It's best to do this 1 to 2 days before eating, but if you'd like them to last even longer, switch out the water/dry towel every couple of days.
🍽 Other Ways to Use Hummus
Although hummus is great for snacking, there are a few other ways to use up a tub of hummus for more variety and flavor.
Spread on toast or a sandwich - Hummus acts as a great, creamy condiment on sandwiches, wraps or even on toast.
As a pasta sauce - Out of marinara or tomato sauce? Try making a pasta sauce using hummus, fresh lemon juice, olive oil and spices.
As a salad dressing - Mix hummus with a bit of water and pour it over your salad. It's surprisingly delicious.
Substitute for greek yogurt - This won't work for every recipe, but substituting greek yogurt with plain hummus is a great way to utilize what you have in your kitchen and works well in sauce recipes.
A mayonnaise substitute - When making sandwiches, wraps, potato salad, egg salad, etc. try replacing the mayo with plain hummus. Similar to the greek yogurt, it won't work in every instance but it's a great option in a pinch.
As a dipping sauce - Ditch the ketchup or BBQ sauce and use hummus as a dipping sauce for your favorite meats, potatoes, or roasted vegetables! I love dipping homemade chicken kofta in hummus.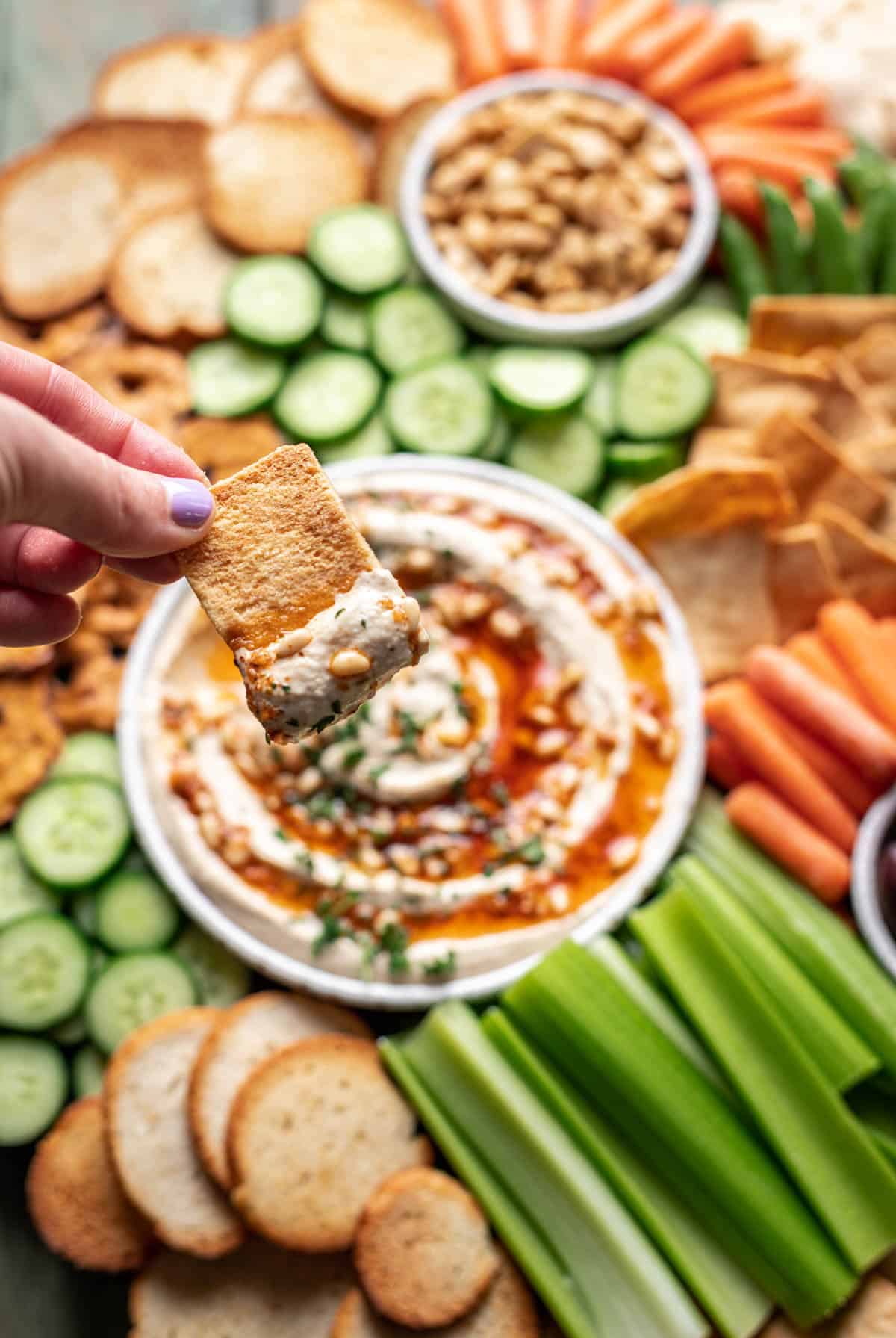 🔍 FAQs
Can hummus be frozen?
Yes, hummus can be frozen, but it is best to do so for shorter periods of time for the most optimal flavor retention (1 to 2 months). If hummus is frozen for extended lengths of time, the flavor and texture can begin to change and not be as fresh and creamy as when it was first made. The oils can also separate, but this can be easily remedied by stirring or even putting it in the food processor or blender until smooth again.
Can hummus be heated?
Yes, hummus can be served warm. If you prefer to serve your vegetables and pita with a hot dip, warm the hummus right before serving.
Where can I find hummus in the grocery store?
Hummus is always found in the refrigerated sections, usually near the pre-made guacamoles, salsa, and sometimes near dairy products like sour cream, yogurt, and cheese.
Can hummus be left out?
It's okay to leave hummus out for short periods of time on a snack board, but leftovers should always be stored in the refrigerator. This is because hummus is made with fresh garbanzo beans and can spoil if left out too long.
💭 One More Tip
Use this post as inspiration - Although I provide measurements for all of my favorite snacks to serve with hummus, don't be afraid to mix it up and utilize what you have at home first!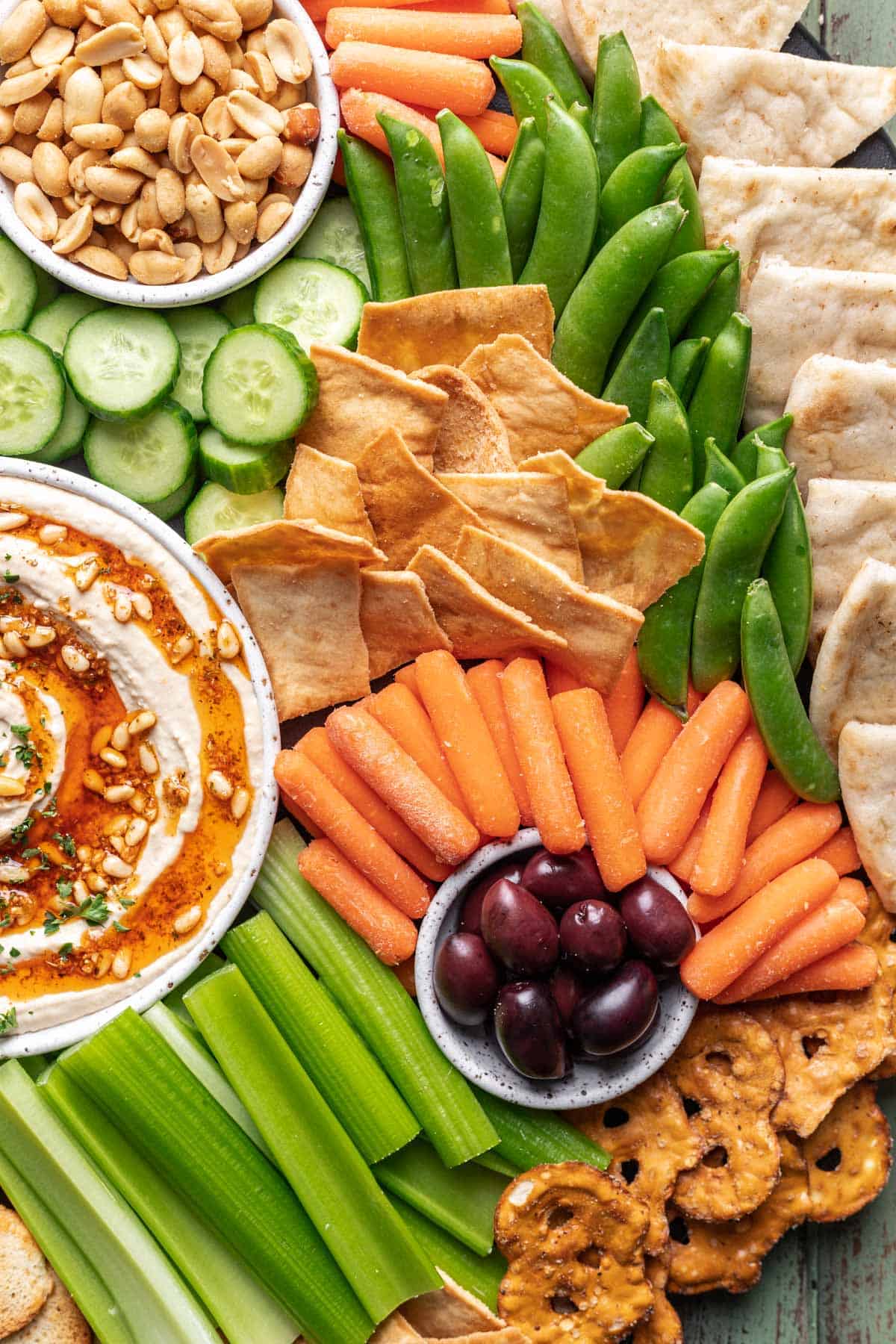 If you found this helpful, I'd love to know! Tag @yourhomemadehealthy on Instagram or leave a comment with a rating and some feedback at the bottom of this page!
🍴 Recipe Ideas
📖 Recipe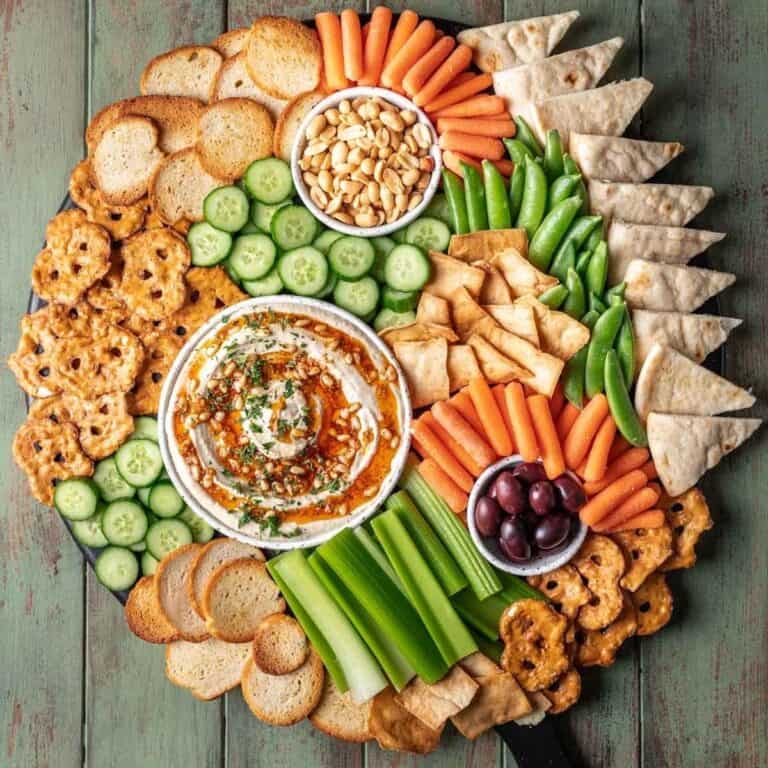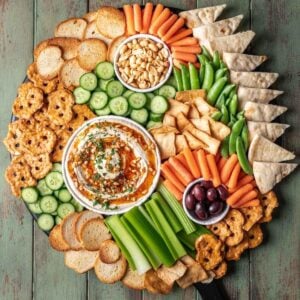 What Snacks to Serve with Hummus
Get new ideas on what snacks to serve with hummus as well as other creative ways to eat the creamy dip! These suggestions go well with plain hummus or flavored hummus, like my favorite Pine Nut Hummus.
Print
Pin
Rate
Ingredients
1

cucumber

½

cup

baby carrots

½

cup

snap peas

5

celery ribs

½

cup

pita chips

2

fresh baked pitas

½

cup

pretzels

½

cup

bagel chips

¼

cup

olives

¼

cup

nuts

2

cups

homemade hummus
Instructions
Prepare all of the snacks by washing and cutting up the fresh vegetables. Warm the pitas and cut them into triangles for dipping.

Arrange snacks on a serving tray or large cutting board to serve along with hummus.
Notes
Make homemade pine nut hummus! It's easy to make, super smooth, extra creamy, and packed full of flavor.
Get creative. Hummus has a fairly simple flavor profile, so feel free to get creative with the snacks you choose to serve with it.
Hummus also pairs great with fresh or roasted vegetables, served as a salad dressing, used as a dipping sauce for meats, or spread on toast topped with other Mediterranean-inspired toppings.
Eat hummus with homemade chicken kofta for a delicious dipping sauce!
Nutrition
Calories:
180
kcal
|
Carbohydrates:
27
g
|
Protein:
5
g
|
Fat:
6
g
|
Saturated Fat:
1
g
|
Polyunsaturated Fat:
1
g
|
Monounsaturated Fat:
2
g
|
Trans Fat:
1
g
|
Sodium:
397
mg
|
Potassium:
148
mg
|
Fiber:
2
g
|
Sugar:
2
g
|
Vitamin A:
1225
IU
|
Vitamin C:
5
mg
|
Calcium:
31
mg
|
Iron:
2
mg
Want to Save this Recipe? Pin it for Later!
Make sure to follow @yourhomemadehealthy for more delicious recipes!
Want more cooking tips like this delivered right to your inbox? Be sure to subscribe above and never miss a thing!