Okay, so, yum! What could be better than perfectly browned, slightly breaded chicken in a thick, flavorful sauce?! And to top it all off, this healthy chicken marsala is made with NO butter, NO cream, and very little flour. Are you wondering how that rich brown sauce gets so creamy (and dreamy!) without any of those extra indulgent ingredients? Well, I'd be lying if I didn't say it's complete and utter magic. But really, it is.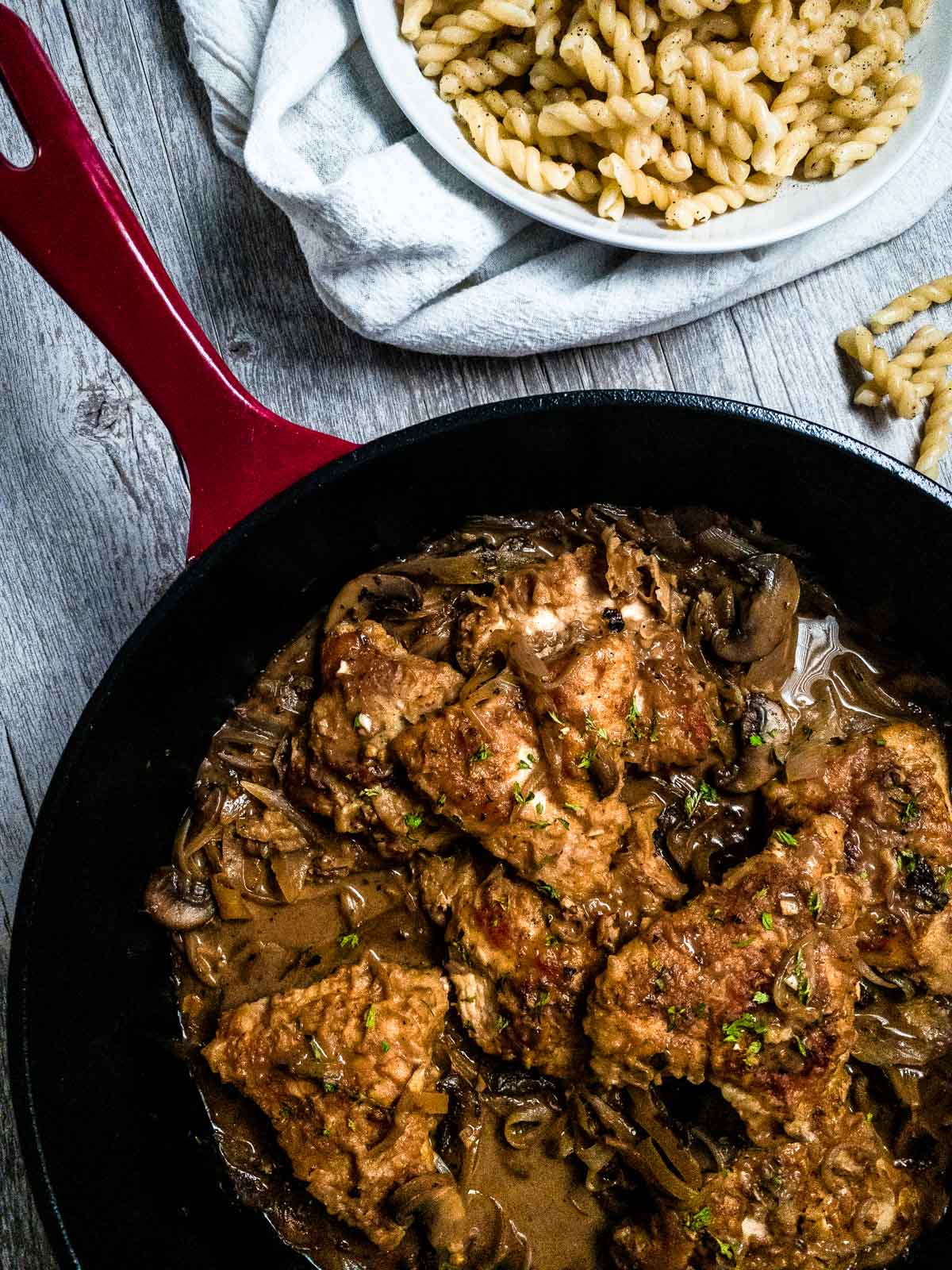 What makes this the absolute best chicken marsala?!
For years, I made chicken marsala with globs of butter, a dash of heavy cream, and so much flour that the breading would fall right off the chicken before I could even pick it up with a fork. I always thought those 3 extra ingredients were the key to that luscious, stick-to-the-chicken sauce.
But man, was I wrong!
This healthy and super easy chicken marsala is one of my all time favorite chicken recipes. It takes plain 'ole boring boneless chicken breasts and turns them into a rich, saucy comfort meal. The flavor is absolutely top-notch. With notes of sweet wine, tangy onions, and robust garlic, you won't even miss the unnecessary butter and cream.
In my family, chicken marsala is a staple. I make it by request almost every time my brother comes into town from Washington DC. It can easily be served as a family dinner or made for a larger party.
Don't let the "cook time" fool you into thinking this recipe is overly complicated. Because actually, most of the time spent "cooking" is just waiting for the sauce to thicken to its coat-the-back-of-a-spoon consistency. Not much time is spent hovering over the stove. Just add your saucey ingredients and stir occasionally until the liquid is sufficiently reduced. Not much active cooking or panicking needed!
Ingredients
Chicken Breasts
Olive Oil
Flour
Salt & Pepper
Yellow Onion
Shallots
Fresh Garlic Cloves
White Button Mushrooms
Dry Marsala Wine
Chicken Broth
Dried parsley, basil, and oregano
A few notes about the ingredients:
Instead of pounding the chicken with a meat mallet, like in other traditional marsala recipes, I usually use kitchen shears to cut my boneless breasts in half widthwise and then again in half lengthwise to create 3 to 4 thin chicken cutlets per breast. By thinning your meat this way, you don't have to fight with the plastic wrap that usually goes between a meat mallet and the chicken. You also don't have to worry about chicken juices flying all over your kitchen from the pounding. The salt and pepper added to the flour coating also helps to tenderize the chicken.
Slice your yellow onion, shallots, and mushrooms into thin strips. I prefer to keep them in strips, instead of dicing them, so that they become a part of the sauce instead of breaking down.
Always use FRESH garlic! I can't stand jarred garlic. It never tastes the same and usually has a briney flavor. Although it might take you a little longer to peel and chop the fresh garlic, the flavor is unmatched. You definitely won't regret it! (if you need further convincing check out this highly educational article on Huffington Post: Why you should never buy minced garlic in a jar again)
How do you make healthy chicken marsala?
Create 3 to 4 thin chicken cutlets per breast by either cutting them with kitchen shears or pounding them with a meat mallet. Then, combine the flour, salt, and pepper.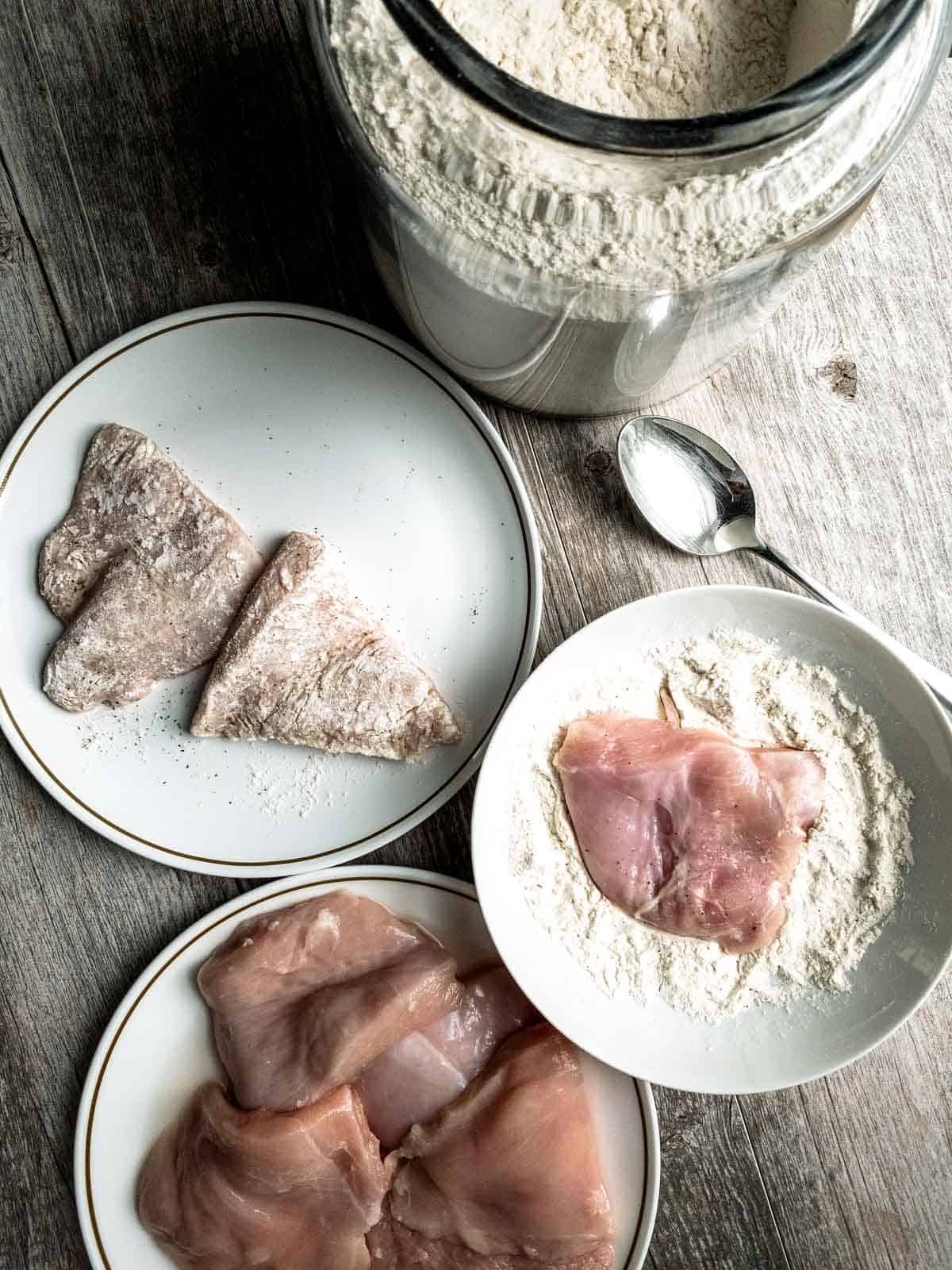 Make sure to coat your chicken in the flour right before adding it to your hot olive oil so it crisps up well. If the coating sits on the chicken too long, it gets wet and won't brown as well in the oil. To test the heat of the oil, drop the edge of a chicken breast in the pan and see if it sizzles. If it sizzles, your oil is hot enough for the chicken to be added.
Once the chicken is in the pan, try not to touch it or move it around too much so that it can get nice and golden brown. Once your chicken browns, flip it and do the same on the other side.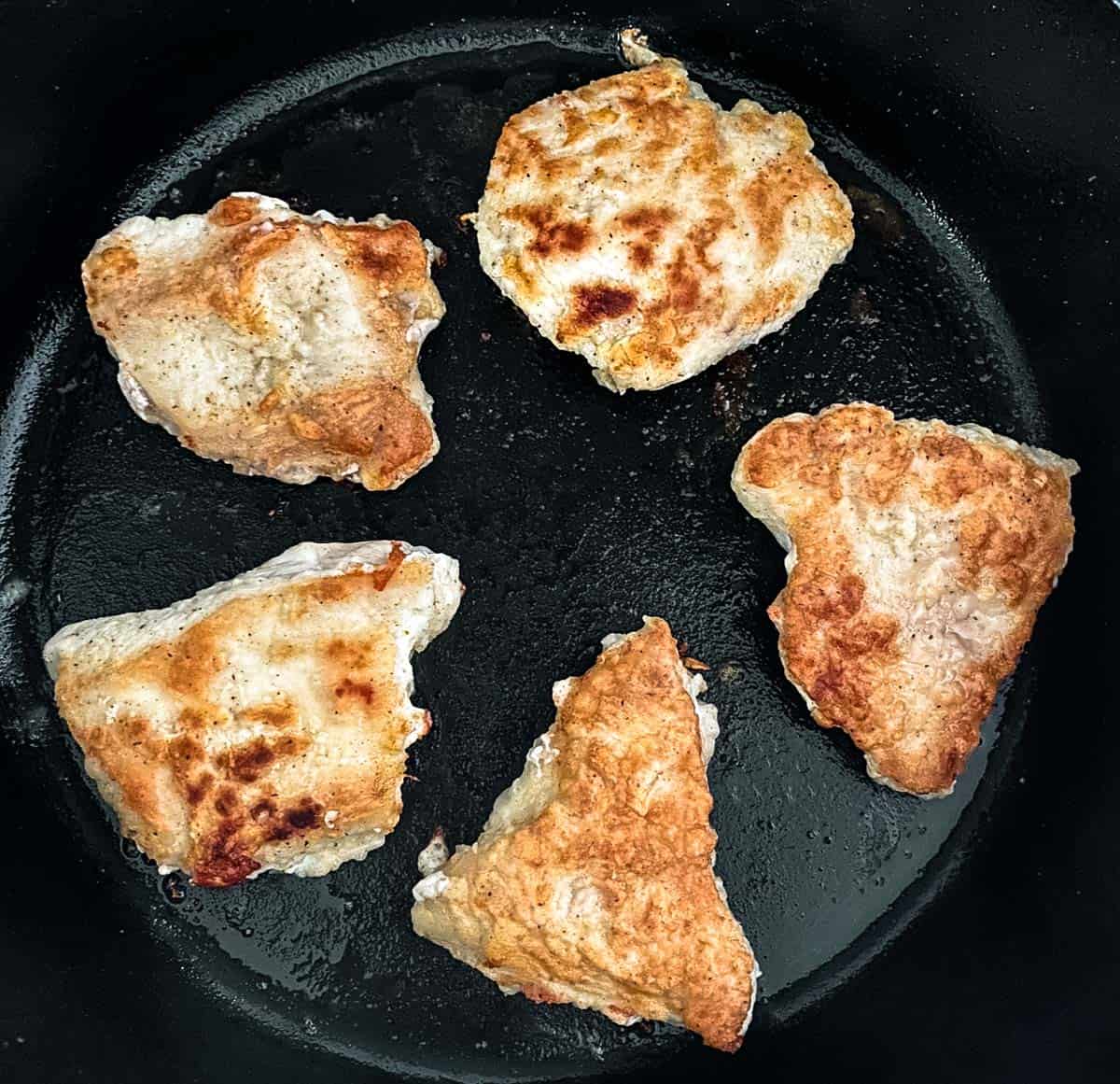 When the chicken is done, take it off the heat and place it on a plate off to the side. Cook all of your chicken cutlets until they're all browned and added to the side plate. Now add your onion, shallots, garlic, and mushrooms to the pan and cook until the onions become translucent and the mushrooms stop giving off moisture. Be sure to stir intermittently so the garlic does not burn.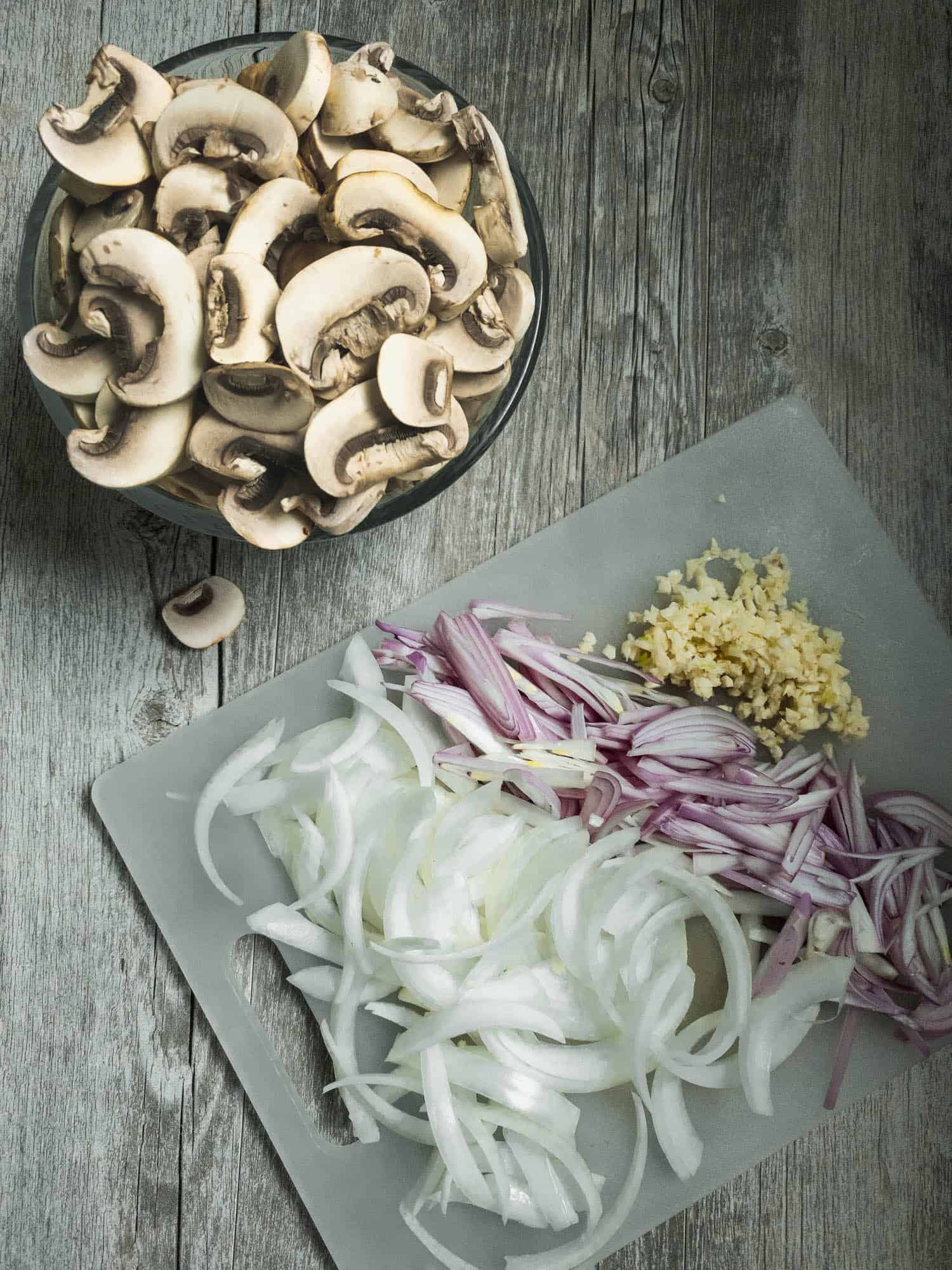 Once the onions, garlic, and mushrooms are cooked through, add in your marsala wine. Cook the wine down until there's barely any left in the pan. The onions and mushrooms will soak up most of its flavor. Add the chicken back to the pan with any juices left on the plate and pour the chicken broth on top. Make sure the chicken is covered in the broth. Simmer it all together for about 10 minutes to cook the chicken through.
When the chicken is no longer pink in the middle or a thermometer inserted into the chicken reaches 165 degrees, take it out of the pan and place it on a serving plate. Season the sauce with the dried parsley, basil, and oregano.
Now here's where the magic comes in:
Turn the heat to medium-high and reduce the sauce until it is a thick rich consistency. Trust me, with patience, that thin liquid will magically turn into a velvety smooth sauce. When the sauce is done, you should be able to place the back of a spoon into the sauce and see it slowly run down it. If you run your finger through the dripping sauce on the back of the spoon, your finger should split the sauce in half. When you reach this point, turn off the stove and spoon the sauce on top of the chicken.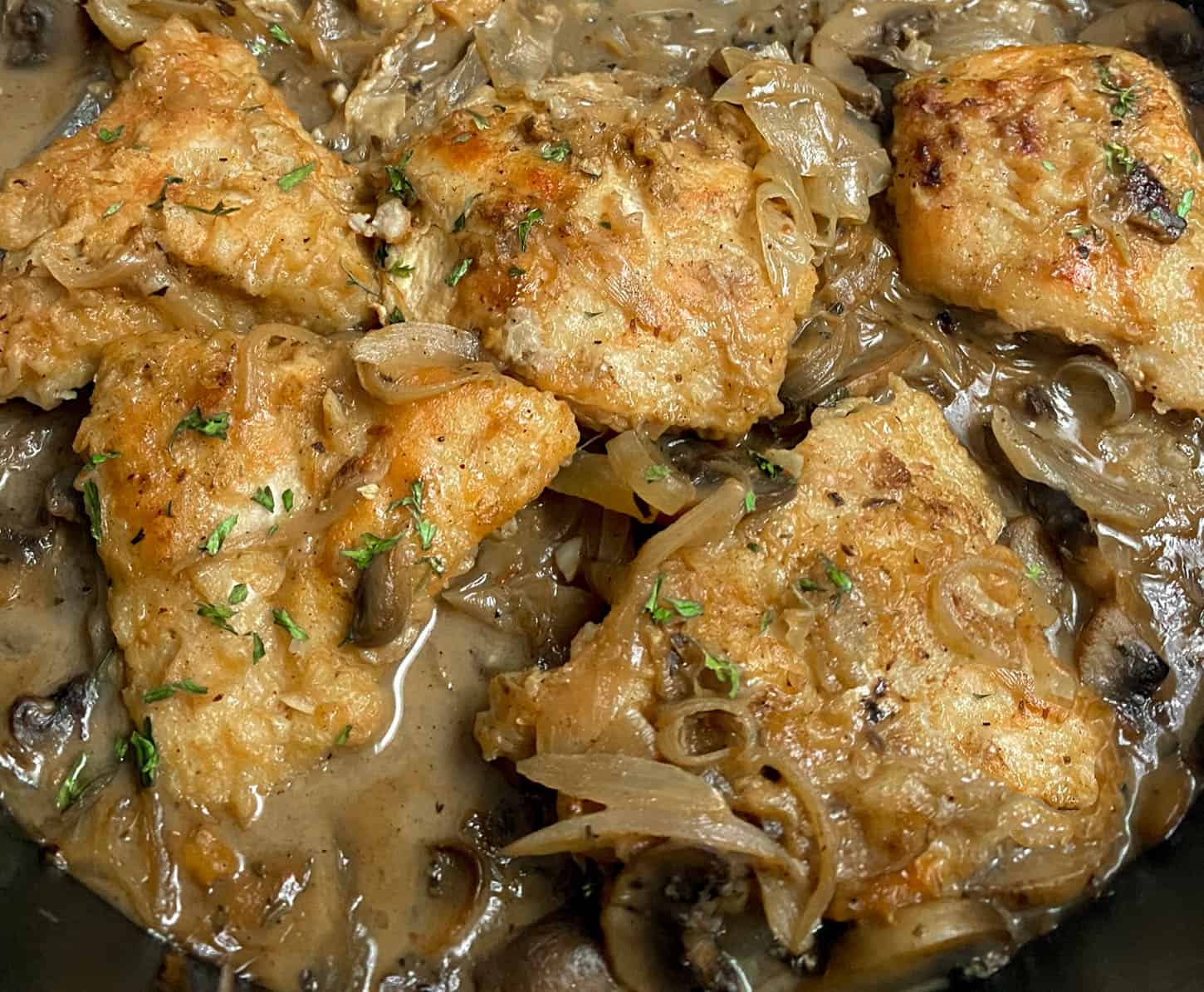 What is chicken marsala served with?
Chicken marsala is traditionally served with pasta. However, you can enjoy this healthy version with any pasta alternatives, like lentil or whole grain pasta, as well as mashed or roasted potatoes. To get your vegetable fix, serve with a side salad or roasted green veggies.
What kind of marsala wine is best for chicken marsala? And, what can I use instead of marsala wine?
There are many different brands of marsala wine, but there are mainly 2 different types-- sweet and dry marsala wine. For this recipe, it is important to use a good, dry marsala wine. The sweet marsala is mainly a dessert wine and will make your sauce way too sweet.
If you don't have marsala wine, you can substitute with madeira wine or sherry. And if you don't have any of those substitutions, you can use a balance between red wine vinegar and grape juice to juggle the acid and the sweet, but the flavor may not be the exact same.
What makes this a healthy recipe?
In order to understand why this recipe is healthy, it is important to familiarize yourself with a typical chicken marsala recipe. Most chicken marsala recipes found at Italian restaurants or advertised as traditional recipes include lots of butter and cream. In addition, the chicken is breaded and deep fried before added to the sauce. Therefore, this recipe lightens things up by excluding butter and cream in the sauce and only adding a light coating of flour right before searing in the hot skillet.
One more tip
You can easily increase the servings of this recipe by adding extra chicken breasts and increasing the amount of saucey ingredients, like the marsala wine and chicken broth, adjusting for the number of guests. Just be sure to cook the breasts in batches so they get golden brown and crisp on both sides. And always-- reduce, reduce, reduce to get that thick undeniably decadent sauce.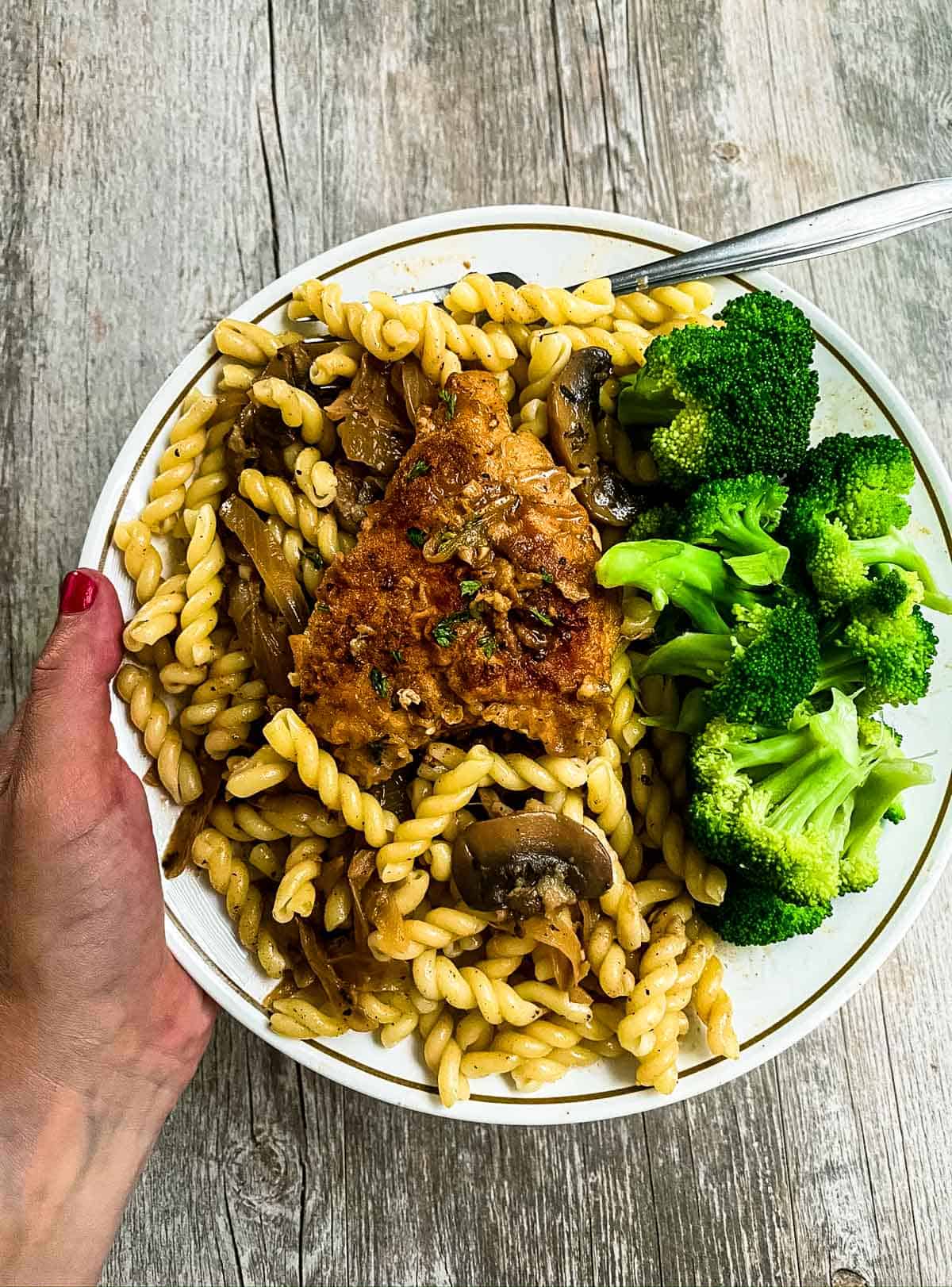 Looking for more healthy recipes?
Try these:
Share your cooking with me! If you make this recipe, I'd love to know! Tag @yourhomemadehealthy on Instagram or leave a comment with a rating and some feedback at the bottom of this page!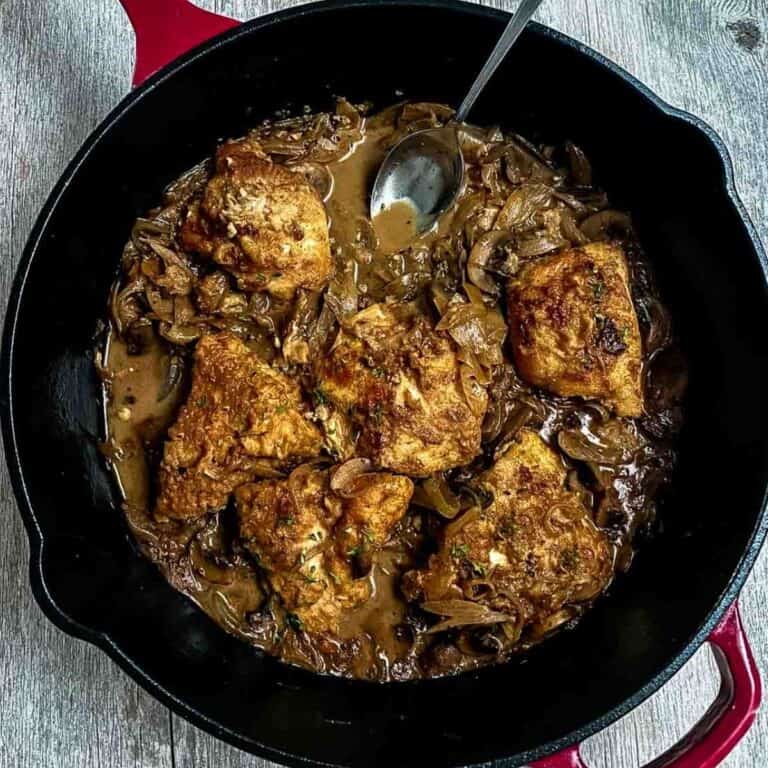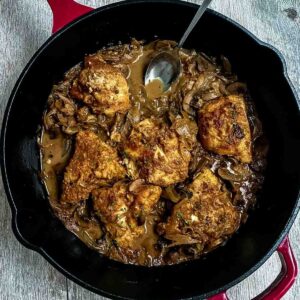 Healthy Chicken Marsala
Chicken Marsala - one of the best chicken recipes! Take plain 'ole boring boneless chicken breasts and turn them into a rich, saucy comfort meal. With notes of sweet wine, tangy onions, and robust garlic, you won't even miss the unnecessary butter and cream in this healthy rendition.
Print
Pin
Rate
Equipment
a large skillet, cast iron pan, or dutch oven
Ingredients
3

chicken breasts (around 2 pounds)

3

tablespoon

olive oil

½

cup

flour

1

teaspoon

salt

½

teaspoon

pepper

1

yellow onion

sliced thin

2

shallots

sliced thin

5

fresh cloves of garlic

minced

10

ounces

white button mushrooms

washed and stems removed, then sliced

2

cups

dry marsala wine

1

can

chicken broth (14.5 ounces)

a

pinch

of dried parsley, oregano, and basil
Instructions
Using kitchen shears, cut chicken breasts in half widthwise, then cut again lengthwise to have about 4 equal sized cutlets per breast*

Heat olive oil in a cast iron pan or skillet over medium heat

Spoon flour, salt, and pepper into a shallow bowl and mix together. Coat each piece of chicken right before placing it into the hot oil. (you might need to do this in batches! Don't overcrowd the pan or the chicken won't get golden brown)

Cook each piece of chicken until it has a golden brown crust, then flip the chicken and do the same on the other side. (try not to move the chicken around too much while it's cooking)

Once the other side is browned, remove chicken from skillet and place it on a clean dish. Put it off to the side and repeat steps 2-5 until all the chicken is browned on both sides.

With the pan still at medium heat, add the sliced onion, shallots, garlic, and mushrooms. Add an additional drizzle of olive oil to prevent sticking if needed and cook until the onions turn translucent and the mushrooms and their juices reduce.

Add in the marsala wine and turn the heat up to medium high. Allow the wine to cook down for about 10 minutes, stirring occasionally, until there is barely any wine left in the pan.

Once the wine has reduced, add the chicken broth and the chicken back into the pan, as well as any drippings left on the plate. Make sure the chicken is covered in the broth and cook the chicken an additional few minutes until cooked through in the center.

Remove the chicken and place on a serving dish.

Season the sauce with a few pinches of the dried parsley, basil, and oregano. Allow the sauce to reduce to your desired thickness (at least 10 minutes for a consistency that sticks to the chicken)

When the sauce is done reducing, pour it over the chicken. Serve with pasta or mashed potatoes.
Notes
*You can also pound the chicken with a meat mallet but I find it easier to just cut equal sized pieces with kitchen shears.
Nutrition
Calories:
387
kcal
|
Carbohydrates:
25
g
|
Protein:
27
g
|
Fat:
10
g
|
Saturated Fat:
2
g
|
Polyunsaturated Fat:
1
g
|
Monounsaturated Fat:
6
g
|
Trans Fat:
1
g
|
Cholesterol:
72
mg
|
Sodium:
714
mg
|
Potassium:
760
mg
|
Fiber:
1
g
|
Sugar:
9
g
|
Vitamin A:
37
IU
|
Vitamin C:
9
mg
|
Calcium:
31
mg
|
Iron:
2
mg
Want to Save this Recipe? Pin it for Later!
Make sure to follow @yourhomemadehealthy for more delicious recipes!
Want more recipes like this delivered right to your inbox? Be sure to subscribe below and never miss a thing!