This Coconut Lime Rice is soft and fluffy. The perfect balance of sweet and savory. Pair it with my Sweet and Sour Pineapple Chicken Meatballs or Grilled Shrimp and your favorite vegetables. Cook it tonight in just about 30 minutes for a quick and easy homemade dinner.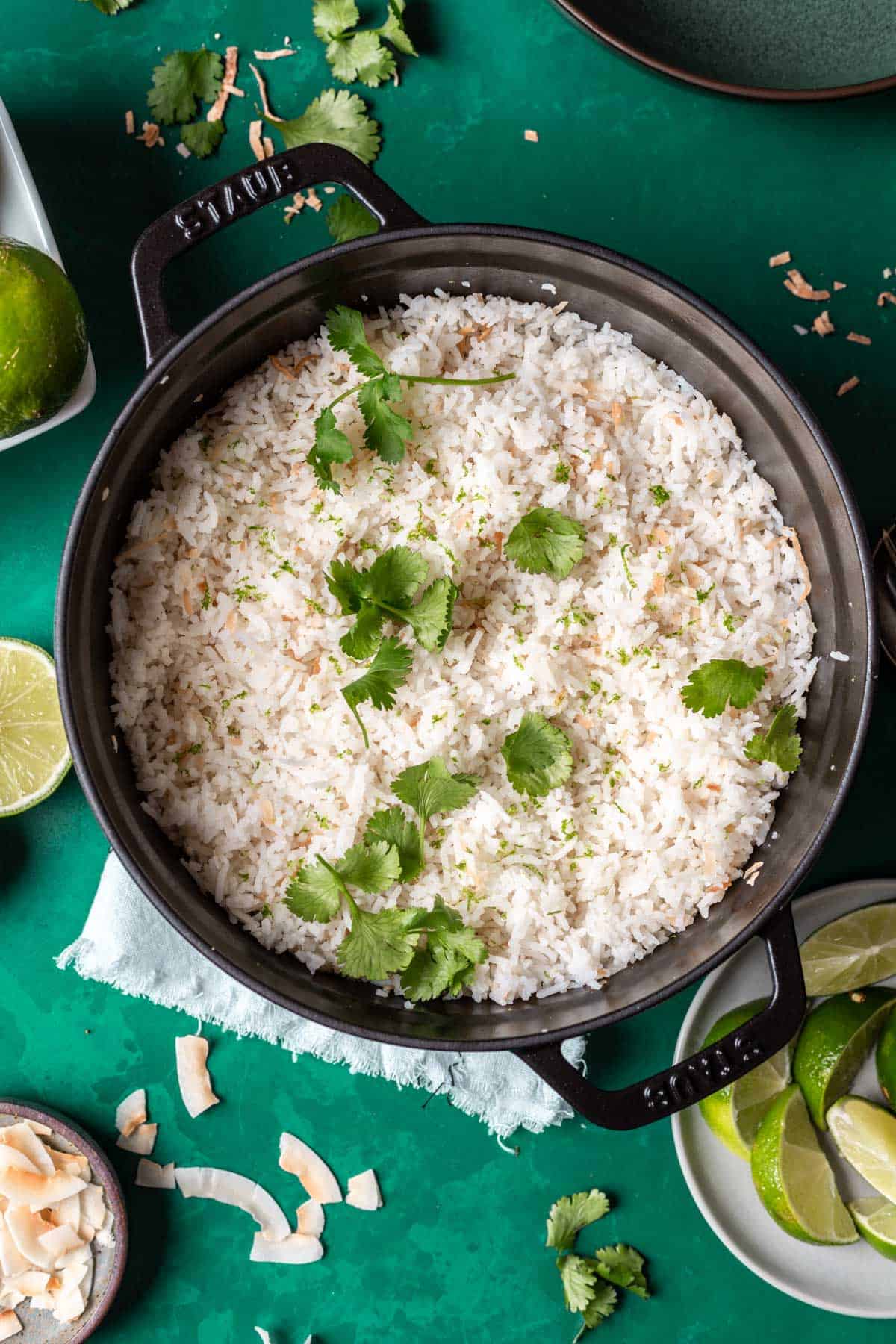 Jump to:
📋 About the Recipe
Rich and creamy. Similar to my popular Risotto and Sushi rice, this coconut lime rice is soft, fluffy, and flavor packed. Making rice from scratch is worth the creamy, flavorful results.
Versatile. This coconut lime rice pairs perfectly with several proteins to make for a complete meal. Try serving with chicken, fish and other seafood, or marinated meats.
Perfect for healthy weeknight dinners. This homemade rice comes together in less than 30 minutes and is made with ingredients you likely always have on hand in the pantry. Great for last minute, quick family dinners.
🛒 Ingredients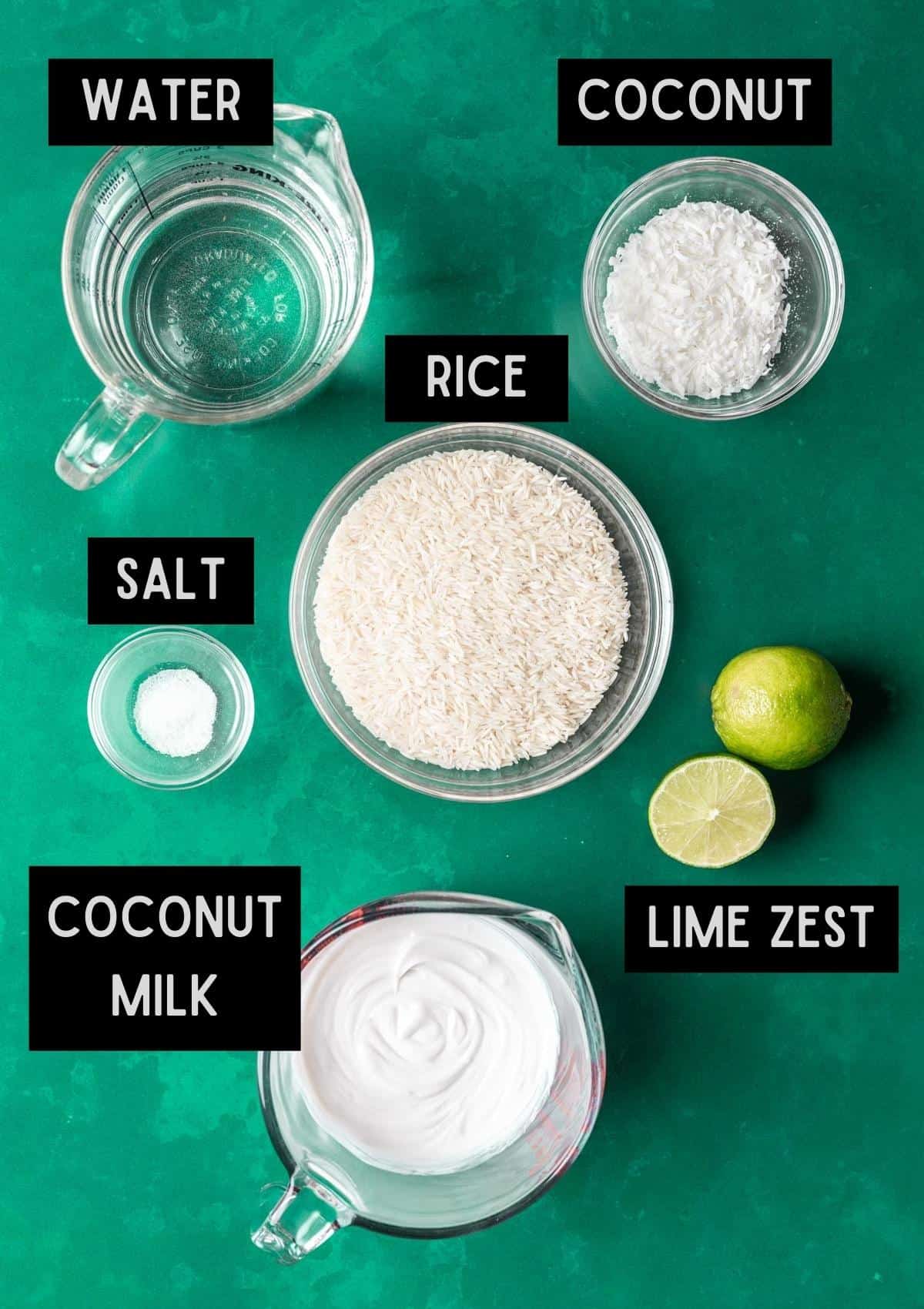 A few notes about the ingredients:
Rice - This coconut lime rice is made with white basmati rice. It's quick cooking, neutral in flavor, and easy to find. You cannot use another rice, like brown rice because that will change the amount of liquid needed and how long the cook time will be.
Coconut - Sweetened shredded coconut perfectly balances the savory and tart flavors in the rice. Shredded coconut can also be called desiccated coconut. Just be sure to use a finely shredded coconut - coconut chips or flakes are too thick and won't mix into the rice nicely.
Unsweetened coconut milk - Coconut milk is sold in a can and is found in baking aisles or sometimes in the International section at the grocery store. Make sure to use unsweetened coconut milk and note that coconut cream is different from coconut milk.
Lime zest - A generous amount of lime zest makes this rice flavorful without being overly tart. I find that zesting two limes makes the perfect amount. Feel free to adjust to your liking.
📓 Instructions
1. Whisk together the coconut milk. When you first open a can of coconut milk, you'll notice a white, thick coconut cream has separated from the coconut water and forms a really thick layer on top of the can. Before adding it to the rice, pour the coconut milk into a pyrex measuring cup or a large bowl and whisk the coconut cream back together with the coconut water to make the coconut milk consistency nice and creamy. This is going to ensure the best fluffy textured rice.
2. Prep the rice. In a large pot over medium heat, mix together the white basmati rice, coconut milk, water, and kosher salt.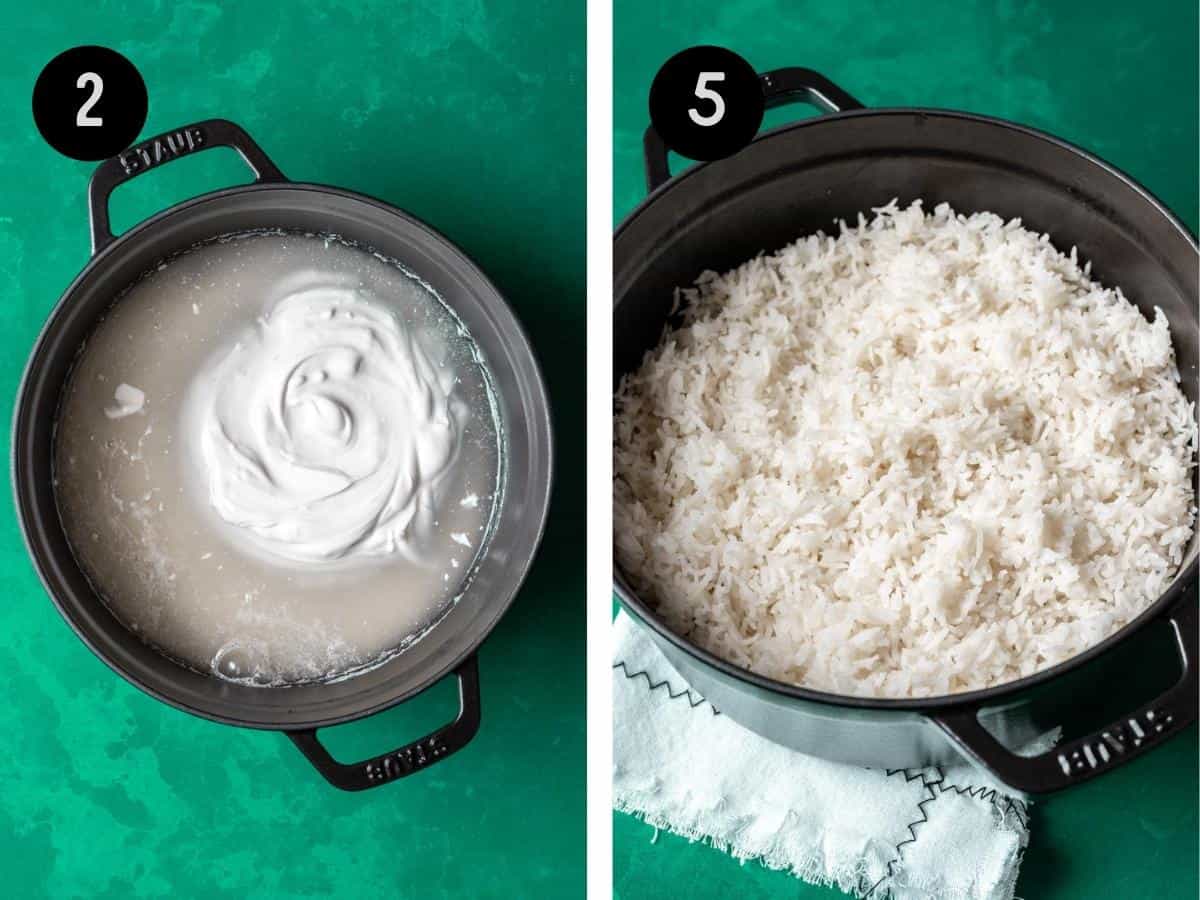 3. Bring to a boil. Once boiling, cover the pot, lower the heat to low heat, and continue simmering the coconut rice for 15 minutes.
4. Toast the coconut. Spread the sweetened shredded coconut in a single layer on a baking sheet and toast in the oven for 5 to 7 minutes, or until the shredded coconut is golden brown. Watch carefully to prevent the coconut from burning.
5. Fluff the rice. Remove the rice from the heat and generously fluff it with a fork, making sure none of the rice is clumped or sticking to the bottom of the pot.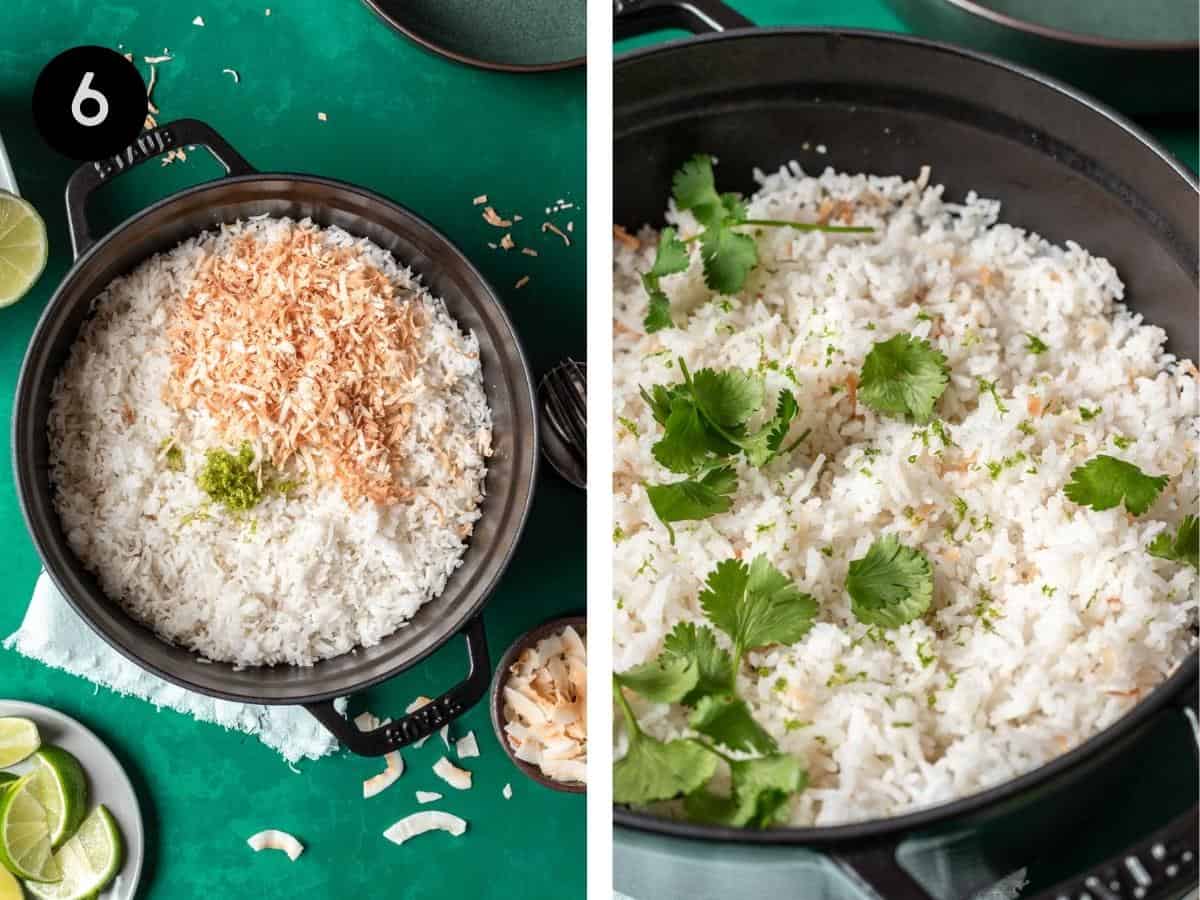 6. Stir in lime zest and toasted shredded coconut.
7. Serve while warm. Garnish with additional shredded coconut, lime zest, and cilantro.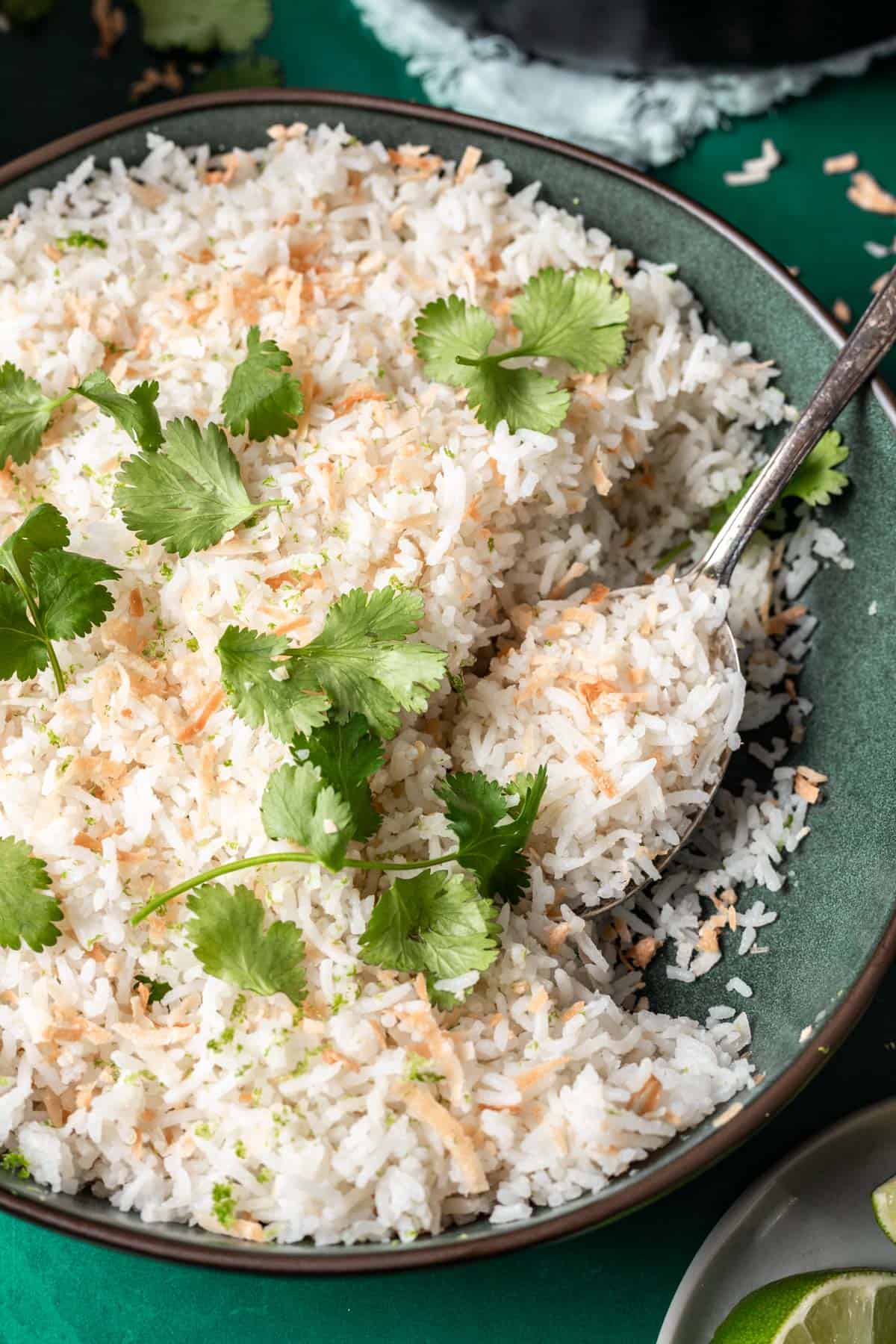 ⁉️ Substitutions and Alterations
For stronger lime flavor: Juice the limes over the rice after cooking in addition to adding the lime zest.
For a rice without added sugar: Although I really recommend making this rice with sweetened shredded coconut to make a balanced sweet and savory rice, you can make this rice with unsweetened shredded coconut, too. It will just be less sweet, but still full of coconut flavor.
❄️ How to Store
To store: This coconut lime rice will keep best stored in an airtight container in the refrigerator for up to 4 days.
To freeze: Freezing this rice is not recommended. Similar to when freezing dairy, frozen coconut milk separates and thaws in a different texture than the original creamy consistency. This can change the consistency of the rice and is not going to preserve the soft and fluffy texture of the rice.
To reheat: The best way to reheat rice is to add some of that moisture back into it before reheating. For every cup of coconut lime rice you are reheating add 1 ½ tablespoons of water or coconut milk and cover the rice with a microwave safe lid and reheat in 30 second intervals until hot and fluffy.
🔍 FAQs
Can rice be left out overnight?
Cooked rice should not be left out for longer than 1 hour. When left out for long periods of time, rice can quickly begin to grow bacteria and is a common source of food poisoning. If you have accidentally left your rice out overnight, it is best to throw it out.
Do I have to rinse the rice before cooking?
Yes, rinsing the rice before cooking is a good idea for a number of reasons. For one, it helps remove any dirt and debris. It also helps remove excess starches from the rice and will improve the texture of the rice by preventing it from clumping together.
Why did my rice turn out mushy?
If your coconut lime rice has turned mushy, this is the result of overcooked rice. This can happen if you have added too much liquid to the rice or if you boil it for too long. Make sure to measure liquids carefully and keep a close eye on the rice while it cooks.
💭 One More Tip
Make sure to fluff the rice with a fork after cooking. If you try to fluff the rice with a spoon or serving utensil, it will smash the rice and make the rice gummy in texture.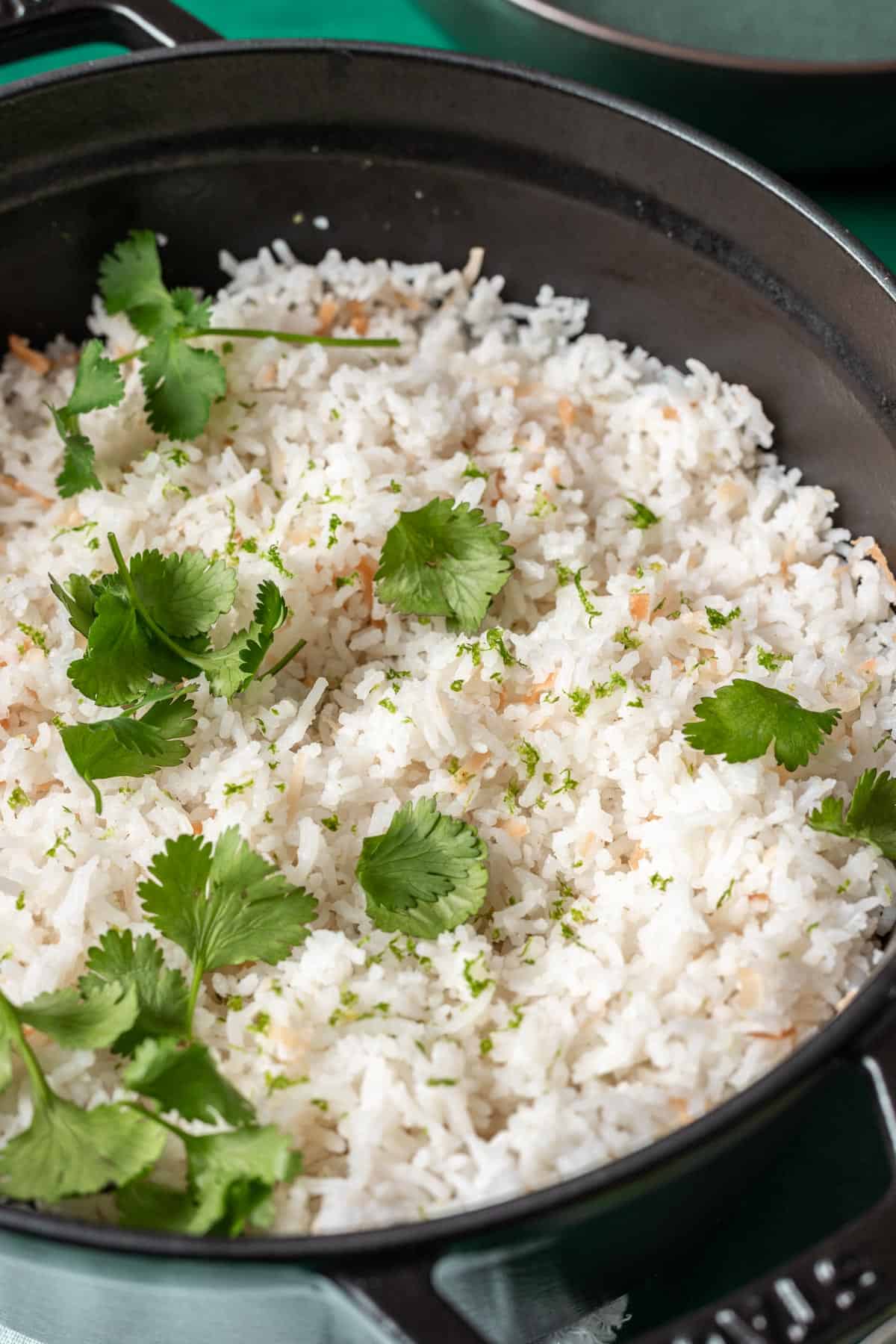 🍴 Related Recipes
Share your cooking with me! If you make this recipe, I'd love to know! Tag @yourhomemadehealthy on Instagram or leave a comment with a rating and some feedback at the bottom of this page!
📖 Recipe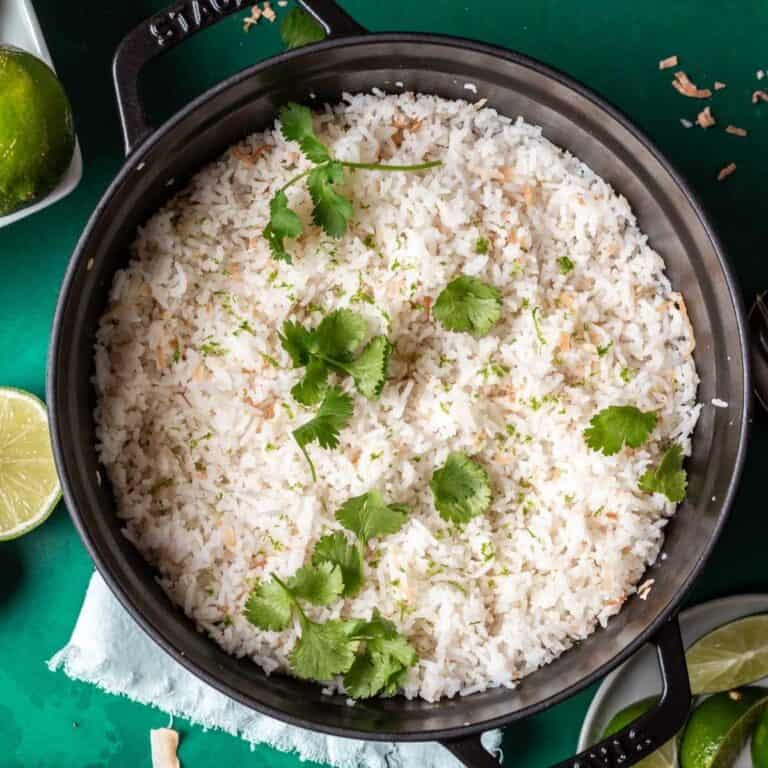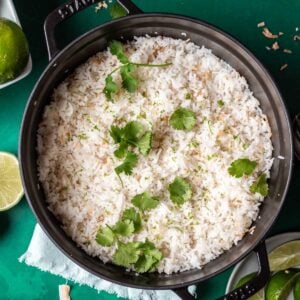 Coconut Lime Rice
Coconut Lime Rice is soft and fluffy. The perfect balance of sweet and savory. Pair it with chicken, seafood, or your favorite vegetables. Cook it tonight in just about 30 minutes for a quick and easy homemade dinner!
Print
Pin
Rate
Ingredients
2

cups

white basmati rice

rinsed

13.66

ounces

canned unsweetened coconut milk (about 1 ½ cups)

2 ⅔

cups

water

½

teaspoon

kosher salt

½

cup

sweetened flaked coconut

2

teaspoons

lime zest (from about 2 limes)
Instructions
Pour coconut milk into a measuring cup. Whisk to combine solids with the liquids from the can.

Add rice, coconut milk, water, and salt to a large pot. Set on the stove over medium heat.

Bring to a boil. Cover the pot, turn heat to low, and simmer for 15 minutes.

To toast coconut: Preheat oven to 325 degrees F. Sprinkle coconut in a single layer over a sheet pan. Toast in the oven until lightly golden brown, about 5 to 7 minutes. Watch carefully so it does not burn.

Remove rice from heat and fluff with a fork.

Stir lime zest and shredded coconut into rice. Serve warm garnished with additional toasted coconut and chopped cilantro.
Notes
Make sure to combine the solids and liquids from the can of coconut milk. This will ensure a smoother, fluffier texture of rice.
I like to use sweetened coconut flakes for a slightly sweet and savory taste. Toasting the coconut also adds a more nutty, coconut flavor. You can also use unsweetened coconut, but the flavor may be a bit more subtle.
For additional lime flavor, juice the limes over the rice after it's done cooking.
Nutrition
Calories:
406
kcal
|
Carbohydrates:
57
g
|
Protein:
6
g
|
Fat:
18
g
|
Saturated Fat:
16
g
|
Polyunsaturated Fat:
1
g
|
Monounsaturated Fat:
1
g
|
Sodium:
232
mg
|
Potassium:
267
mg
|
Fiber:
3
g
|
Sugar:
5
g
|
Vitamin A:
1
IU
|
Vitamin C:
2
mg
|
Calcium:
32
mg
|
Iron:
2
mg
Want to Save this Recipe? Pin it for Later!
Make sure to follow @yourhomemadehealthy for more delicious recipes!
Want more recipes like this delivered right to your inbox? Be sure to subscribe above and never miss a thing!