This Smoked Salmon Risotto is the perfect dish to make when you're craving a decadent meal at home. Creamy, buttery Arborio rice paired with the mild smokey flavor from hickory smoked salmon is unbelievably flavorful and delicious! Enjoy this upscale Italian favorite in the comfort of your kitchen in less than an hour.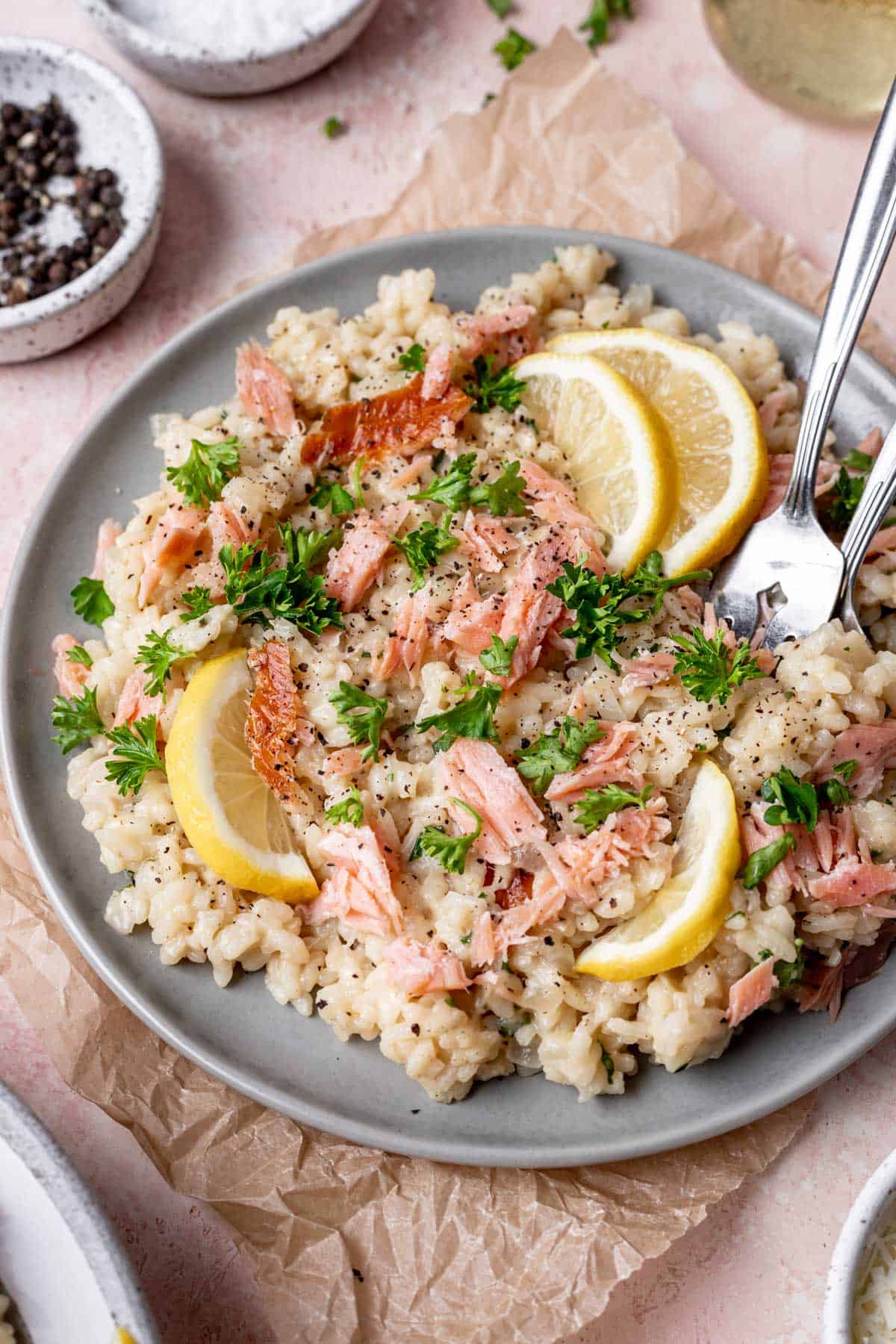 Jump to:
📋 About the Recipe
It's made with simple ingredients. Although risotto is prepared in a very specific manner, it's made with easy ingredients - many of which are likely in your fridge and pantry right now!
Achieves restaurant quality flavor and texture. The best part of risotto is the unbelievably creamy, rich flavor of the rice. With a little patience and care, you can have this same decadent flavor at home for a fraction of the cost.
Uses store-bought honey smoked salmon. This cuts down on prep time and makes this recipe easier to make. Just make sure to purchase high-quality smoked salmon for the best flavor!
Includes step by step photos to help you make risotto perfectly at home. A lot of people are intimidated by making risotto, but don't be! I've included process photos with this recipe to help you visualize how your risotto should look every step of the way.
🛒 Ingredients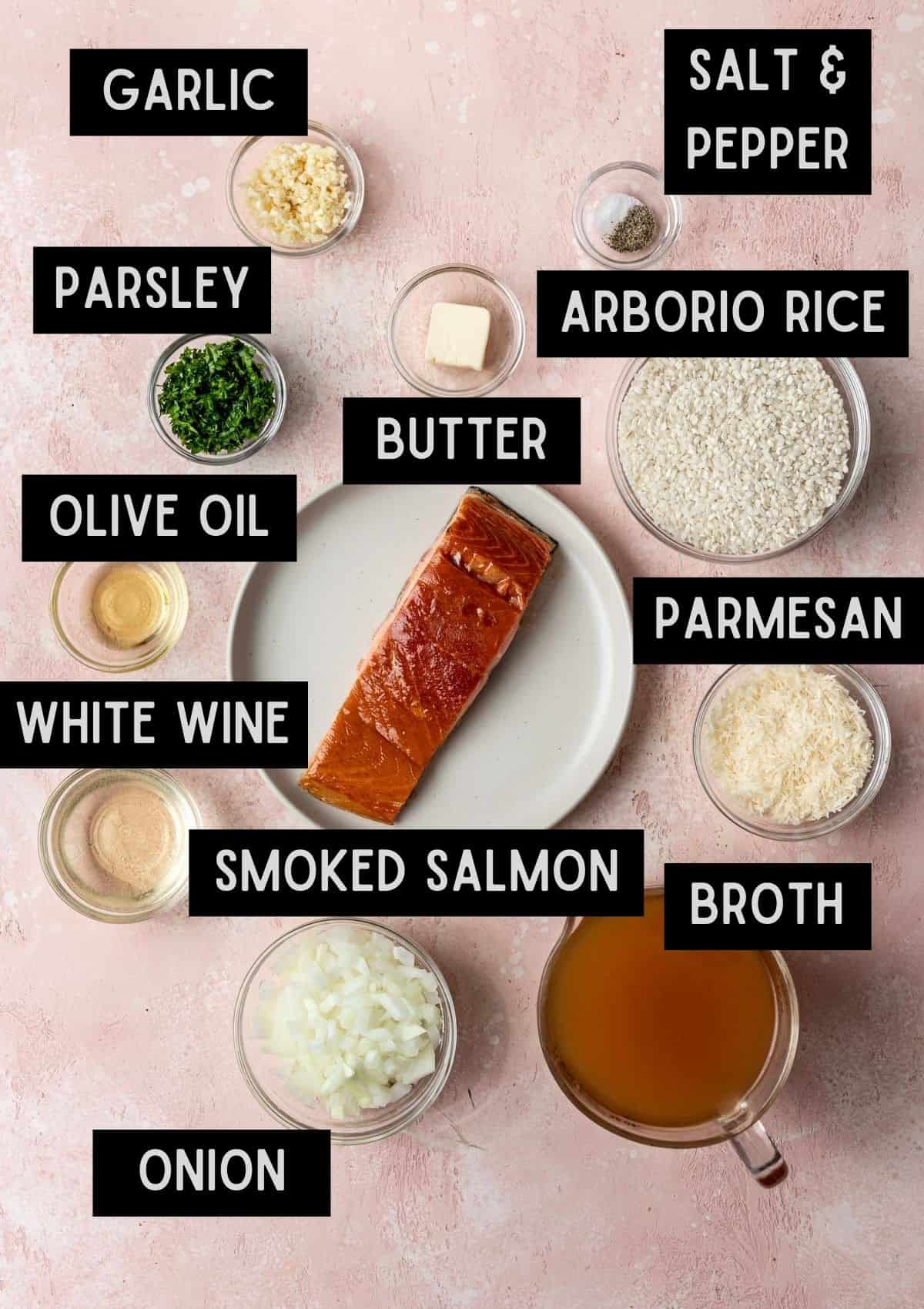 A few notes about the ingredients:
Smoked salmon - As previously noted, I like to use a store-bought honey smoked salmon. It's sweet, smokey, and simply makes the risotto dish come together in less steps. If you prefer to smoke your salmon at home, you can do that, too! Just make sure to serve the smoked salmon over the risotto while hot!
Arborio rice - Arborio rice is an Italian short-grained rice and is necessary for making homemade risotto because of it's high starch content. I do not recommend substituting with any other type of rice. You can typically find Arborio rice in large grocery stores near the other kinds of rice.
White wine - Dry white wine is essential as it adds acidity and balances the richness of the risotto with a crisp, bright flavor. I recommend Pinot Grigio or Sauvignon Blanc.
Broth - Low sodium chicken broth is going to add the most flavor to this risotto dish, but you can also use low sodium vegetable broth, if needed.
Parmesan - Fresh parmesan cheese is used in traditional risotto as it makes it extra creamy, salty and savory. I highly recommend using a block of parmesan and shredding it yourself. Pre-shredded parmesan is made with additional preservatives to prevent it from sticking together in the bag and will not melt the same.
📓 Instructions
In a separate stockpot, warm the broth over medium-low heat until simmering. It is essential to keep the broth at a low simmer while making risotto because the hot temperature is going to help the Arborio rice release it's starches and make the risotto nice and creamy.
In a large skillet, melt the butter and olive oil together.
Once melted, add the diced onion, stirring frequently for 2-3 minutes until tender and fragrant.
Stir in the garlic and cook another minute.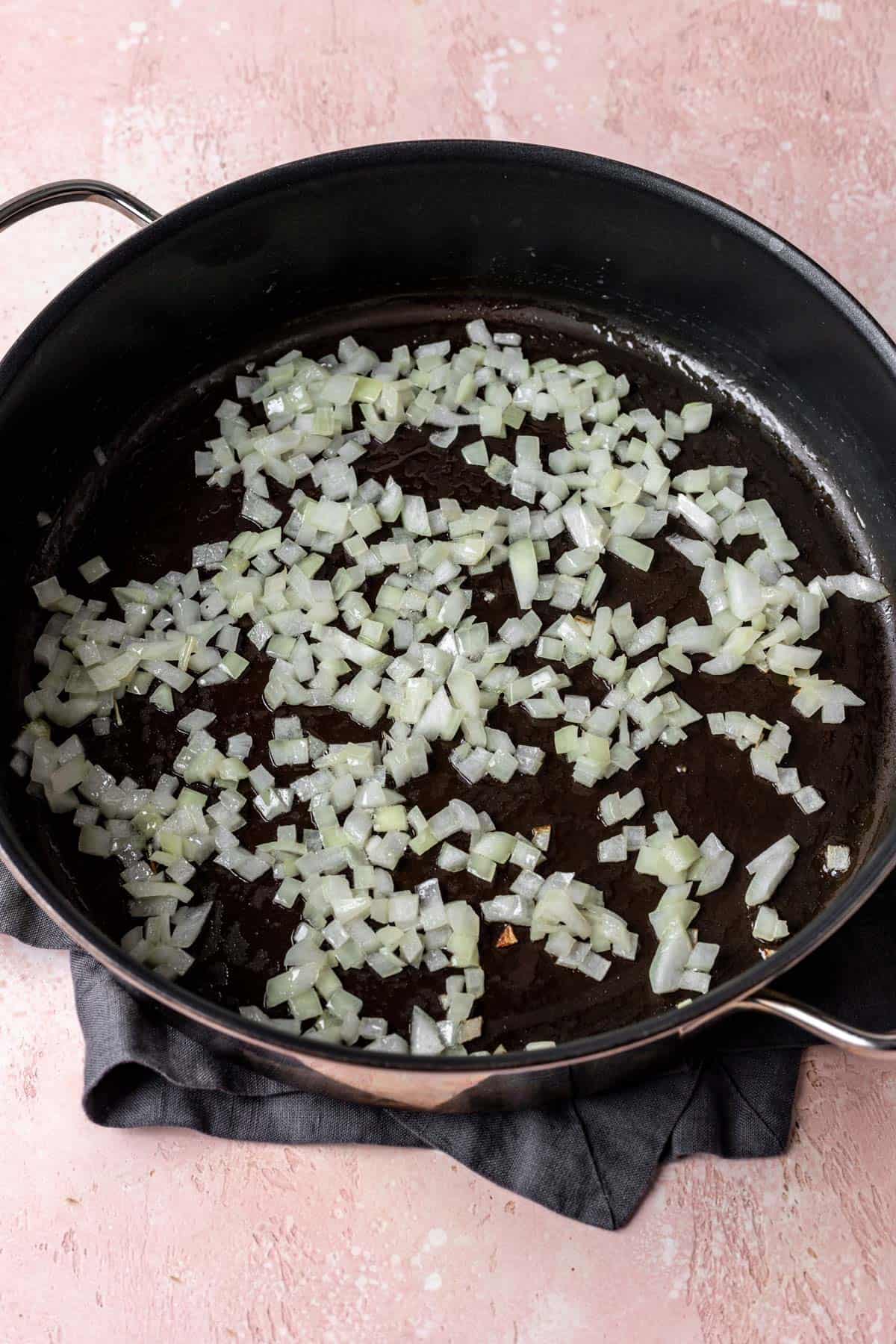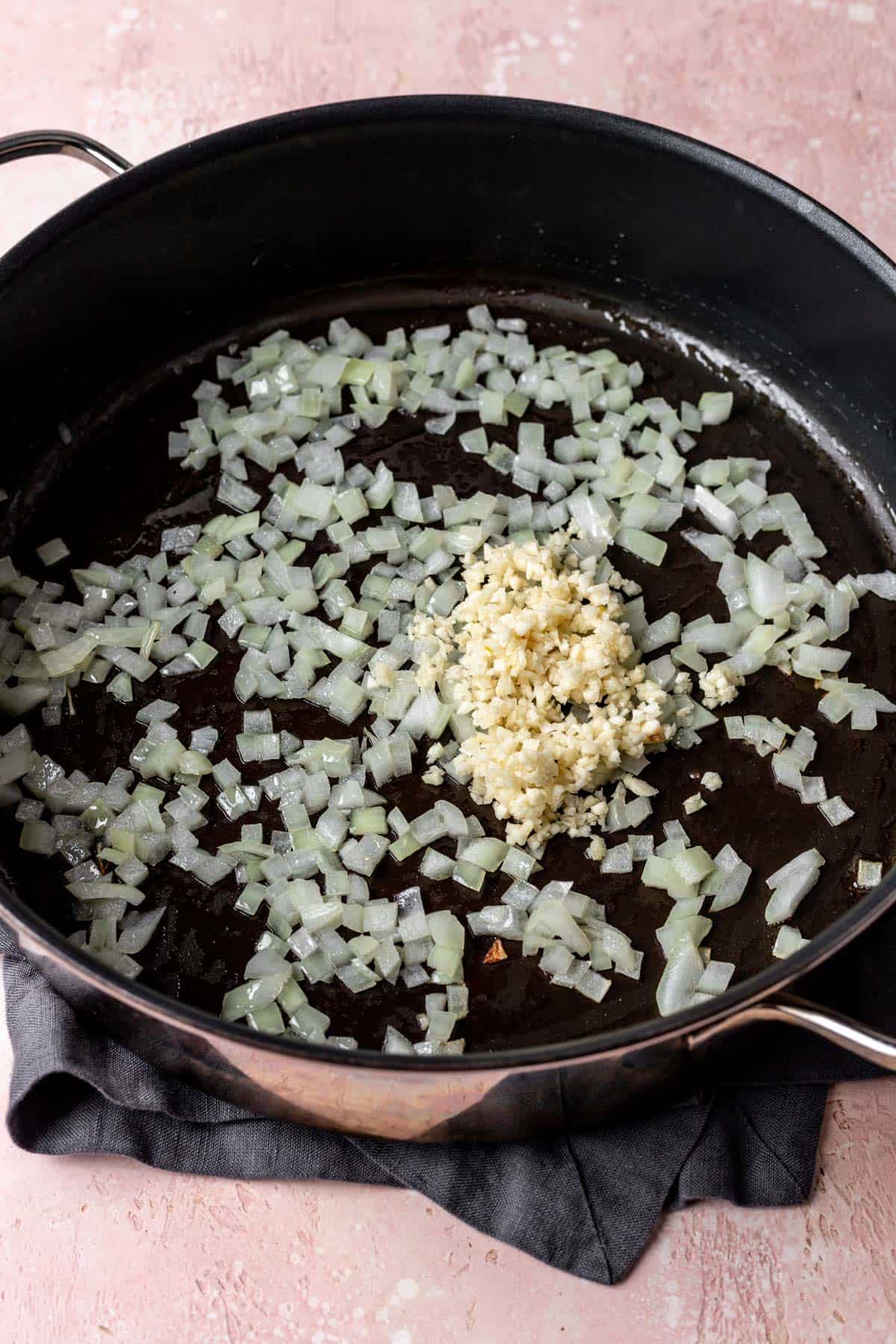 Add in the Arborio rice and stir to coat completely in the oil and butter mixture. Coating the rice in the fat is going to prevent the rice from absorbing the broth too quickly, resulting in a tender, soft risotto.
Next, add in the dry white wine. Adding the white wine prior to adding any broth is going to allow the risotto to fully absorb the wine's acidic flavor, yielding the most flavorful, balanced risotto.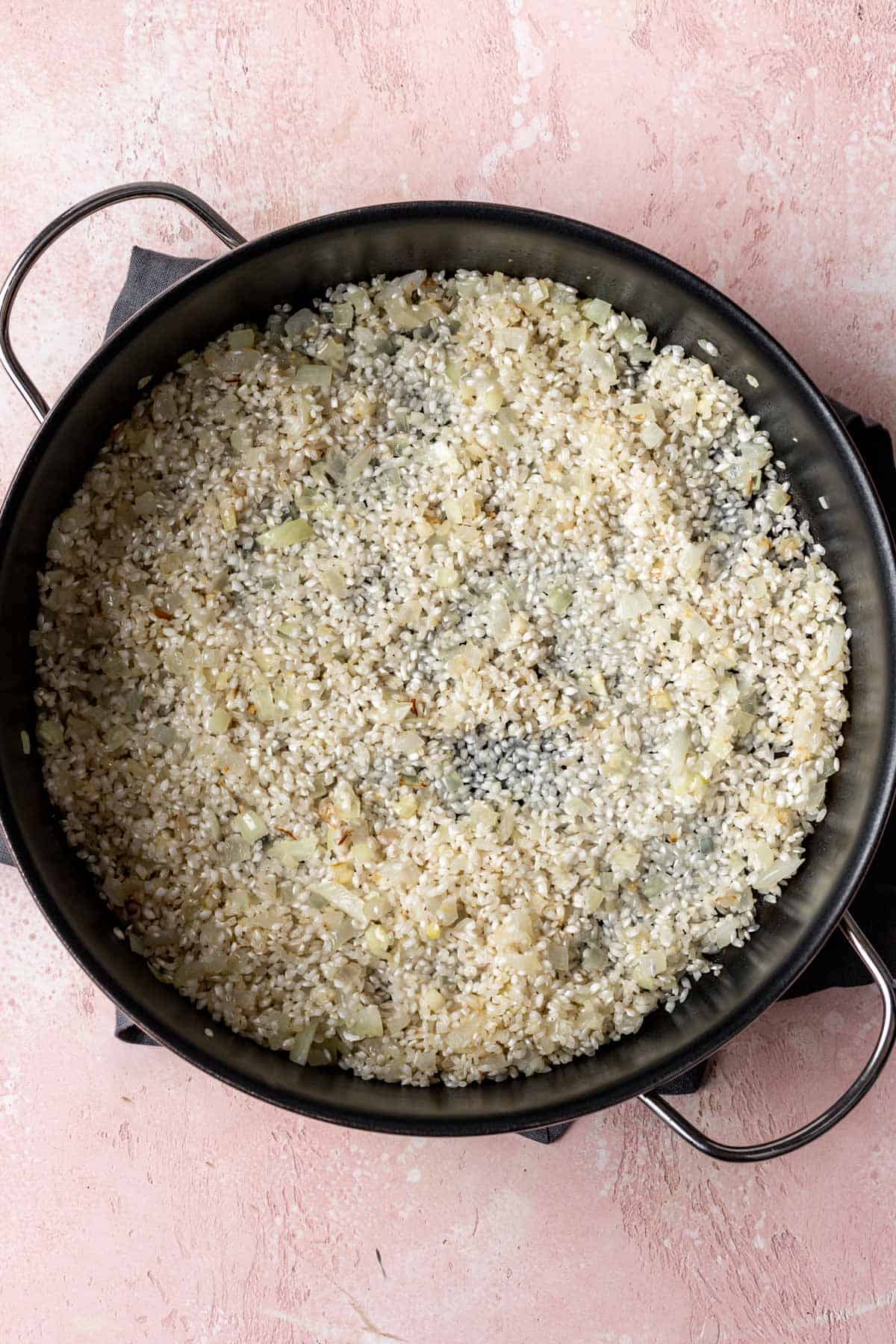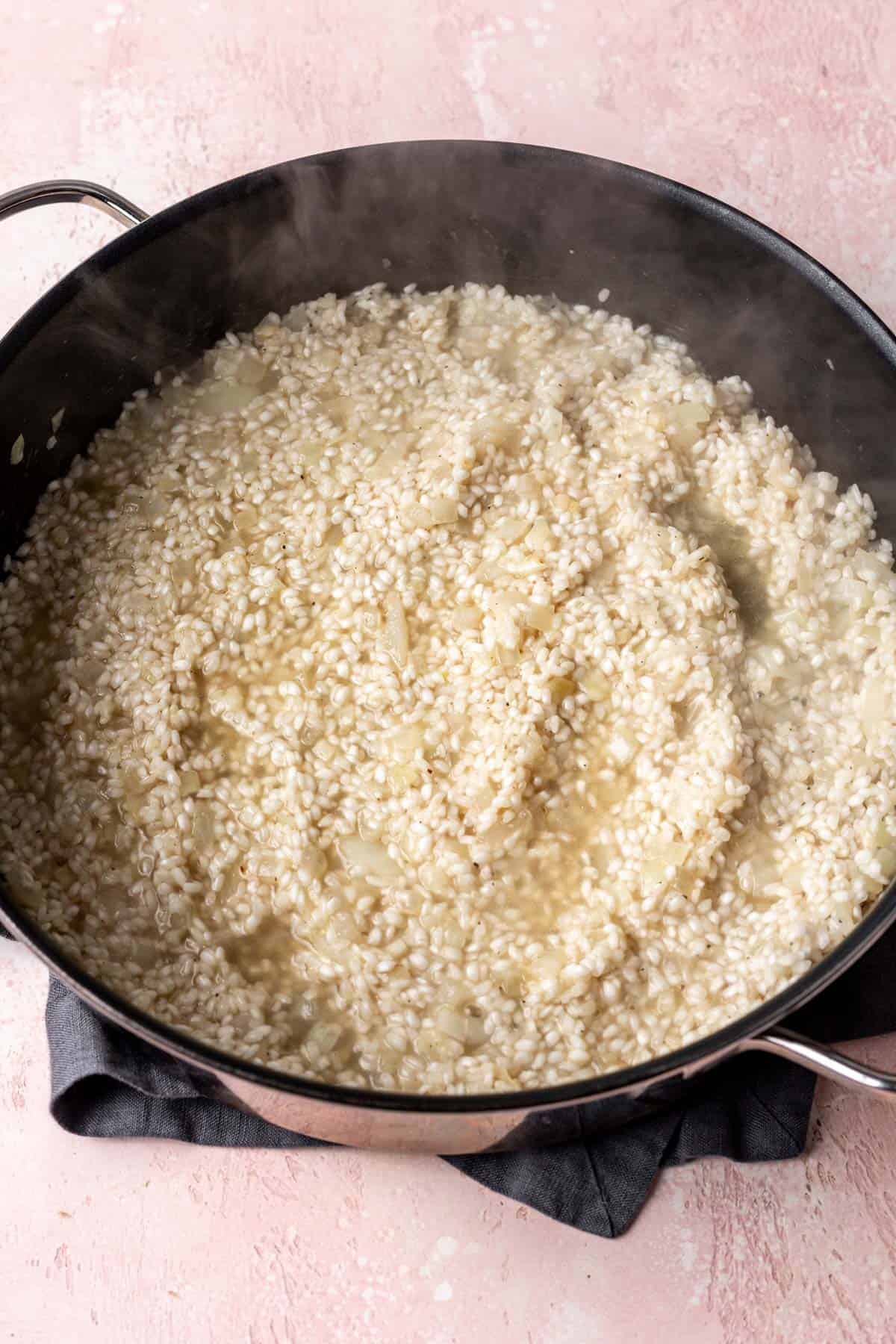 Add the broth to the rice, one ladle-full at a time and stir gently and constantly until completely absorbed in the rice. Once absorbed, add an additional ladle and repeat until there is only 1 ladle-full of broth remaining. This is going to take time so be patient!
Once only 1 ladle-full remains, add it to the risotto, along with the fresh parsley. Stir until most of the broth has been absorbed, then stir in the parmesan cheese until thick and creamy.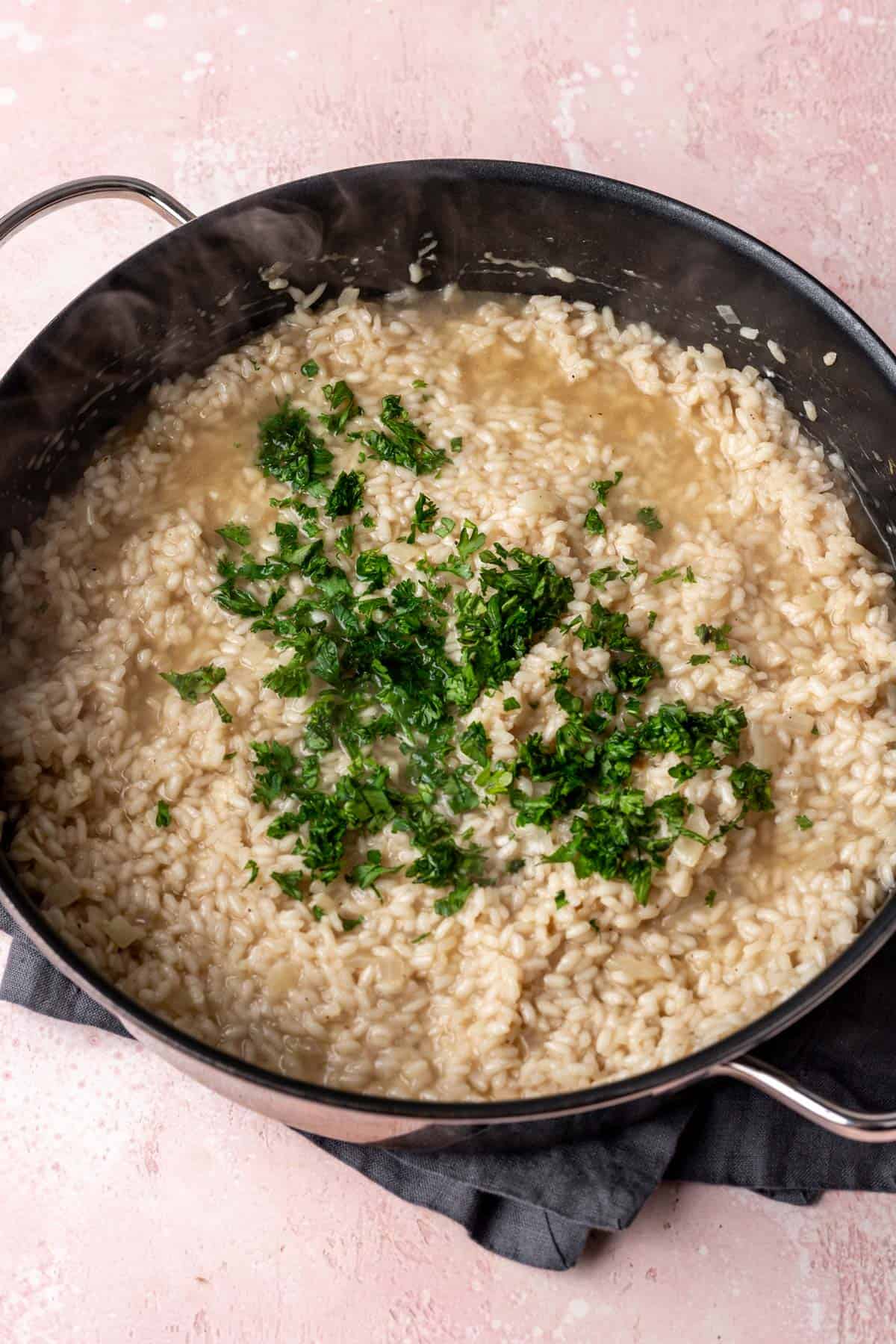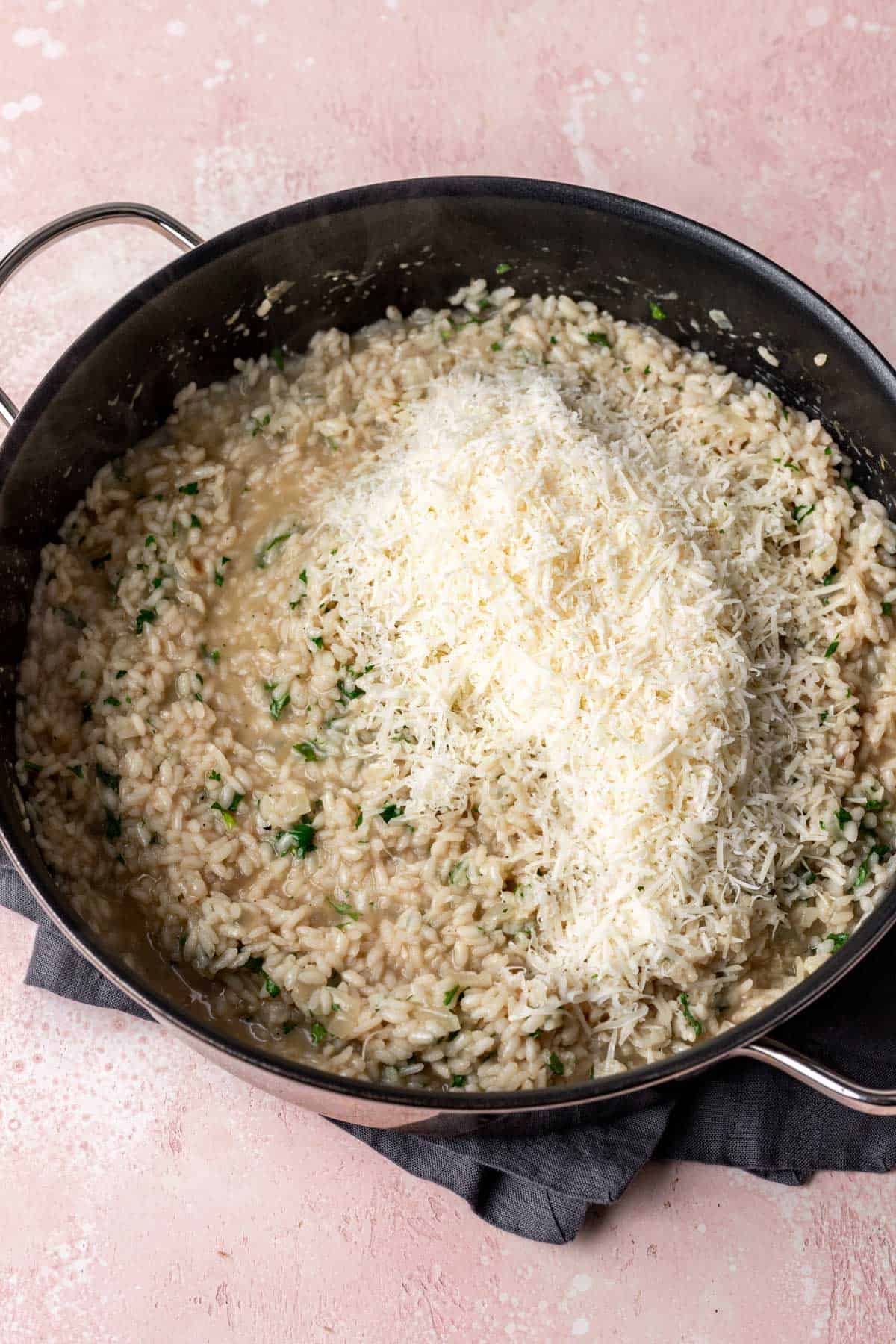 On a separate plate, break apart the smoked salmon into bite-sized flakes.
Serve the smoked salmon overtop the risotto with freshly cracked pepper and additional fresh parsley, if desired.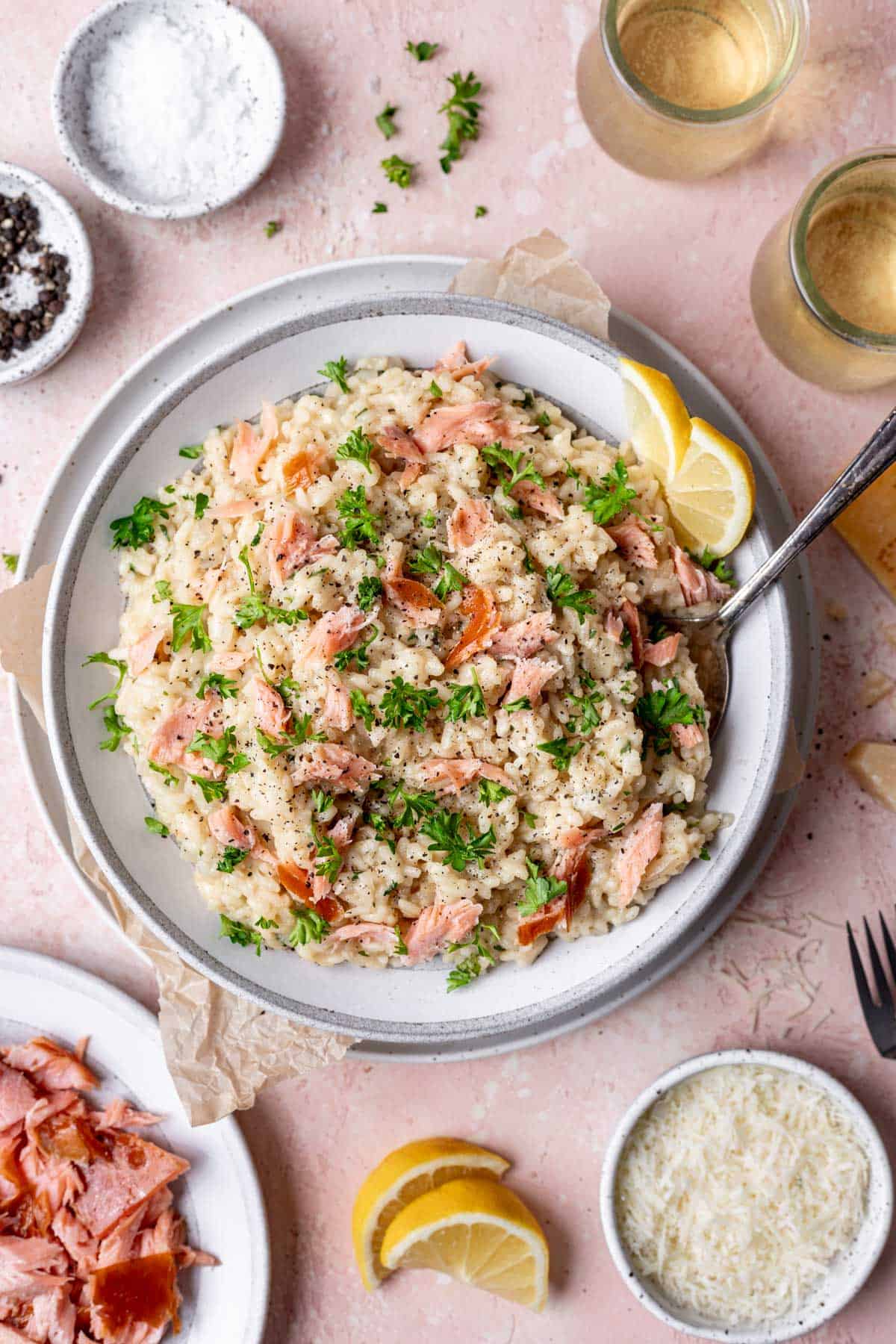 ⁉️ Substitutions and Alterations
Unlike most of my recipes where I can recommend a number of substitutions or changes to a recipe based on what you may have on hand, I don't recommend making substitutions or alterations to this risotto.
Risotto is a dish that requires specificity and much patience! It's not a recipe to make when you need something quick or want to use what you have on hand in a pinch.
For the best results, following this recipe as written, including ingredients and measurements is highly recommended.
❄️ Storage Instructions
Will risotto keep in the fridge? To enjoy the best taste and texture of this risotto, enjoy it fresh. Leftovers can be stored (and will still taste good!) for up to 3 days.
Can risotto be frozen? Freezing this smoked salmon risotto dish is not recommended.
To reheat: Reheat any leftovers in the microwave until warmed through.
🔍 FAQs
Can risotto be made ahead of time?
No, risotto is a dish that really should be made right before eating for the best creamy texture.
Can risotto be made with any rice?
Using another rice other than Arborio rice is not recommended. Doing so will change many factors like the texture, creaminess, cook time, and overall taste. Arborio rice has a higher starch content than other rices like sushi rice or long-grain rices and is necessary to making the best tasting risotto.
Why do you have to add the liquid slowly?
This allows the rice to fully absorb the liquid while also releasing it's starches, creating that ultra creamy textured rice risotto is famous for. It also ensures that there will be no liquid leftover in the pan and the rice will not be overcooked.
💭 One More Tip
Squeeze a bit of lemon juice and freshly cracked pepper over the final dish! It elevates the flavor and smoked salmon and lemon risotto is the perfect flavor combination.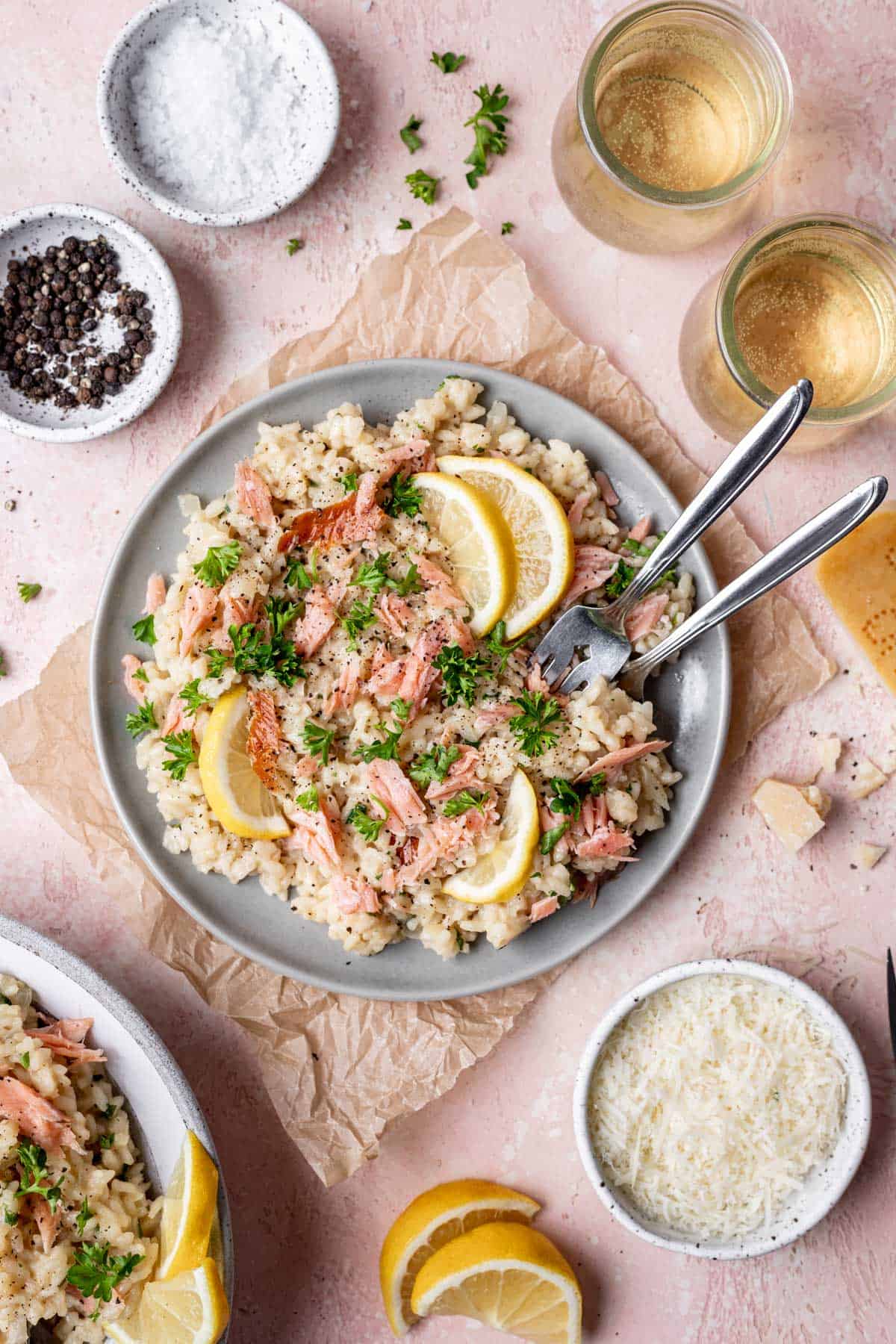 🍴 Related Recipes
Share your cooking with me! If you make this recipe, I'd love to know! Tag @yourhomemadehealthy on Instagram or leave a comment with a rating and some feedback at the bottom of this page!
📖 Recipe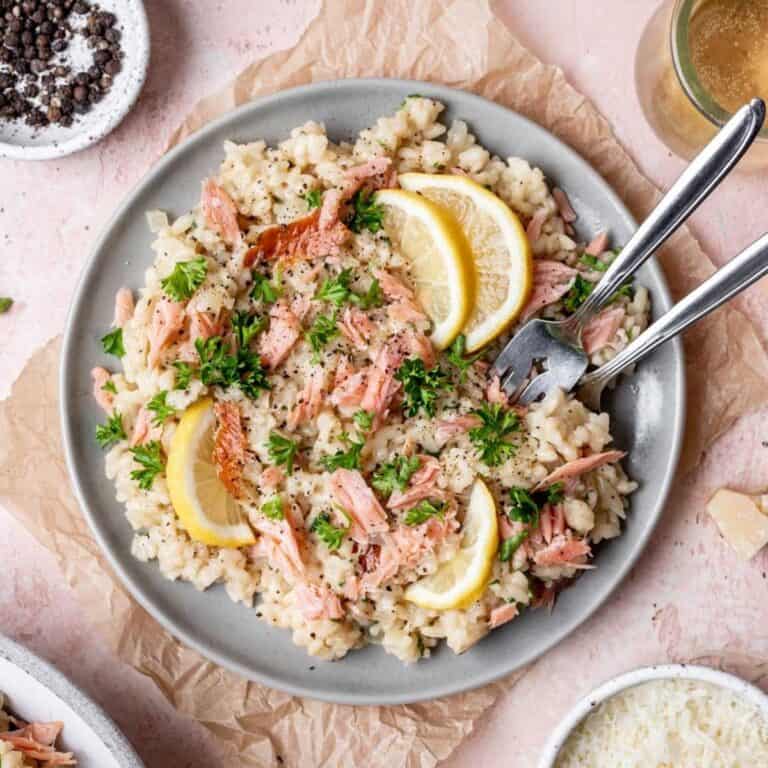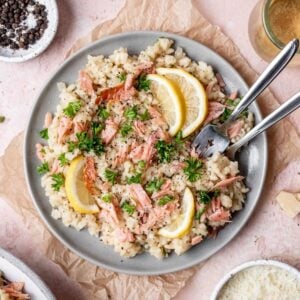 Smoked Salmon Risotto
Smoked Salmon Risotto is the perfect dish to make when you're craving a decadent meal at home. Creamy Arborio rice is paired with mild smokey salmon for an upscale Italian meal in less than an hour!
Print
Pin
Rate
Ingredients
7

cups

low sodium vegetable or chicken broth

1

tablespoon

olive oil

1

tablespoon

unsalted butter

1

cup

diced onion (about ½ an onion)

2

tablespoons

minced garlic (about 4 garlic cloves)

1 ½

cups

arborio rice

⅓

cup

dry white wine

¼

teaspoon

kosher salt

¼

teaspoon

black pepper

3

tablespoons

freshly chopped parsley

1 ½

cups

freshly shredded parmesan cheese

8

ounces

smoked salmon

SEE NOTES
Instructions
Add broth to a stockpot over medium-low heat. Keep broth warm while making the risotto.

In a large skillet, combine the olive oil and butter over medium heat until the butter melts. Add onion and cook 2 to 3 minutes until tender.

Stir in garlic and cook another minute.

Add the rice and stir until it's fully coated in oil.

Add the wine and stir until fully absorbed.

Working with one ladle at a time, add a full ladle of broth to the rice and stir until it is fully absorbed. Continue until there is only 1 ladle-full of broth remaining. It could take around 20 minutes of stirring before all of the broth is absorbed.

Add the last ladle of broth, along with the parsley. Stir until most of the liquid is absorbed, then add in the parmesan cheese. Stir until thick and creamy.

On a separate plate, break the salmon apart into bite-sized flakes.

Scoop risotto onto a large serving platter. Top with smoked salmon and freshly cracked pepper.
Notes
For this recipe, I used store-bought honey smoked salmon. It is smoked with hickory and has a mild smokey flavor. I recommend using hot-smoked salmon over cold-smoked.
Make sure to use warm broth. This will allow the starches to release more evenly, making the rice extra creamy. 
Buy a block of parmesan cheese and shred it by hand. This will ensure perfectly melted, creamy cheese. Store-bought pre-shredded cheese has anti-caking agents that prevent the cheese from completely melting.
Make sure to stir constantly so the risotto doesn't stick or burn to the bottom of your skillet. Patience is the secret to successful risotto!
Towards the end of cooking, carefully taste the rice to make sure it is cooked through. If it is still hard, warm a little more broth and continue to add it in a ladle at a time until the rice is soft but not mushy.
Nutrition
Calories:
399
kcal
|
Carbohydrates:
48
g
|
Protein:
20
g
|
Fat:
13
g
|
Saturated Fat:
6
g
|
Polyunsaturated Fat:
1
g
|
Monounsaturated Fat:
5
g
|
Trans Fat:
1
g
|
Cholesterol:
31
mg
|
Sodium:
1895
mg
|
Potassium:
199
mg
|
Fiber:
2
g
|
Sugar:
4
g
|
Vitamin A:
1040
IU
|
Vitamin C:
5
mg
|
Calcium:
318
mg
|
Iron:
3
mg
Want to Save this Recipe? Pin it for Later!
Make sure to follow @yourhomemadehealthy for more delicious recipes!
Want more recipes like this delivered right to your inbox? Be sure to subscribe above and never miss a thing!