Serve these quick and easy Air Fryer Green Bean Fries as a healthier, lighter game day snack or appetizer! They're made crispy with breadcrumbs and parmesan cheese and dunked in the best, savory marinara dipping sauce. All you need is 8 ingredients and 25 minutes!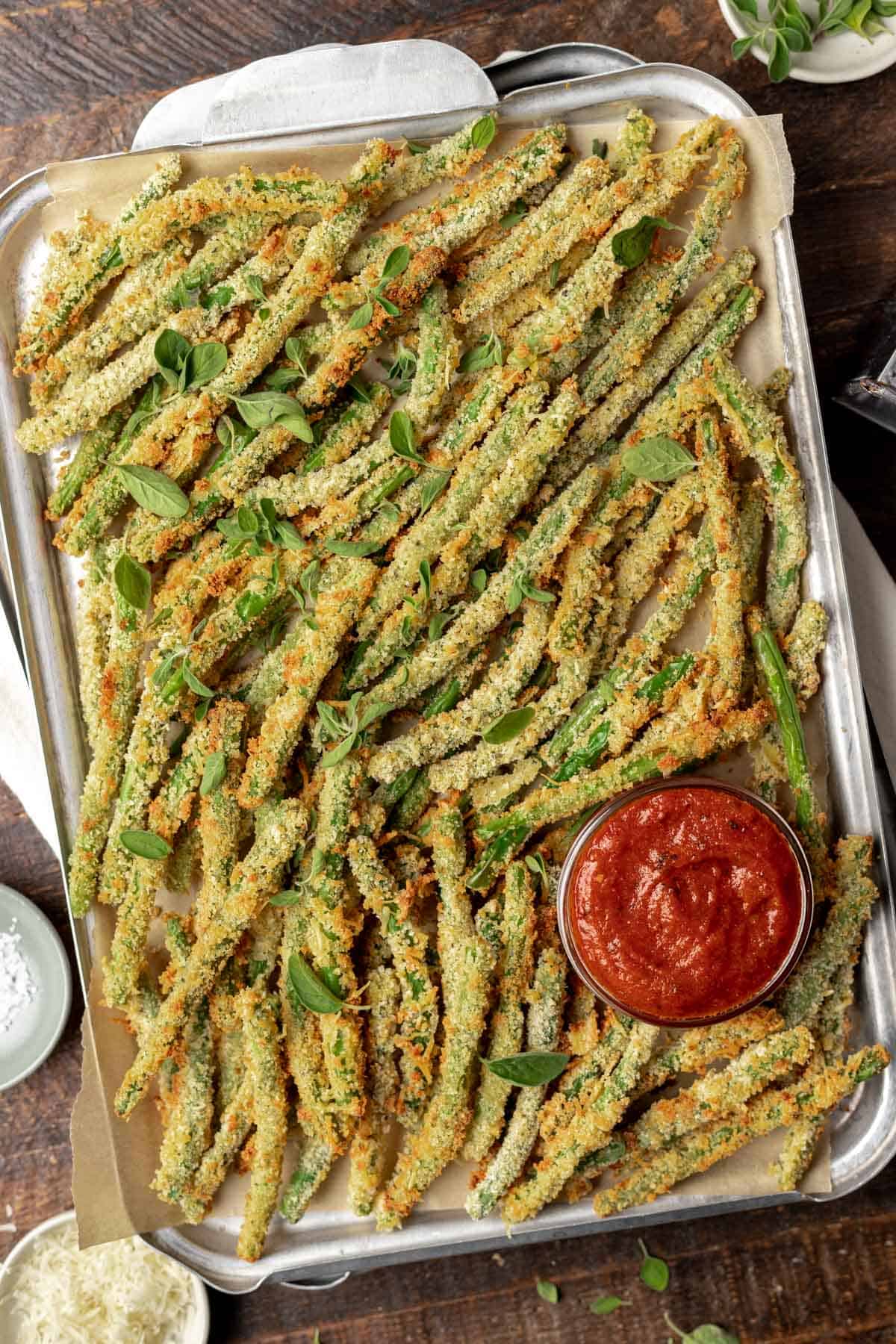 Jump to:
📋 About the Recipe
This fun french fry inspired green bean appetizer is a great way to get your kids and guests to eat extra veggies

.

Using the air fryer instead of the oven or deep fryer helps them get crispier faster without the need of excess oil.
Just 25 minutes start to finish, making these green bean fries a quick and easy afternoon snack, simple side to a main dish, or a last minute hosting idea.
🛒 Ingredients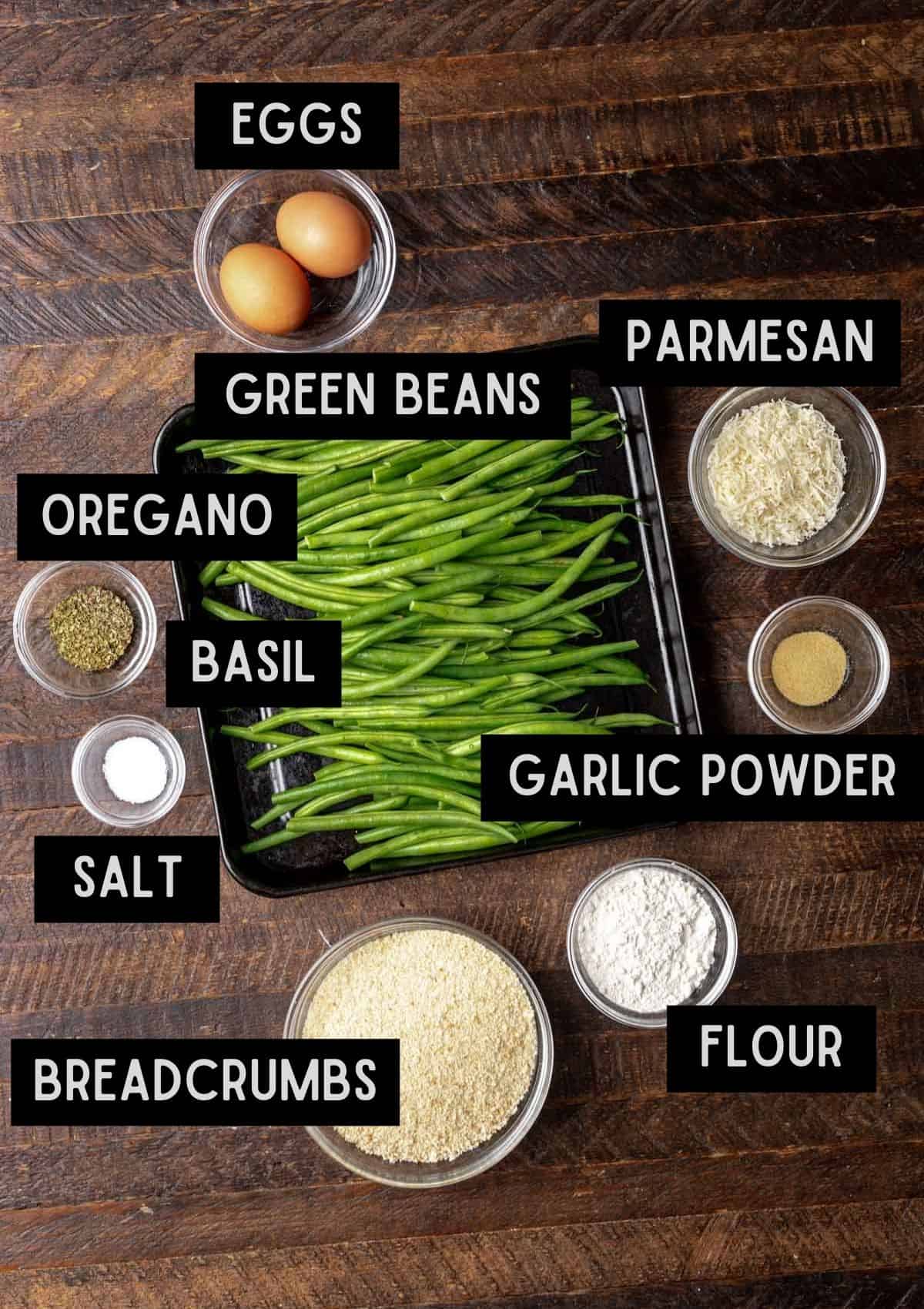 A few notes about the ingredients:
Green beans - Fresh green beans are essential when making air fryer green bean fries! Frozen green beans will not do - they will release too much moisture and will make the fries soggy.
Breadcrumbs and parmesan cheese - When mixed together, the breadcrumbs and parmesan cheese make the best crispy breading on the green bean fries.
Eggs - Dredge in whisked eggs before breading to help the breading stick!
Flour - Coat the green beans in flour prior to dredging in the whisked eggs. This will help absorb any excess moisture on them and also allow the egg to stick better.
Spices - Adds extra flavor to these fries. Feel free to use my spice recommendations as a guide and experiment with other spices to make your own favorite flavors.
📓 Instructions
Rinse and trim the ends of the green beans. If the green beans are still significantly wet from being rinsed, pat dry with a clean tea towel or paper towel.
Sprinkle the green beans with a tablespoon of all purpose flour and toss to coat each green bean in the flour. This will ensure any moisture remaining on the green beans has been absorbed and allow the egg to stick well to them.
Mix together the bread crumbs, parmesan cheese and spices to create the breading mixture.
Dredge each green bean lightly in the whisked eggs, then transfer to the breading mixture and fully coat each green bean.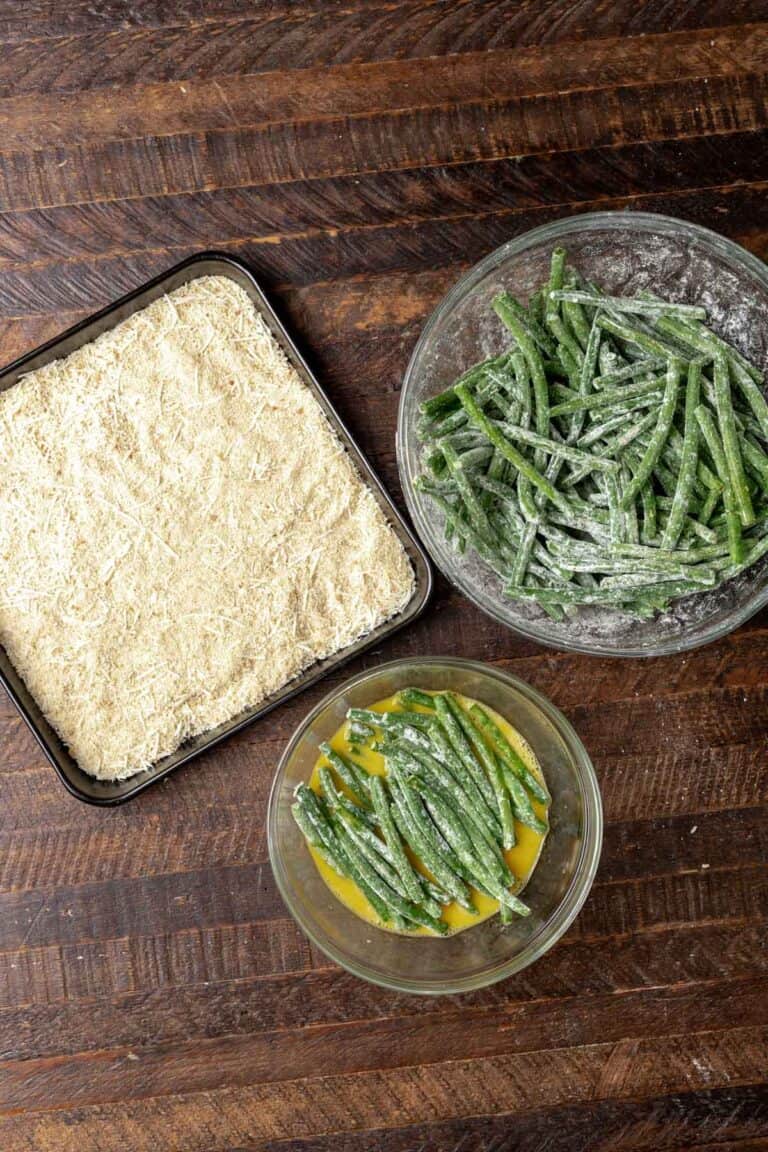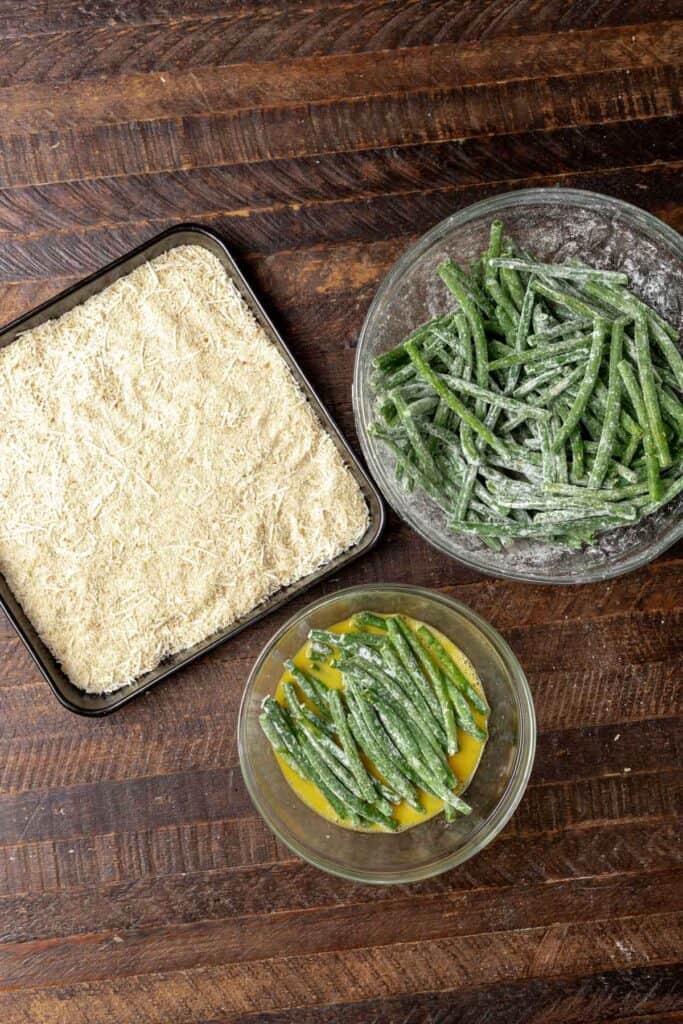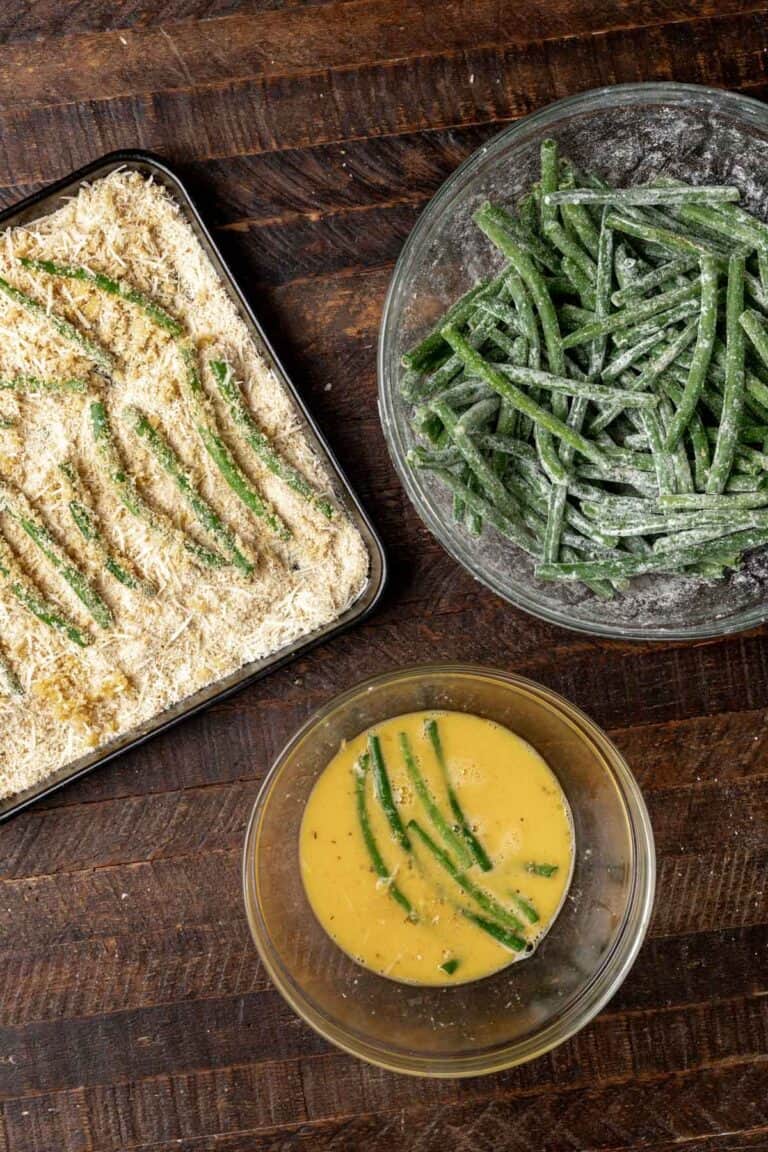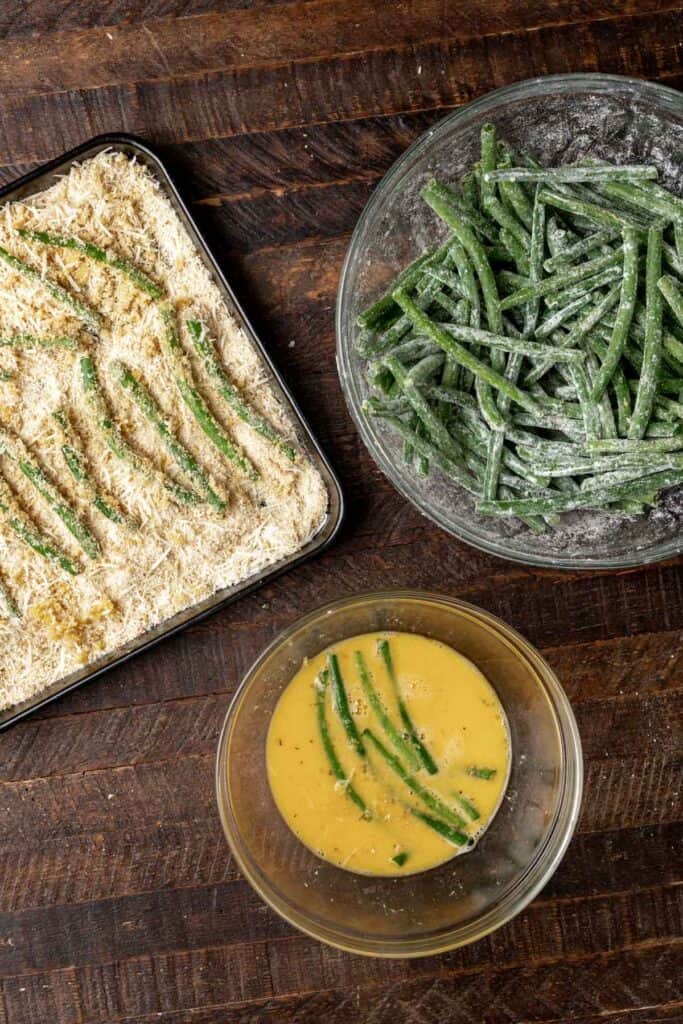 Spray the air fryer basket with nonstick spray, then add a single layer of green bean fries to the bottom. Spray the tops of the green beans and air fry for 5-8 minutes at 390 degrees Fahrenheit. You know they're ready when the green beans are lightly browned and crispy!

You will likely need to do this in a few batches. Be careful not to overcrowd the green beans or they will not be able to get crispy. It is better to do multiple batches than risk overcrowding.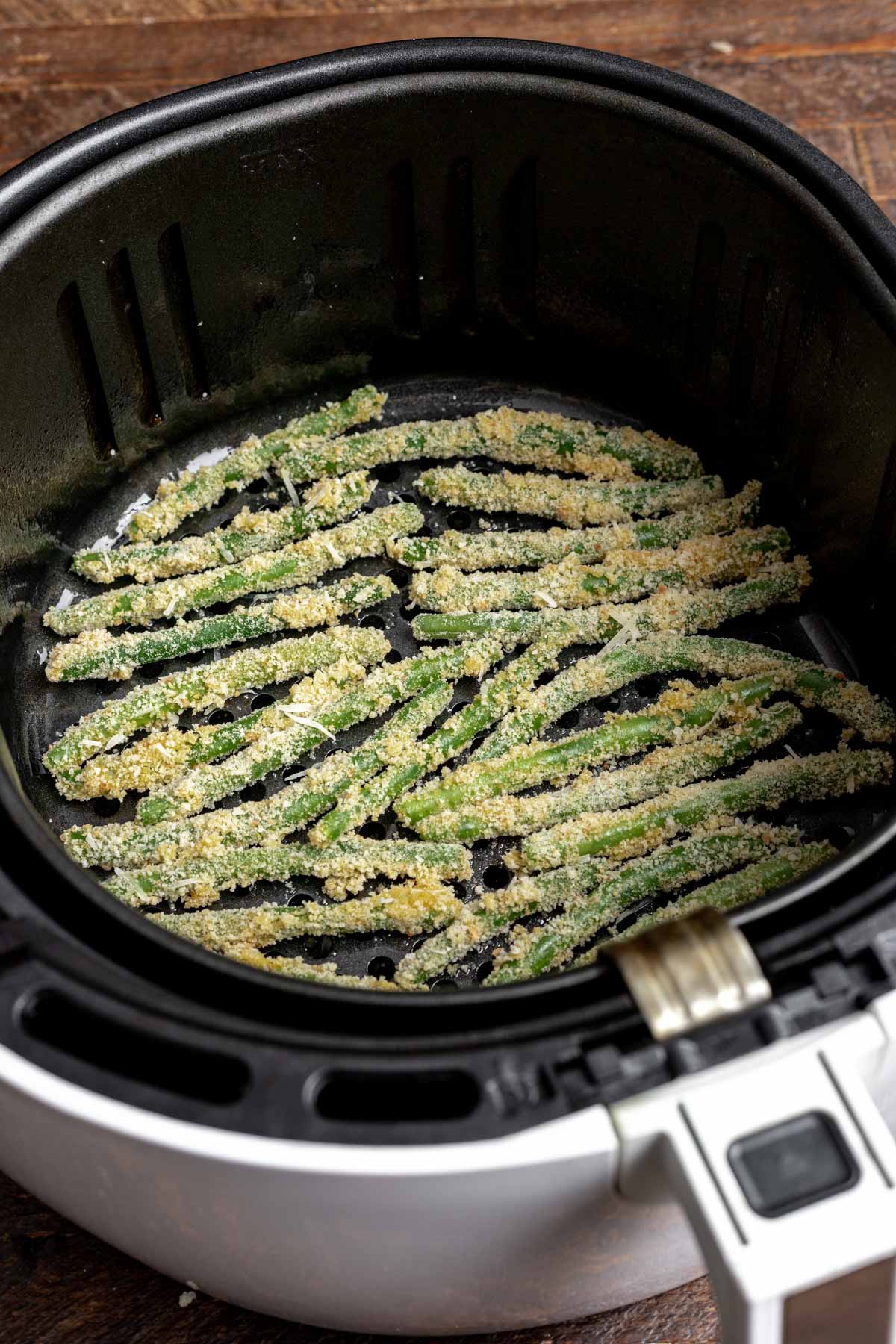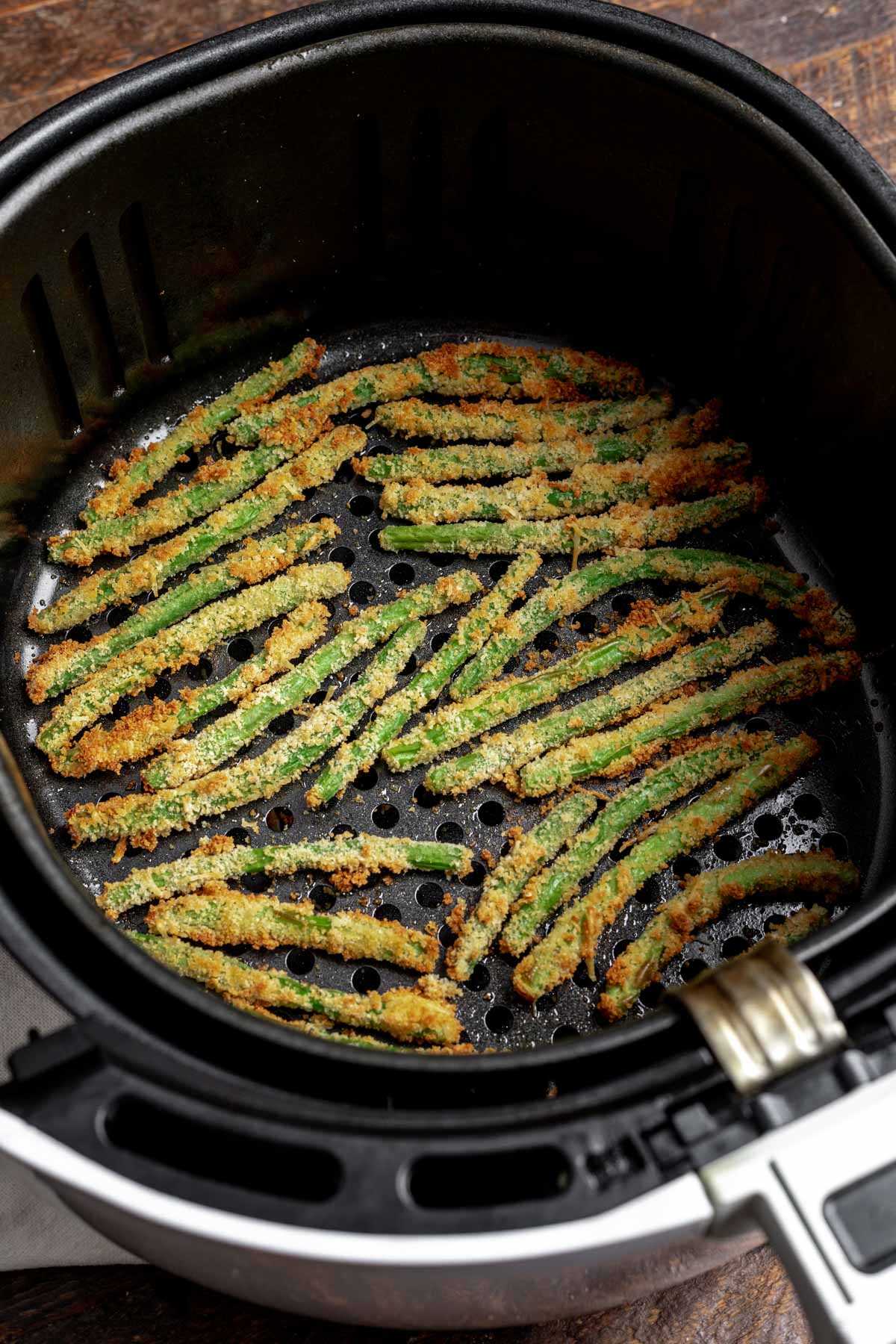 Repeat dredging steps and air frying the green beans until all green beans are cooked!
🍅 How to Make the Marinara Dipping Sauce
If making the marinara dipping sauce, simply add all ingredients to a small sauce pan and whisk to combine. Simmer for 10 minutes over medium low heat, or until slightly thickened.
Remove from heat and serve immediately with green bean fries while warm alongside main dishes such as Sloppy Joe Sliders or Air Fryer Turkey Burgers.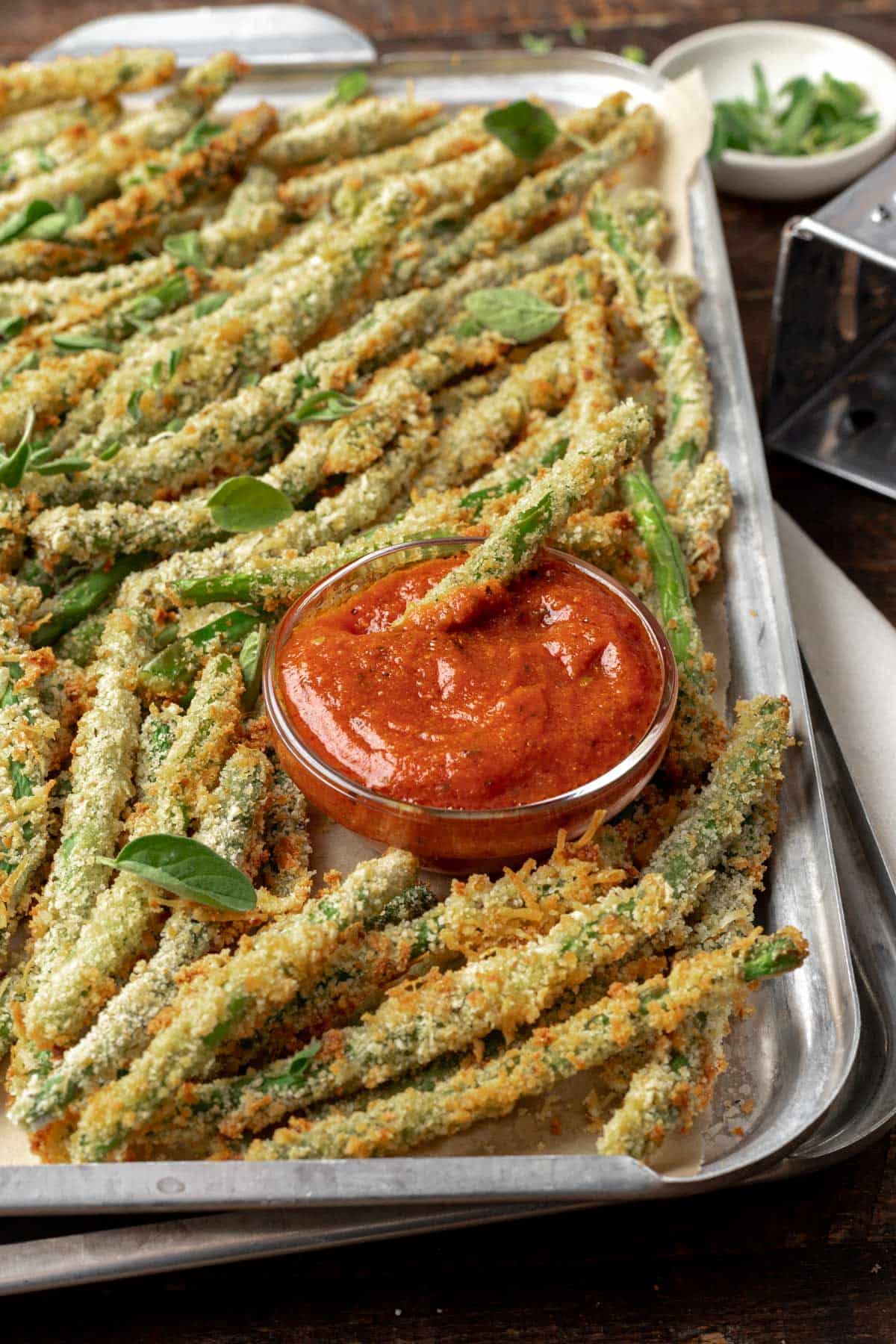 ⁉️ Substitutions and Alterations
Substitute panko breadcrumbs in place of regular breadcrumbs for crunchier french fries!
It is not recommended to substitute or omit the parmesan cheese. When these green bean fries are air fried, the parmesan cheese melts and helps stick the breading onto the green bean. Without the cheese, the breadcrumbs are much more likely to fall off the green beans.
Season the marinara dipping sauce however you'd like! Switch up the spices to change the flavor.
🍵 Additional Dipping Sauce Ideas
If you want to try these fries with another dipping sauce or want to offer multiple dipping sauces in addition to my marinara sauce, try these:
❄️ How to Store
To store: These fries are similar to traditional french fries in that they are best enjoyed fresh. Refrigeration and freezing are not recommended.

Reheating these fries will cause them to become soggy. If you do have leftovers, I recommend eating them at room temperature.
🔍 FAQs
I don't have an air fryer. Can I bake these green bean fries instead?
Yes, if you do not have an air fryer or prefer to oven bake to avoid air frying in batches, bake the fries for 10 to 15 minutes at 400 degrees Fahrenheit, flipping halfway through. Just as with air frying, you'll know they're ready when they are golden and crispy.
Why did my fries come out soggy?
If your fries did not crisp up properly, you may have pulled the fries out too soon or you may have overcrowded the air fryer basket. Green bean fries need proper space in the air fryer so the heat can circulate.
Can I make these ahead of time and reheat?
Unfortunately, these fries are best served immediately. They do not reheat well and lose their crispness as they sit out. I recommend air frying these fries right before you need to serve.
How do I keep the first batch of fries warm as I cook additional batches?
Great question! Depending on the size of your air fryer basket, you may need to do a few batches. If you'd like to make sure your first batch stays warm as you cook, transfer them to a baking sheet and keep them warm in the oven at 200 degrees Fahrenheit. Then once you are ready to serve, transfer them to the serving dish with your dipping sauce.
💭 One More Tip
Dredge the green beans in the egg and breadcrumb mixture one by one. It is more time consuming, however doing several at a time will cause the breading to clump together as opposed to evenly coating the green beans.
Be sure not to overcrowd the air fryer. These fries will crisp up best when air fried in a single layer with space in between. If they are packed in too closely, they will not be able to crisp up.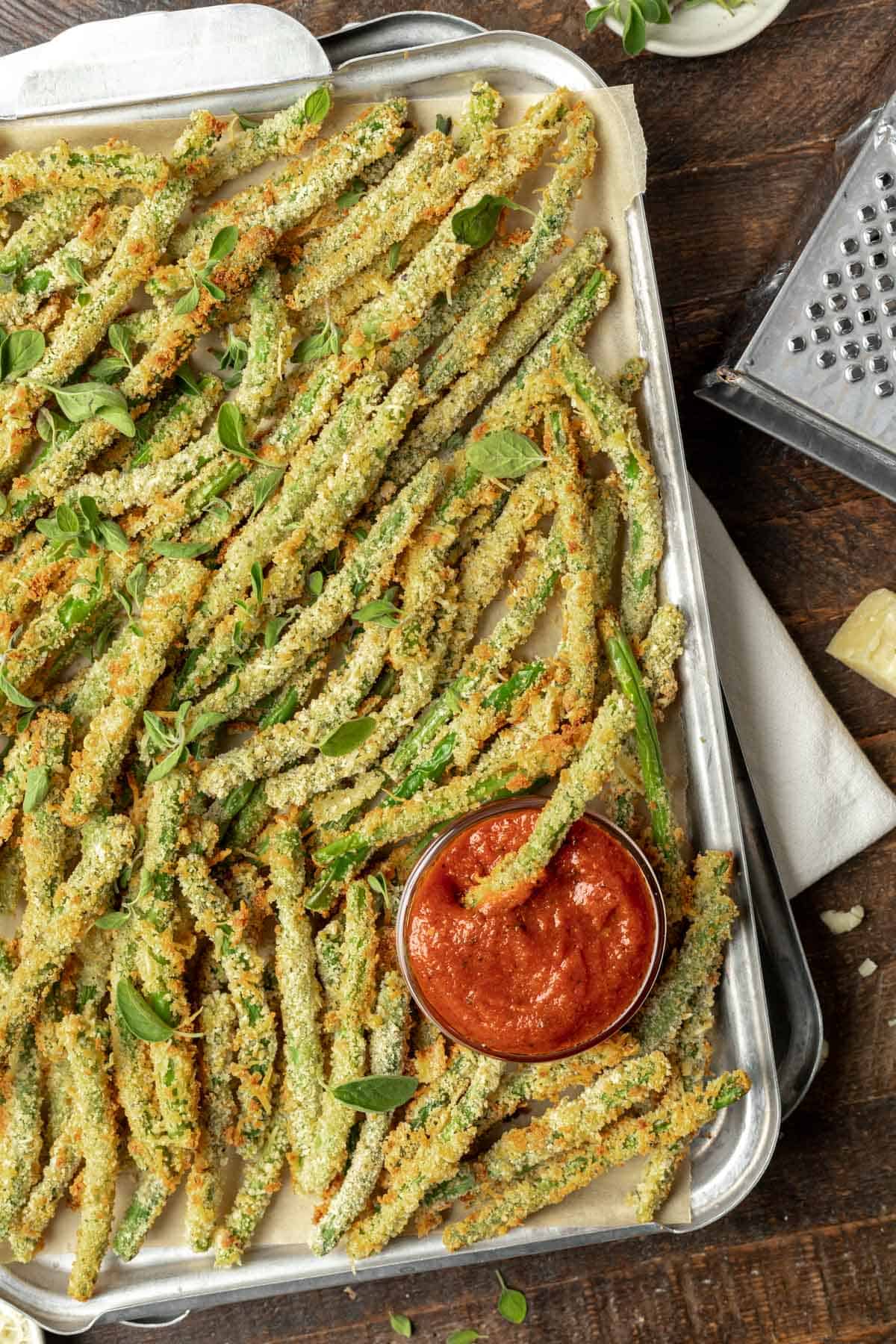 🍴 Related Recipes
Share your cooking with me! If you make this recipe, I'd love to know! Tag @yourhomemadehealthy on Instagram or leave a comment with a rating and some feedback at the bottom of this page!
📖 Recipe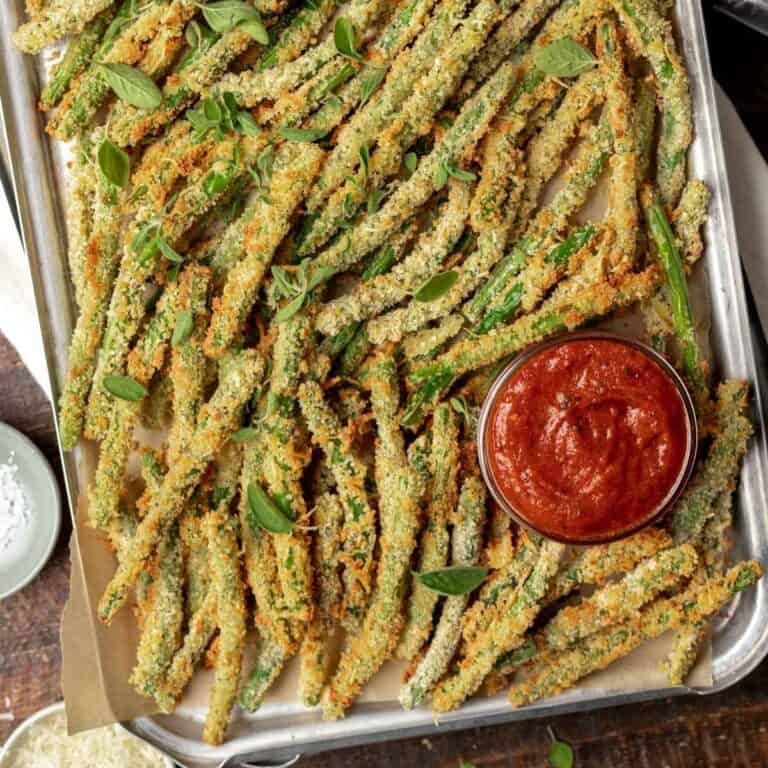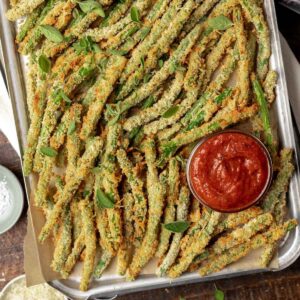 Air Fryer Green Bean Fries
Quick and easy Air Fryer Green Bean Fries are a healthier, lighter snack or appetizer! Made crispy with breadcrumbs and parmesan cheese, then dunked in the best, savory marinara dipping sauce.
Print
Pin
Rate
Ingredients
For the Green Bean Fries
1

pound

fresh green beans

1 to 2

tablespoons

all purpose flour

2

large eggs

¾

cup

unseasoned breadcrumbs

3

tablespoons

freshly shredded parmesan cheese

½

teaspoon

garlic powder

½

teaspoon

dried oregano

½

teaspoon

kosher salt

¼

teaspoon

dried basil

nonstick spray
For the Marinara Dipping Sauce
8

ounces

tomato sauce (1 small can)

1

tablespoon

olive oil

½

teaspoon

garlic powder

½

teaspoon

dried oregano

½

teaspoon

dried basil

pinch of kosher salt
Instructions
Rinse, drain, and trim the green beans. Add them to a large mixing bowl. Sprinkle 1 tablespoon flour over top and toss to fully coat every green bean in flour. Use up to 2 tablespoons of flour, if needed.

In a shallow bowl, whisk the eggs. In a separate bowl or tray, combine the breadcrumbs, parmesan cheese, garlic powder, oregano, salt, and basil.

Working in small batches, add a few green beans to the eggs. Then transfer them to the breadcrumb mixture. Using your hands, press the breadcrumbs and seasonings into each of the green beans to fully coat each one.

Spray air fryer basket with nonstick spray. Add the coated green beans in a single layer at the bottom of the basket, leaving space around each one so they can get crispy. Spray the tops of the green beans with nonstick spray.

Air fry green beans at 390 degrees F for 5 to 8 minutes, or until they're golden brown and crispy. Repeat steps 3 to 5 until all green beans are cooked.

Meanwhile, make the marinara sauce by combining all ingredients in a saucepan over medium-low heat. Simmer for about 10 minutes to thicken, stirring intermittently so the sauce does not burn.

Remove the sauce from the stove and serve warm along with the green bean fries.
Notes
Work with the green beans 1 by 1 to make sure each one gets fully coated in breadcrumbs and seasonings. This will ensure the coating sticks to them evenly, instead of clumping together.
If you don't want to work in batches using your air fryer, you can also cook the green beans in your oven at 400 degrees F for 10 to 15 minutes, flipping them halfway through.
Nutrition
Calories:
224
kcal
|
Carbohydrates:
28
g
|
Protein:
10
g
|
Fat:
9
g
|
Saturated Fat:
2
g
|
Polyunsaturated Fat:
1
g
|
Monounsaturated Fat:
4
g
|
Cholesterol:
96
mg
|
Sodium:
835
mg
|
Potassium:
524
mg
|
Fiber:
5
g
|
Sugar:
8
g
|
Vitamin A:
1197
IU
|
Vitamin C:
18
mg
|
Calcium:
157
mg
|
Iron:
4
mg
Want to Save this Recipe? Pin it for Later!
Make sure to follow @yourhomemadehealthy for more delicious recipes!
Want more recipes like this delivered right to your inbox? Be sure to subscribe above and never miss a thing!