Alright, this is it. This is the drink of all drinks. Serve it to your kids, enjoy it at happy hour with your friends, cool off with a few swigs on a hot summer day, it's SO versatile and SO easy to make. Obviously don't add the whiskey if you're serving it to the kiddos (unless you're THAT mom) but with only 4 simple ingredients, you can make this (whiskey) peach lemonade for anyone in no time at all.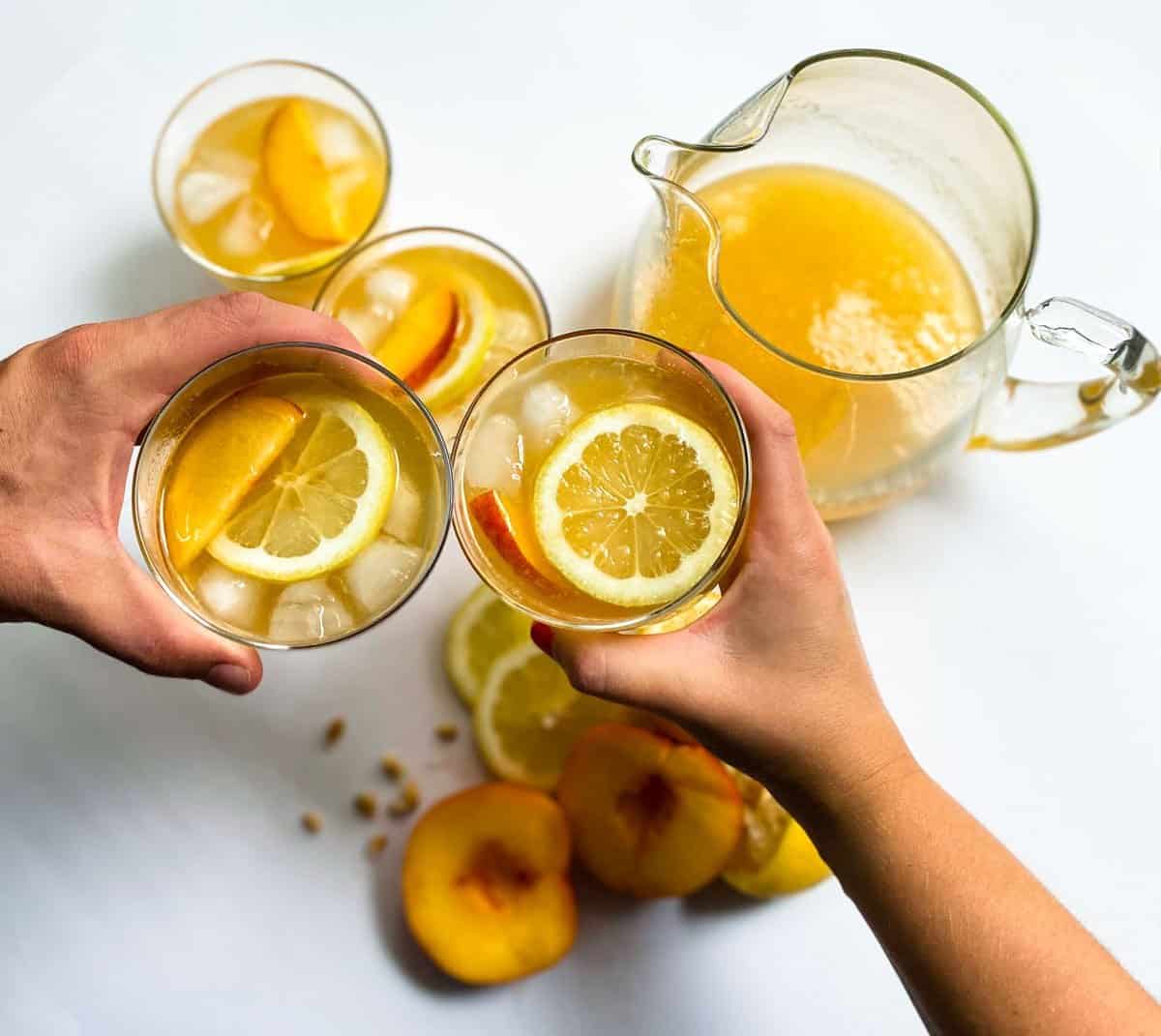 What makes this peach lemonade so good?!
So not only is this (whiskey) peach lemonade so versatile, but it is made with all fresh ingredients, very little added sugar, and packs a ton of flavor into a single cup. This recipe just screams summer and is definitely what you're craving on those hot summer days when peaches are in season and perfectly ripe. However, when peaches aren't in season, you can easily swap out the fresh peaches for thawed frozen peaches. Just be sure to check the ingredients! Peaches should be the only item listed.
Ingredients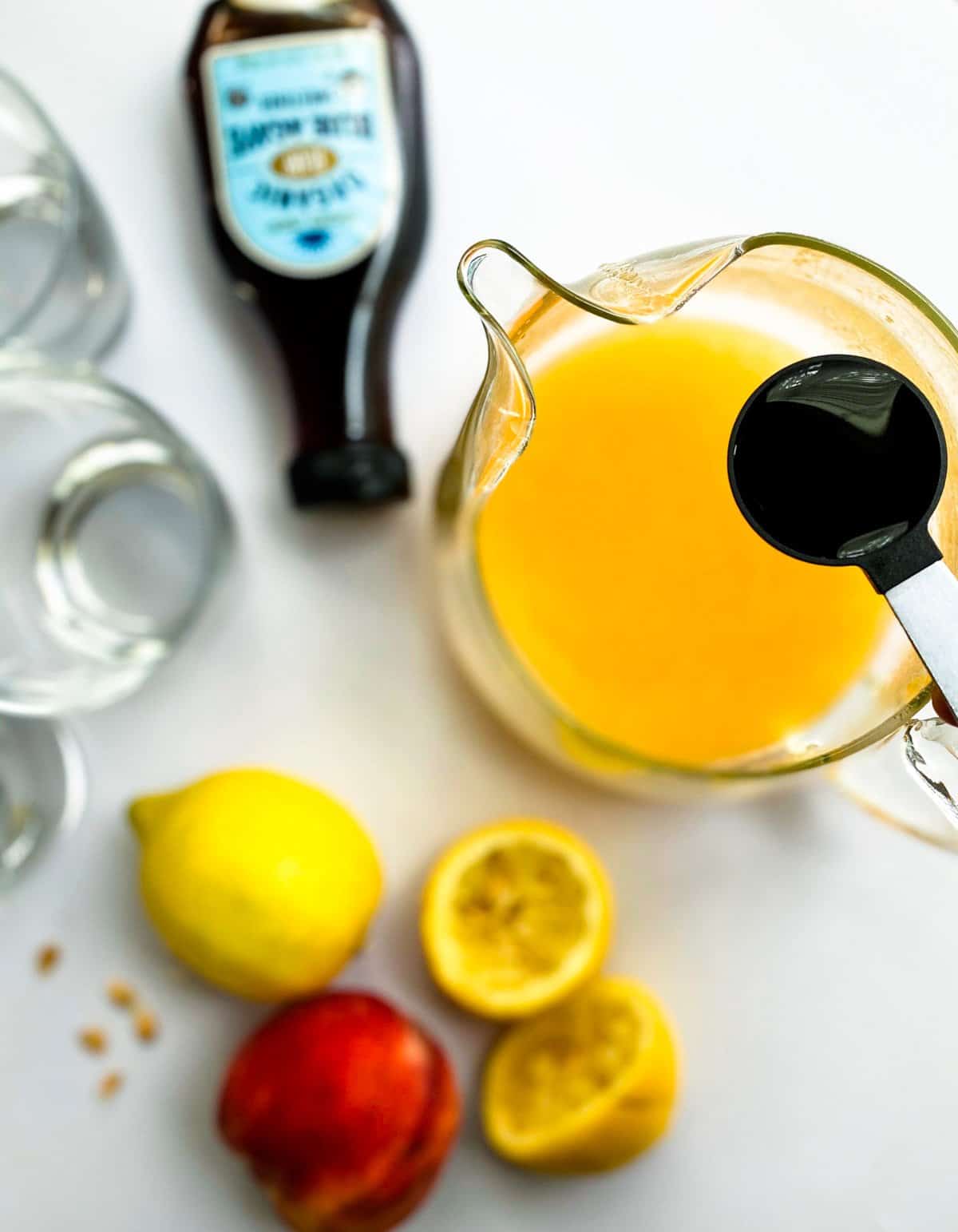 Lemons
Peaches
Agave
Water
Whiskey or alcohol of choice, optional
A few notes about the ingredients:
When choosing lemons at the grocery store, I lightly squeeze them and try to find some with a little give. You don't want them to be too mushy, but you also want them soft enough to get ample juice.
During the summer, fresh peaches are usually pretty prevalent in the grocery store by mid-July to August. If you're having a hard time finding fresh peaches, check for frozen ones. Just make sure there is no additional sugar listed in the ingredients!
Agave: agave is a succulent plant native to the Americas. Though it has high fructose (fruit sugar) properties, it is a natural plant-based sweetener. One of the most common uses of agave is through fermentation of its sugars to make tequila. If you don't have agave or prefer a different sweetener, try experimenting with honey, maple syrup, or your own preferred natural sweetener.
How do you make (whiskey) peach lemonade from scratch?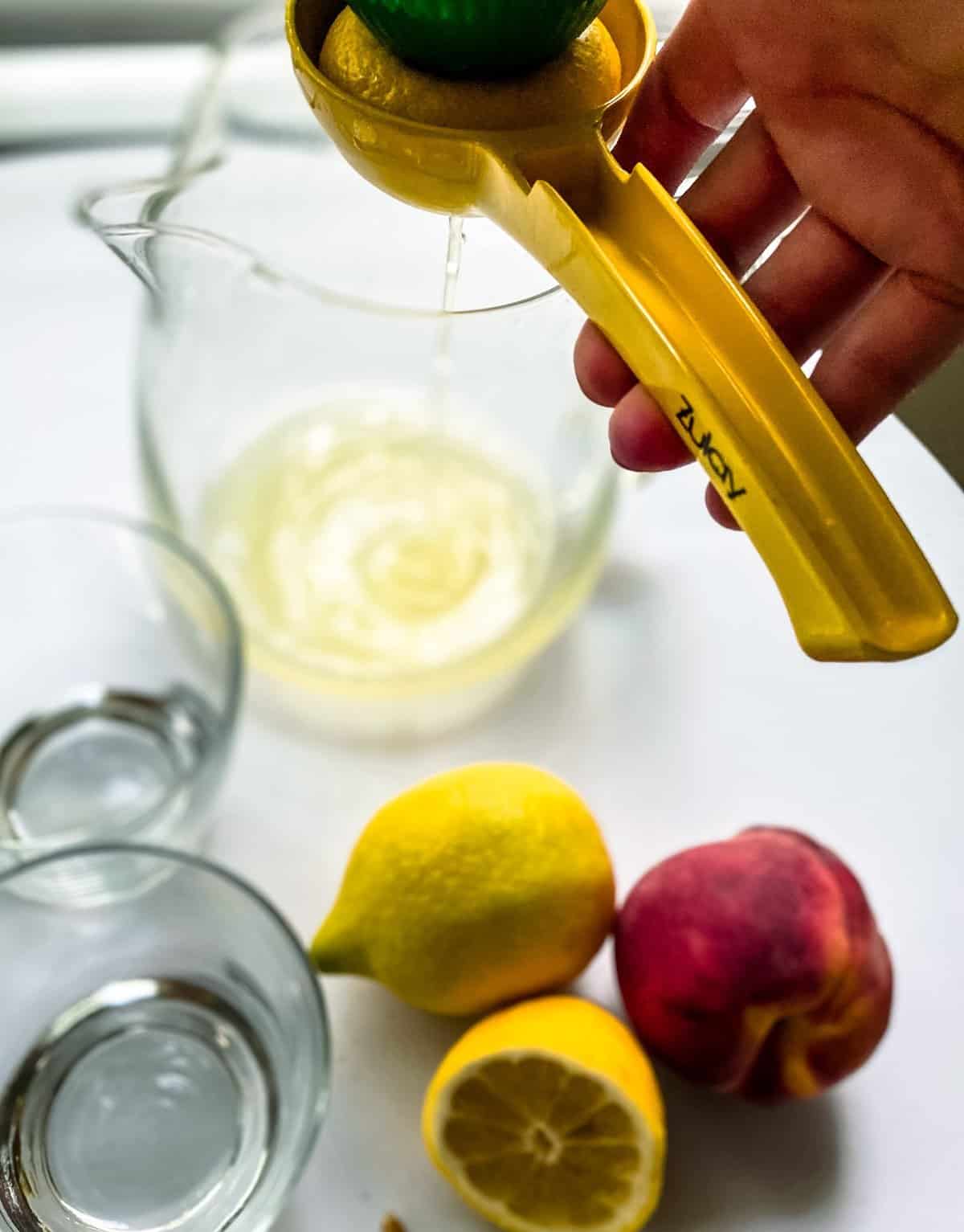 Juice your lemons directly into your pitcher. Less dishes = less cleanup, yay!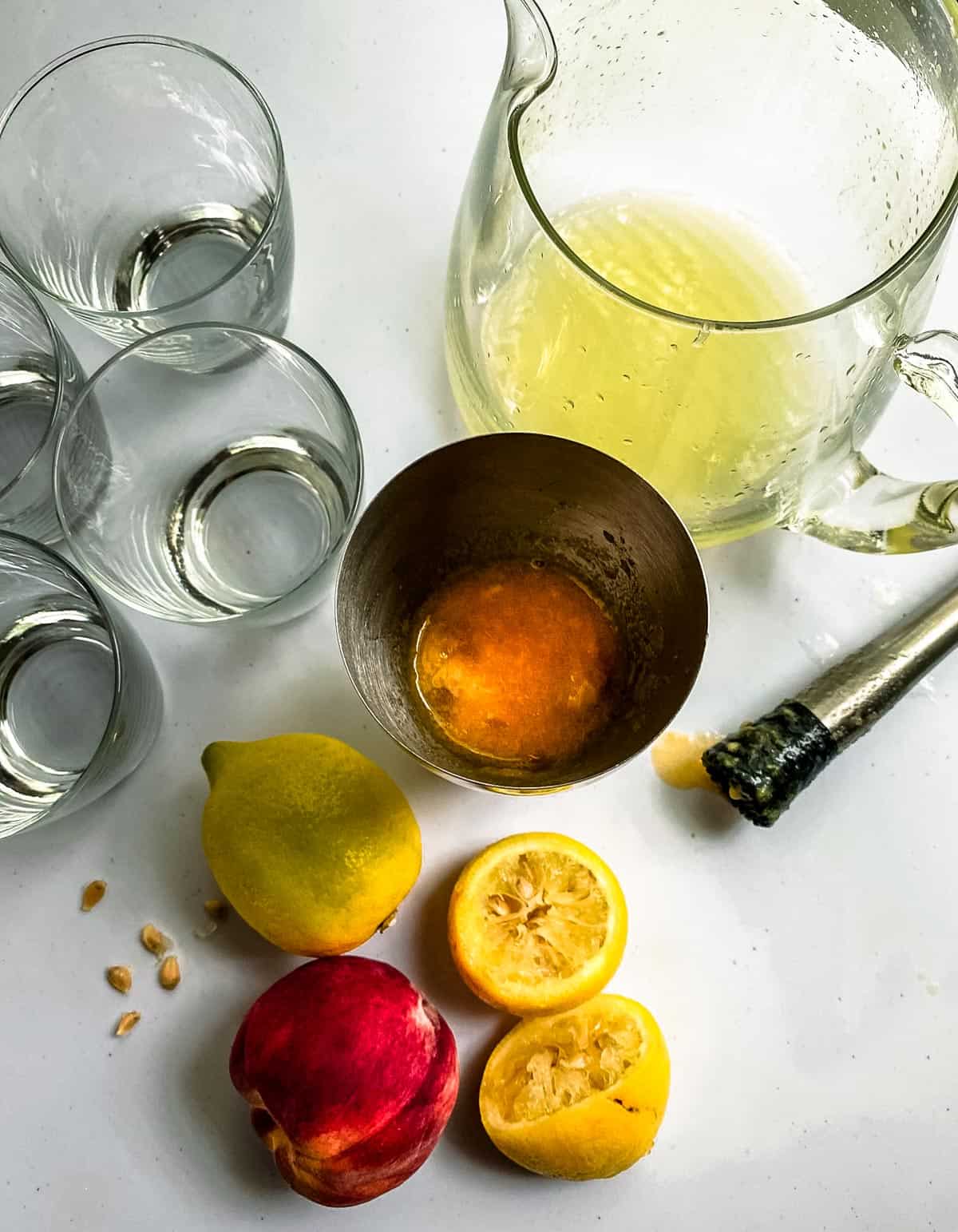 Cut the peaches into 1 inch cubes and place them into a metal cocktail shaker. You can use a sturdy bowl if you don't have a cocktail shaker. Mash the peaches with a cocktail muddler or potato masher until they're a thick pureed consistency.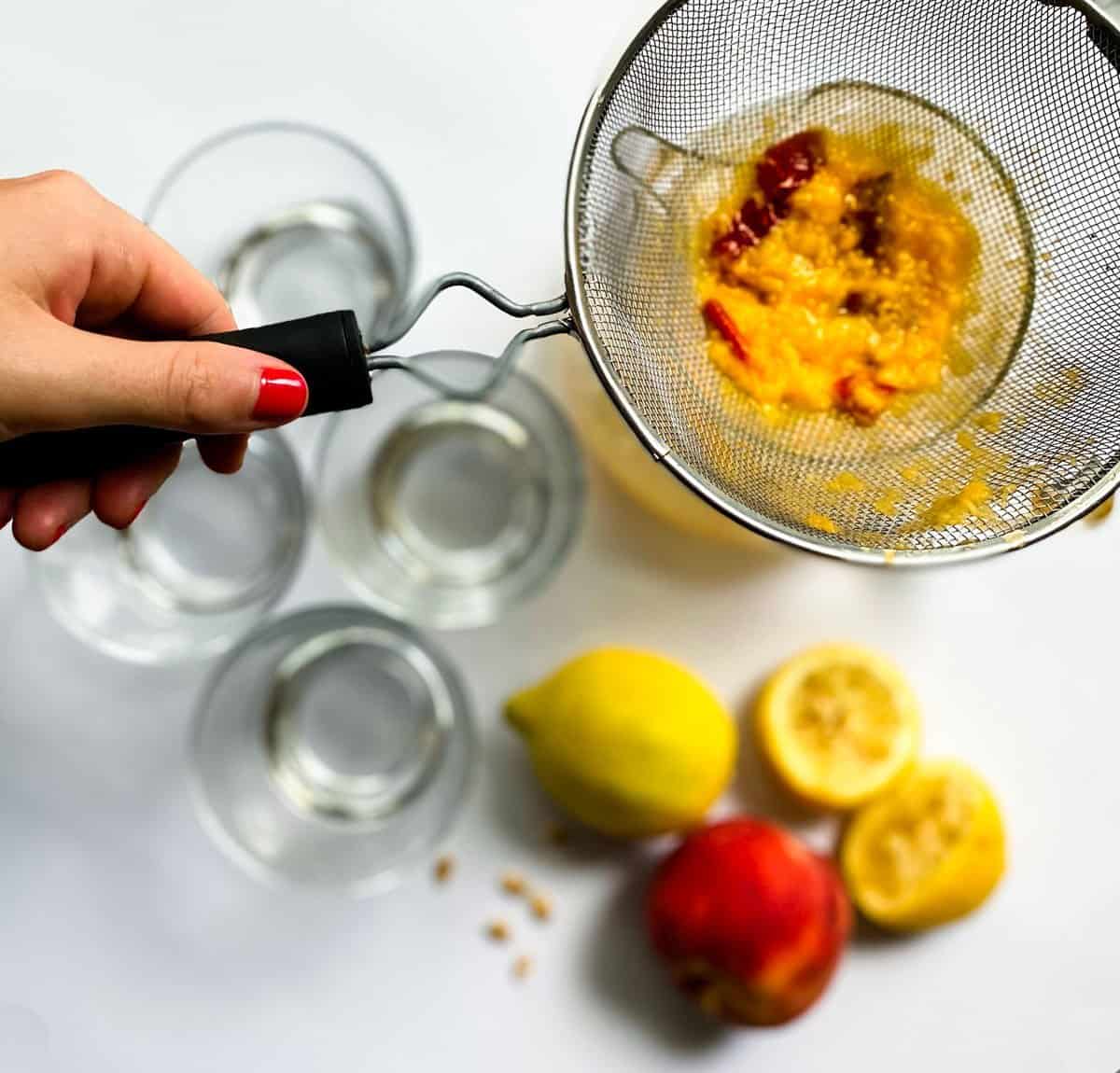 Through a strainer, add the mashed peaches to the lemon juice in the pitcher. Add the agave and water, then stir it all together. Adjust the lemon, agave, and water until you get the flavor you're looking for. I love a sweet, but slightly tart lemonade.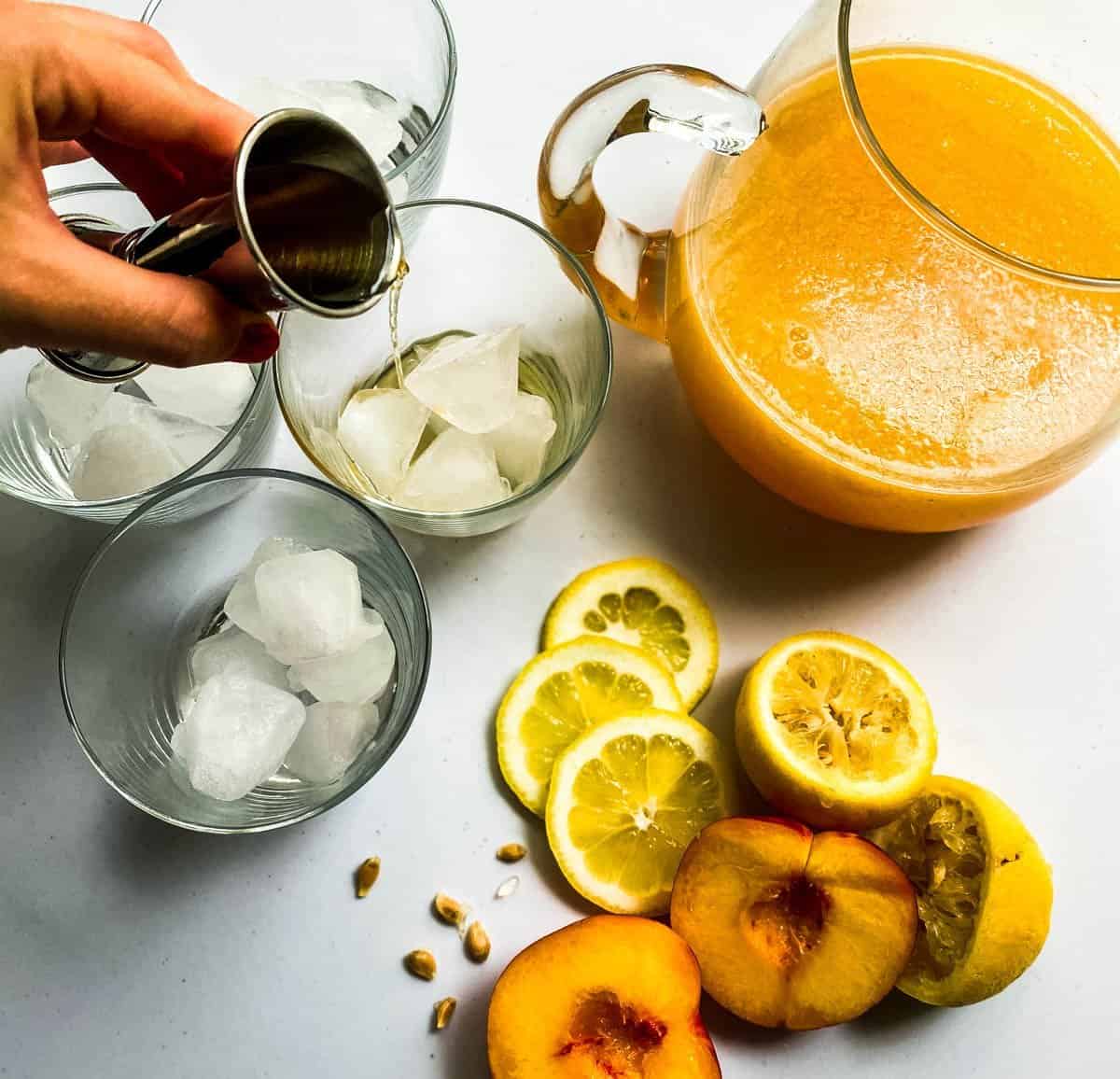 Place ice into drink cups. If adding whiskey or alcohol of your choice, add a shot to each glass. Pour the lemonade over the whiskey, stir, and enjoy! Close your eyes and you'll feel like you're on vacation somewhere far away from screaming children, loads of laundry, and demanding bosses. Ahhhh
Does lemon pair well with whiskey?
Lemon and whiskey are like a match made in heaven! The tartness of the lemon helps to match, as well as tone down the smokiness of the whiskey. Pair them together and they balance each other as soon as they hit your tongue. The lemon also curbs the alcohol flavor, allowing you to enjoy your drink without making a scrunchy, gagging face. Some other delicious whiskey and lemon pairings: a whiskey smash or this delicious whiskey sour by A Couple Cooks.
Can you make this into a sparkling peach lemonade?
Yes yes yes!! Like I mentioned, this recipe is so versatile. You can experiment in so many ways. One way includes adding less water and substituting it with some sparkling water. You can also add frozen blueberries instead of ice, mash plums instead of peaches, or use vodka/tequila instead of whiskey. Have fun with it and let me know how you switched things up by commenting below or tagging @yourhomemadehealthy on Instagram!
What makes this a healthy recipe?
Store bought lemonades and juices are chock full of artificial sugars and extraneous ingredients. Even some homemade fruit flavored lemonades include CUPS of sugar, which really isn't necessary when you utilize the natural fruit sugars in sweet ripe peaches. By only adding 2 tablespoons of agave, you can decide how much sugar you want to consume and adjust according to your taste.
One more tip
Since this recipe has no preservatives and uses fresh fruit juices, it only stays fresh in the fridge for a few days. Luckily, this recipe is really easy to adapt to different servings! 3 lemons + 3 peaches = 6 servings, so about 2 lemons + 2 peaches = 4 servings and so on. But don't worry, this lemonade is so good, not much will go to waste!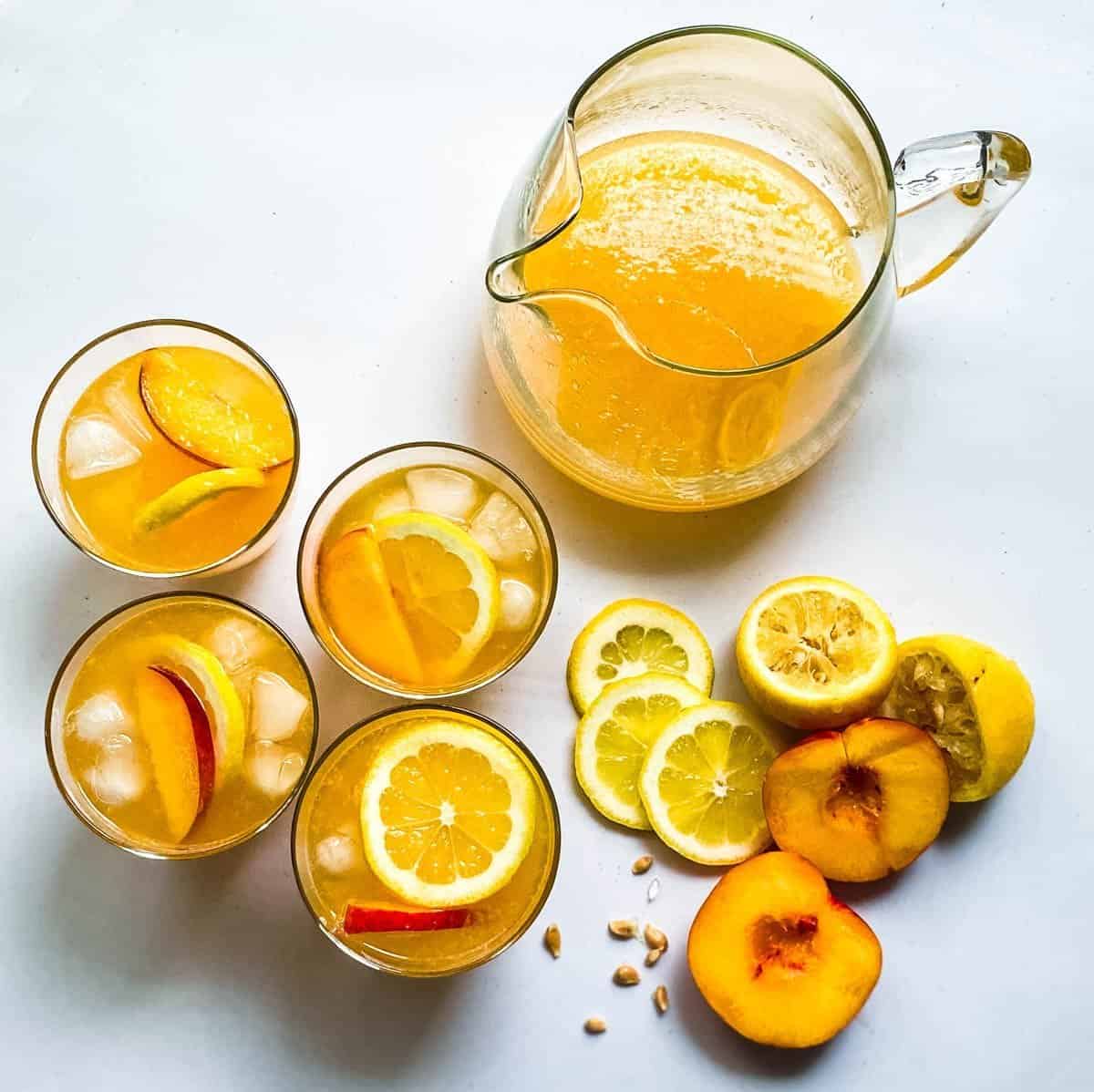 Looking for more healthy recipes? Try these:
Share your cooking with me! If you make this recipe, I'd love to know! Tag @yourhomemadehealthy on Instagram or leave a comment with a rating and some feedback at the bottom of this page!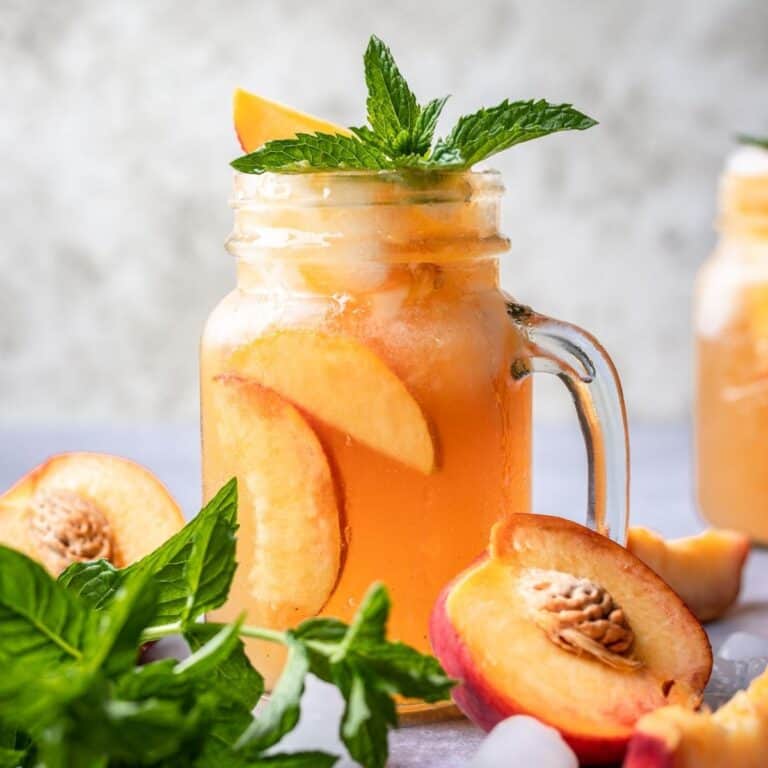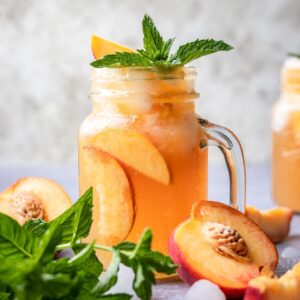 Ingredients
2

lemon wedges (⅓ of a lemon)

5

mint leaves

plus extra for garnish

½

a ripe peach, roughly chopped

plus extra for garnish

1 ½

ounces

(3 tablespoons) kentucky bourbon

½

ounce

(1 tablespoon) peach schnapps

½

ounce

(1 tablespoon) pure maple syrup

ginger beer

crushed ice
Instructions
Add lemon wedges, mint leaves, and peach to a cocktail shaker or glass.

Muddle until mostly smashed, about 10 to 20 times.

Pour in bourbon, peach schnapps, maple syrup, and ice. Top with the lid of the shaker and make sure it is secure.

Shake vigorously to combine all the flavors.

Strain into a glass filled with ice.

Top with ginger beer. Garnish with additional fresh mint and peach slices.
Notes
You can also use vodka or rum instead of bourbon.
If you don't like ginger beer, you can top the drink with sparkling water or club soda instead. However, it won't have as strong of flavor.
This recipe makes 1 drink. Adjust the amount of servings to make for more than 1 person.
Nutrition
Calories:
271
kcal
|
Carbohydrates:
41
g
|
Protein:
3
g
|
Fat:
1
g
|
Saturated Fat:
1
g
|
Polyunsaturated Fat:
1
g
|
Monounsaturated Fat:
1
g
|
Sodium:
17
mg
|
Potassium:
451
mg
|
Fiber:
8
g
|
Sugar:
23
g
|
Vitamin A:
504
IU
|
Vitamin C:
119
mg
|
Calcium:
87
mg
|
Iron:
2
mg
Want to Save this Recipe? Pin it for Later!
Make sure to follow @yourhomemadehealthy for more delicious recipes!
Want more recipes like this delivered right to your inbox? Be sure to subscribe below and never miss a thing!