Have these juicy, tender Air Fryer Lamb Chops on the table with just 10 minutes of hands on prep work. They're packed with flavor from the marinade and mint chimichurri sauce. Plus, they're fancy enough to serve for Easter or Passover, yet quick and easy enough to enjoy as a go-to dinner. Try them with my roasted carrots and mashed potatoes this week!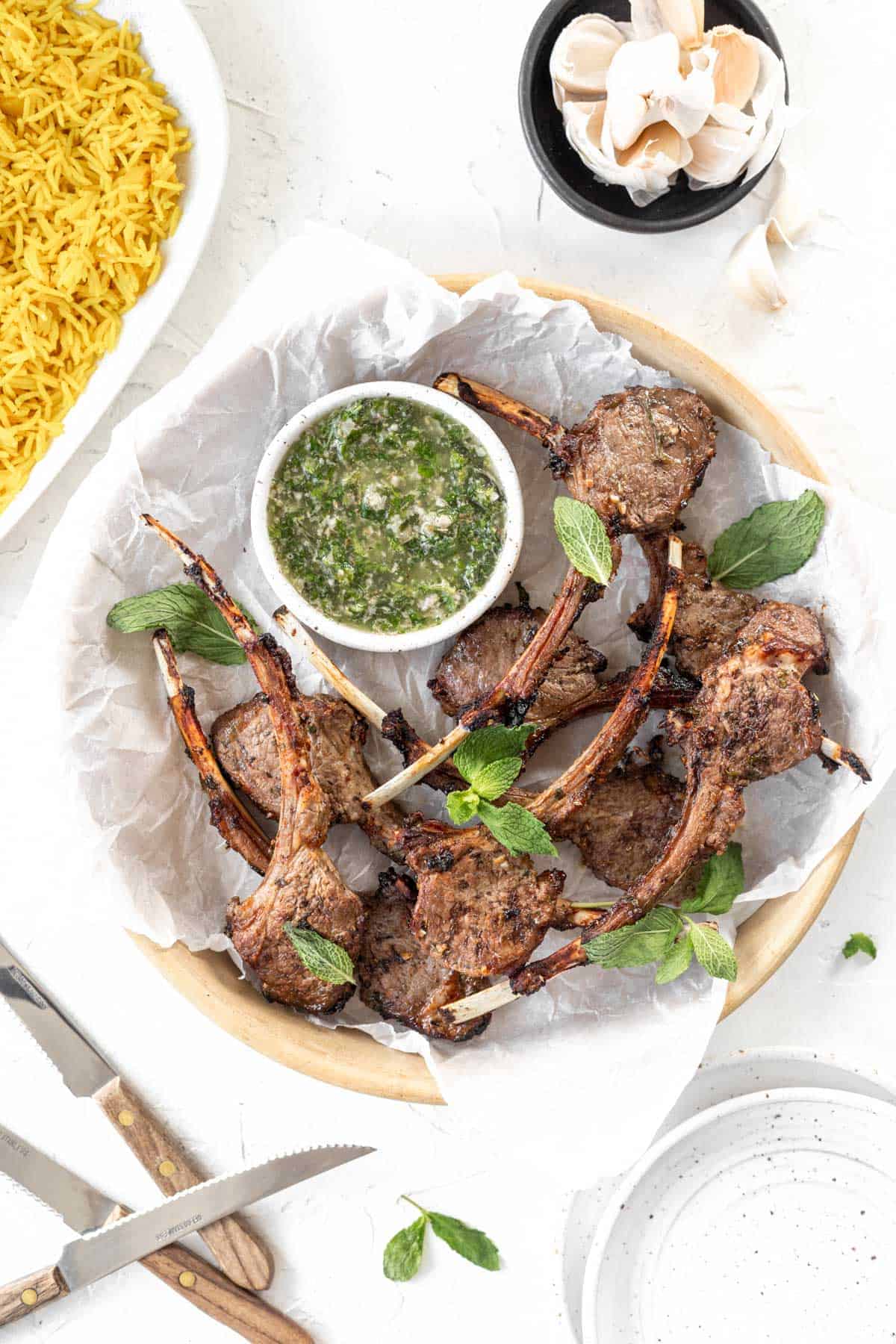 Jump to:
📋 About the Recipe
Impressive, yet easy - If you're looking for the perfect dish to serve for a nicer dinner party or holiday, look no further! These lamb chops are impressive, yet easy to prepare. Lamb is a tender meat and will come out perfectly juicy every time!
Simple marinade - These chops are marinated in a simple marinade that adds extra flavor and tenderness to the meat.
🛒 Ingredients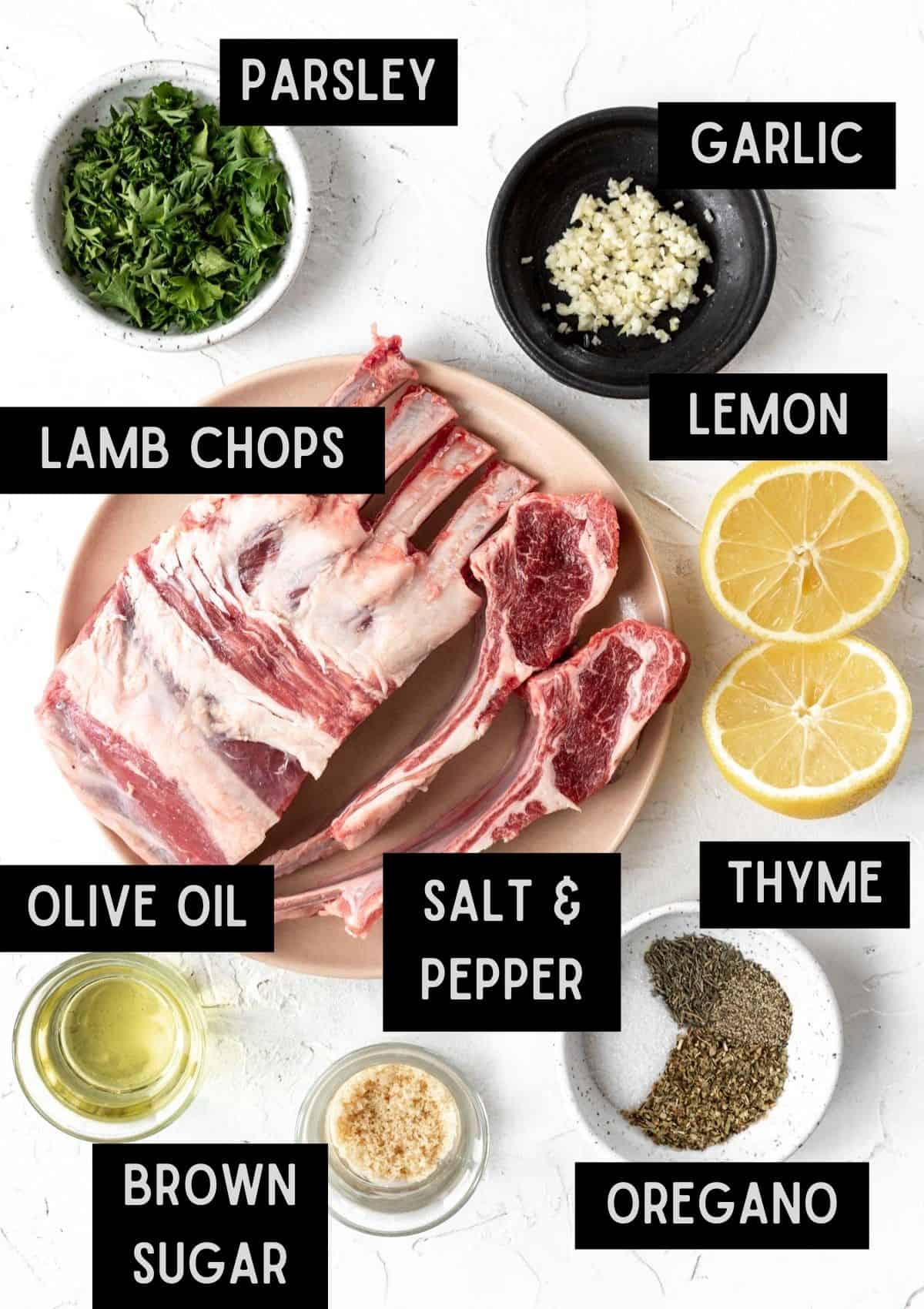 A few notes about the ingredients:
lamb chops - I used 2 "frenched" racks of lamb (about 3 pounds). This simply means that the meat is removed from the bone, creating an exposed bone or "lollipop" handle. If you've never butchered a rack of lamb before, check out this video on how to butcher a rack of lamb. (Cutting it into separate chops is demonstrated at about 3:31).
brown sugar - uses light brown sugar for a subtle sweetness in the marinade, as well as adds a nice brown crust on the chops during air frying.
olive oil - Similar to the brown sugar, olive oil helps the outside of the meat develop a nice golden brown color. Coating the meat in olive oil also helps keep the inside of the chops moist and tender.
lemon juice - The acidity in lemon juice helps to break down the proteins, leading to softer, juicier meat.
spices - The simple combination of oregano, thyme, salt, pepper, and fresh parsley balances the gamey flavor of lamb, keeping it fresh and flavorful.
📓 Instructions
Clean the lamb: Remove excess fat and the thin membrane on the underside, if applicable.
Cut into chops: Cut between each of the bones to create separate chops or "lollipops."
Marinade: In a large mixing bowl, mix together the garlic, lemon juice and zest, olive oil, light brown sugar, parsley, oregano, thyme, salt and pepper. Then toss the meat in the marinade until evenly coated. Allow the chops to marinate for at least 1 hour or up to 24 hours.
Air Fry: Spray the air fryer basket with non stick cooking spray, then lay the lollipops in a single layer in the bottom of the basket. I was able to fit 5 at a time in my basket.
Air fry the chops at 380 degrees Fahrenheit for 8 minutes, flip, then air fry for an additional 3 minutes at 400 degrees Fahrenheit, or until the internal temperature of the meat has reached 145 degrees Fahrenheit. This is going to achieve a medium rare lamb chop.
Continue air frying in batches until all chops are air fried.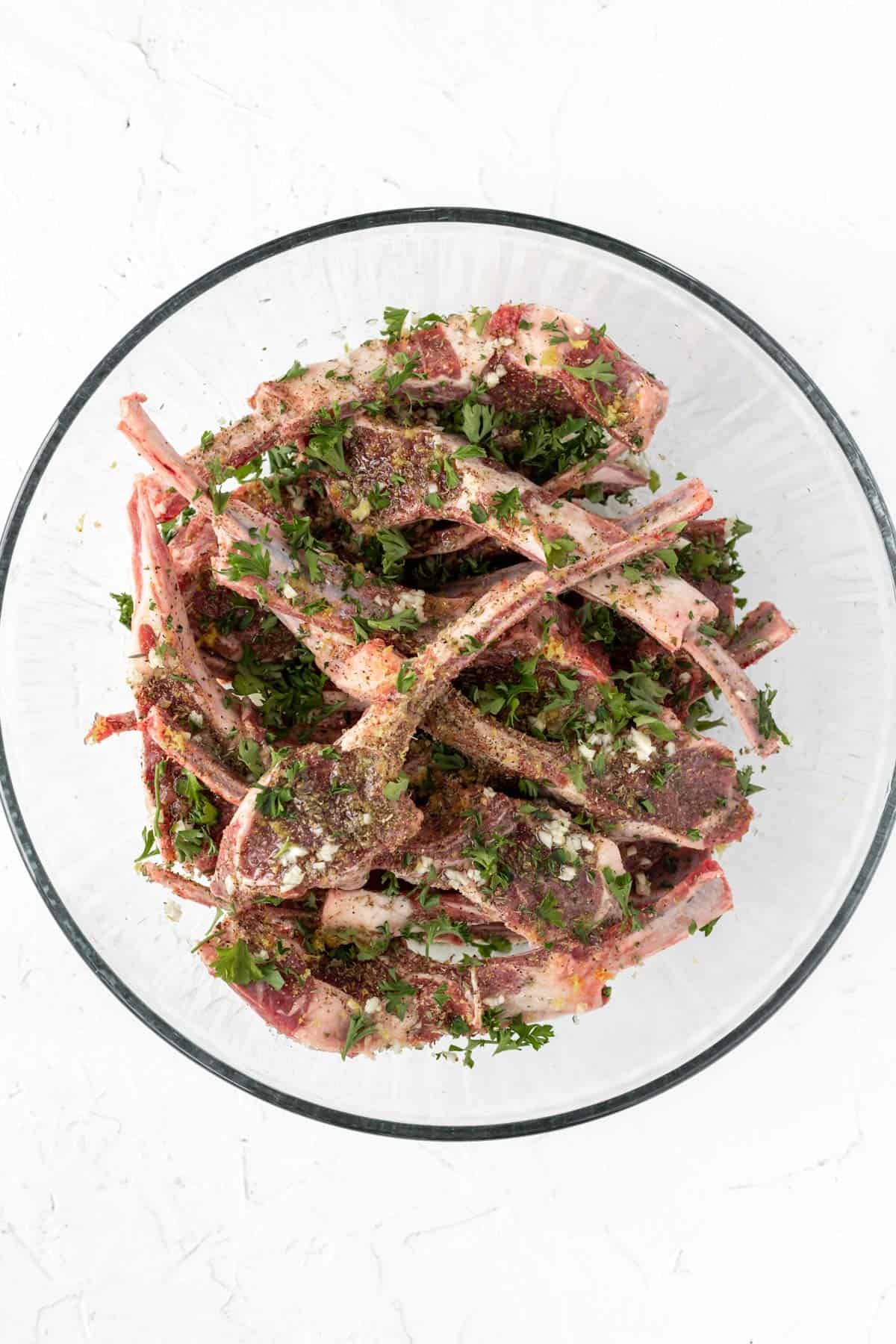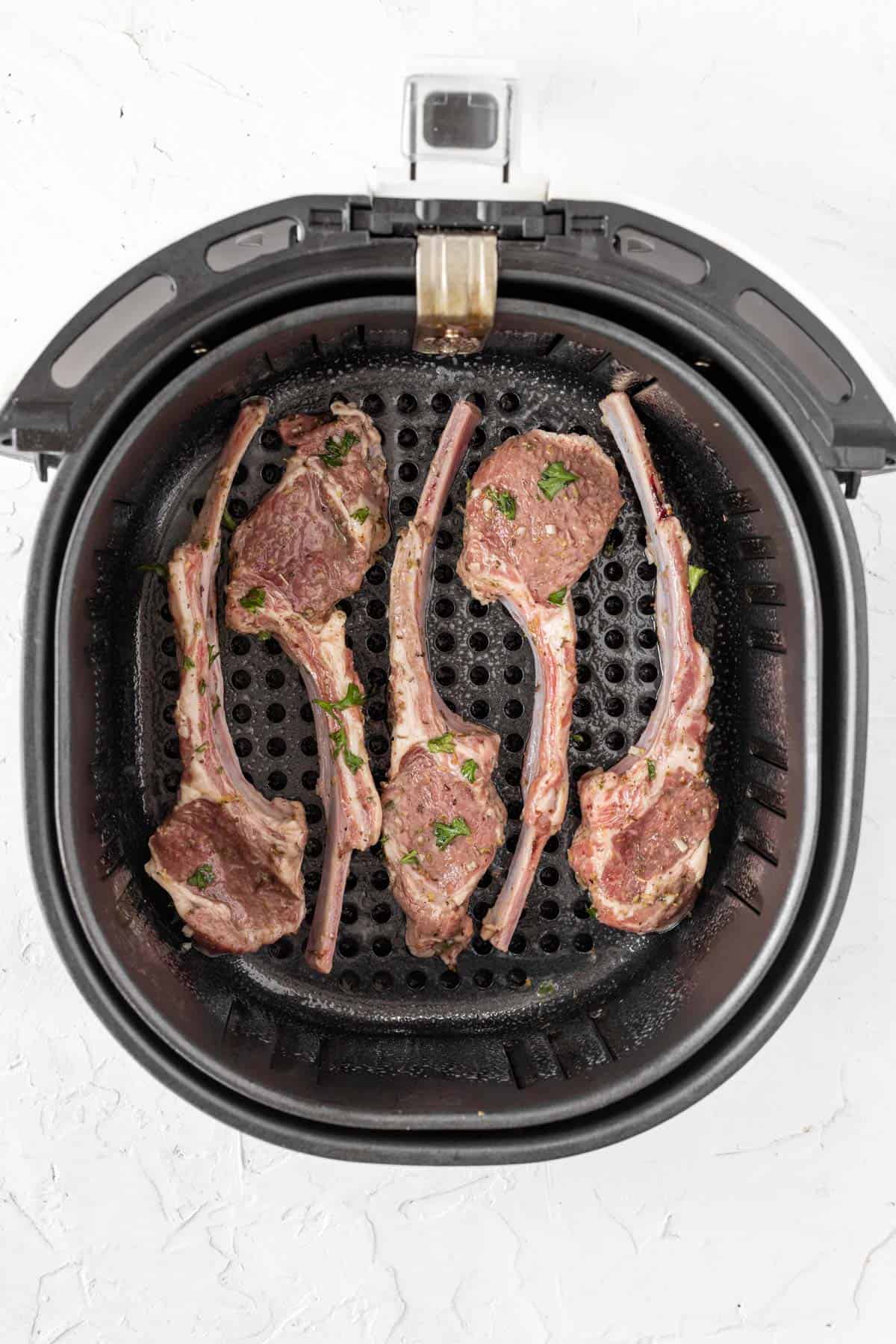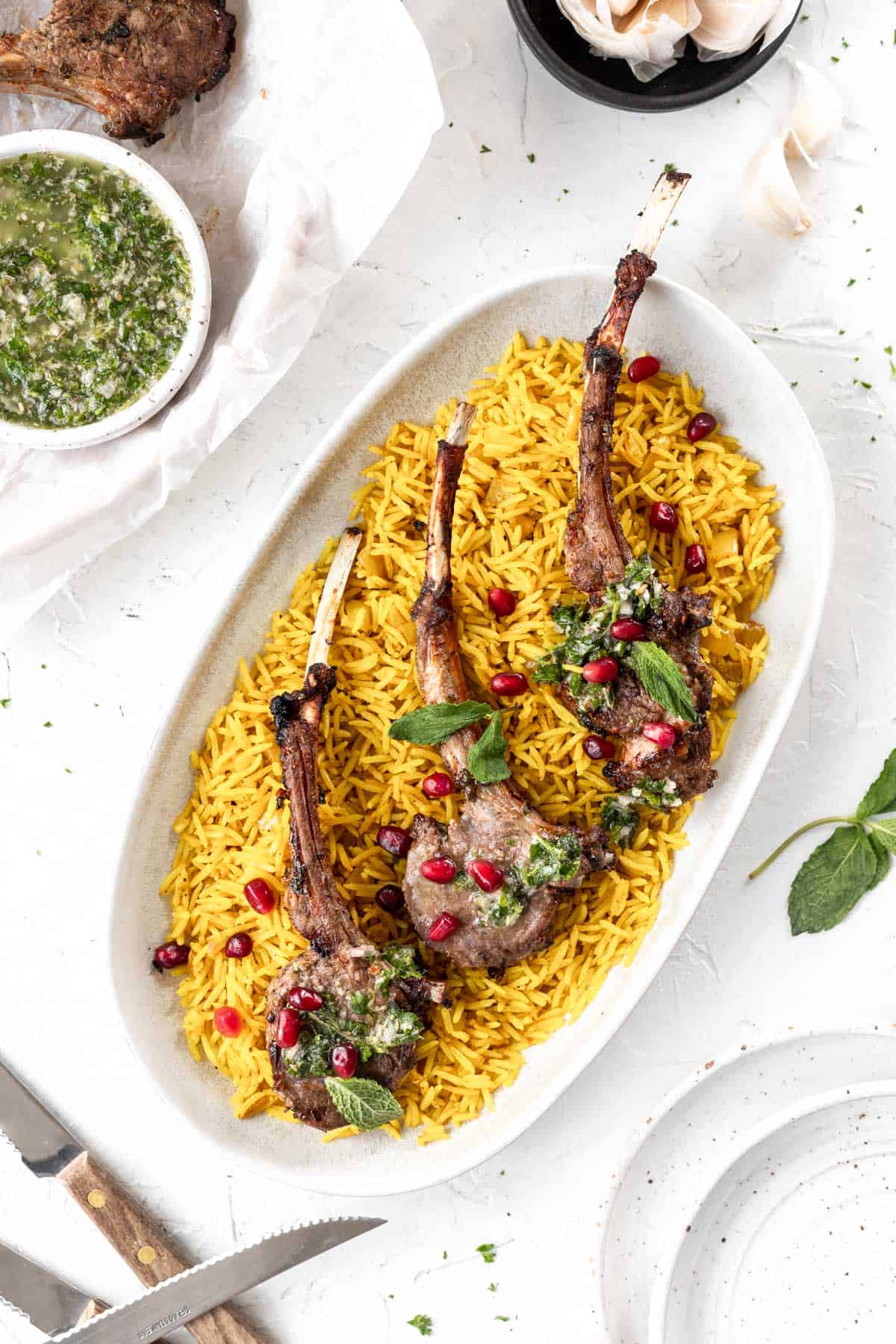 ⁉️ Substitutions and Alterations
Switch up the seasonings! I use pantry-staple spices in the marinade for these lamb chops to make them as simple as possible, but feel free to change the flavor profile to suit your taste. Chili powder or other stronger spiced flavors will pair well with the meat since lamb also has a strong, gamey flavor. You can also use more or less of any spice - adjust to taste.
❄️ How to Store
To store: Store any leftovers in an airtight container or wrapped tightly in saran wrap or foil for up to 3 days in the refrigerator.
To freeze: Freezing cooked lamb is not recommended, since they will likely dry out and lose their tenderness.
To reheat: Reheat leftover chops in the air fryer for about 10 minutes at 325 degrees, until warmed through. Note, this length of time may need to be adjusted based on the size of your chops and the type of air fryer you use. If you find your appliance typically runs hot, try 7-8 minutes. Avoid over cooking them as this will dry out the meat.
🔍 FAQs
How do I french lamb lollipops?
Often the butcher at the grocery store will be willing to do this for you or you may be able to find packaged racks of lamb that are already frenched. But if you are frenching a rack yourself, learn how to do it yourself in this thorough article: How to French a Rack of Lamb.
How many lamb lollipops should I prepare per person?
If you are serving as an appetizer, I would recommend 1-2 per person. If serving as a main, I'd plan for 3-4 lamb chops per person.
Can lamb chops be a little pink?
The outside of your lamb chops should be browned, but the interior should be pink if cooking medium or medium rare.
💭 One More Tip
Due to the wide assortment of air fryer appliances, as well as varying sized lamb chops, it is difficult to provide an exact cook time for perfectly medium rare chops. I recommend testing 1 lamb chop first to determine how long you will need to air fry in order to achieve your perfect level of doneness. Once you have figured out the best timing for your particular air fryer, proceed with multiple chops and fry in batches until done.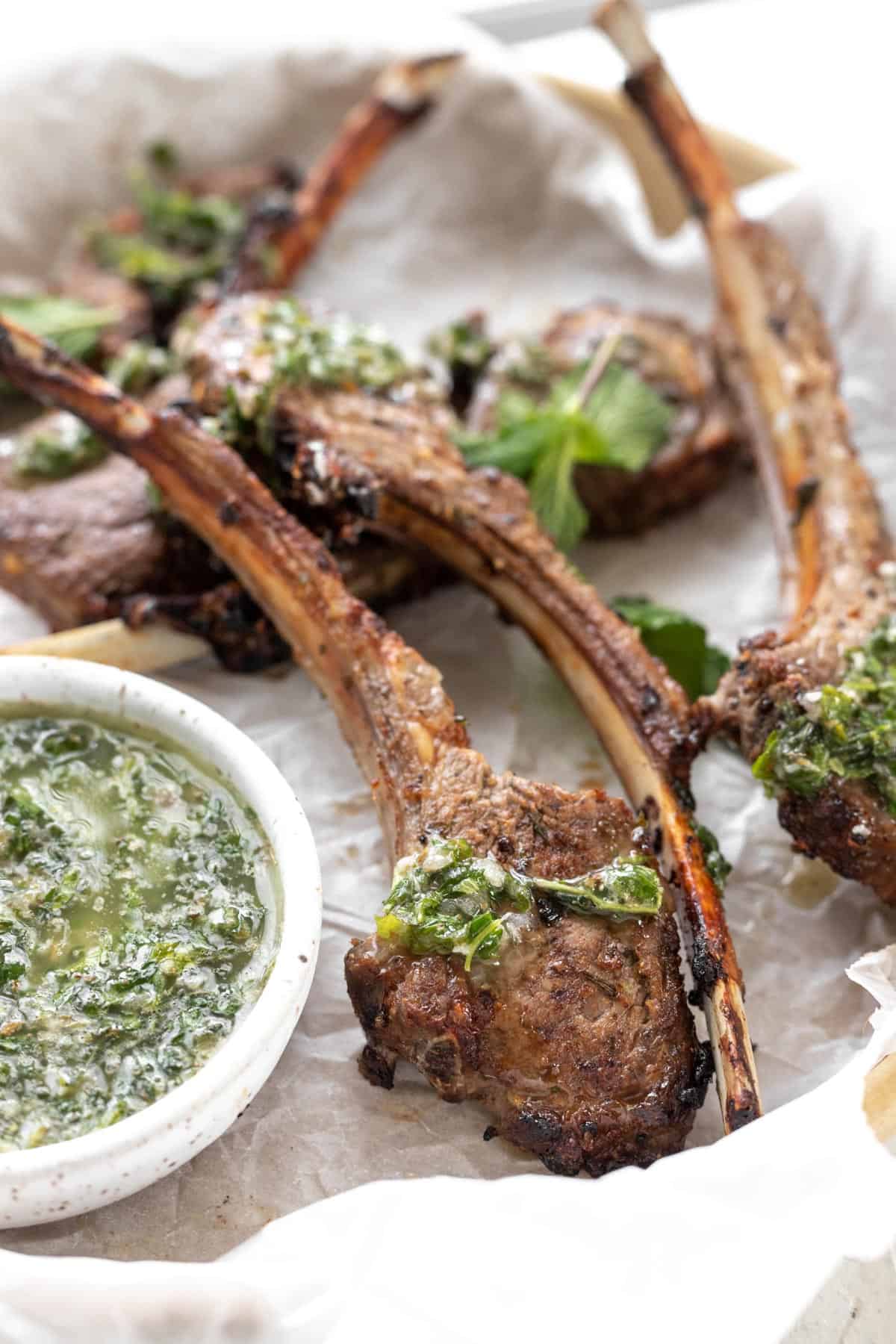 🍴 Related Recipes
Share your cooking with me! If you make this recipe, I'd love to know! Tag @yourhomemadehealthy on Instagram or leave a comment with a rating and some feedback at the bottom of this page!
📖 Recipe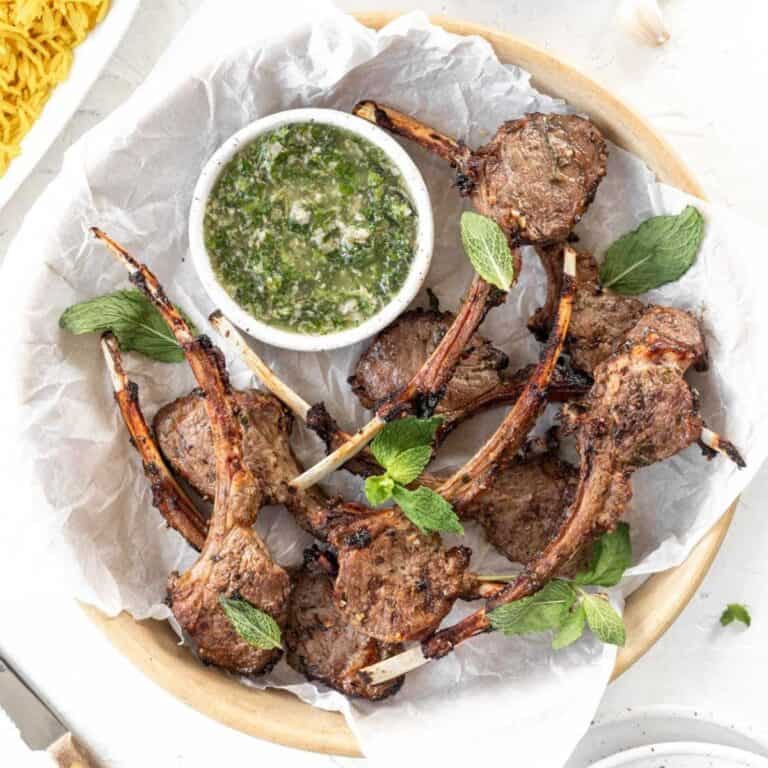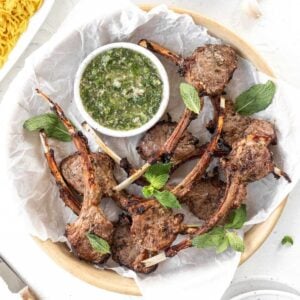 Air Fryer Lamb Chops
Perfectly golden brown lamb chops made right in your air fryer! And don't forget to top them off with the deliciously herby mint chimichurri for an extra boost of flavor.
Print
Pin
Rate
Ingredients
For the Lamb Chops
16

lamb chops from 2 "frenched" racks of lamb

around 3 pounds (see notes)

2

garlic cloves

minced

zest from 1 lemon

1

lemon

juiced

3

tablespoons

olive oil

1

tablespoon

light brown sugar

2

tablespoons

chopped fresh parsley

1

teaspoons

dried oregano

¼

teaspoons

dried thyme

1

teaspoons

kosher salt

¼

teaspoons

black pepper
For the Mint Chimichurri
1

small shallot

cut in half

3

garlic cloves

3

tablespoons

red wine vinegar

2

tablespoons

lemon juice

1

teaspoons

salt

¼

teaspoons

black pepper

1 ½

cups

fresh parsley

stems removed

½

cup

fresh mint

stems removed

1

teaspoon

dried oregano

¾

cup

olive oil
Instructions
Clean the racks of lamb and cut them into chops: if the racks have a thin membrane on their underside, remove it with your knife. Remove any excess fat. Then, cut between each of the bones to create separate lamb chops or "lollipops." For more information, check out this video on how to butcher a rack of lamb. (Cutting it into separate chops is demonstrated at about 3:31)

Add all of the marinade ingredients to a large bowl. Mix to combine.

Place the chops in the marinade and gently toss to coat them.

Marinate the chops for at least an hour, but no more than 24 hours.

While the chops marinate, make the mint chimichurri: to a food processor, add the shallot, garlic cloves, red wine vinegar, lemon juice, salt, and pepper.

Pulse until the shallots and garlic are minced. Add in the parsley, mint, and dried oregano. Pulse again to combine.

Slowly pulse in the olive oil until it forms a slightly chunky sauce.

When the chops are done marinating, spray the basket of your air fryer with nonstick spray. Lay the chops in a single layer at the bottom of the basket. Do not overlap them (you may need to cook them in batches).

Air fry the chops at 380 degrees F for 8 minutes, then flip them over, and air fry again at 400 degrees F for another 3 minutes*. Lamb chops are medium rare when their internal temperature registers 145 degrees F.

Repeat steps 6 & 7 until all chops are cooked through.
Notes
Frenched racks of lamb: a frenched rack of lamb simply means the rack is cleaned so that the lamb's shoulder blade is removed and the rib bones are exposed. At the end of the bones, there is a hearty row of meat. With these racks, you will then slice the meat into chops or "lollipops" so that each slice will have 1 bone with 1 oval-shaped cut of meat on the end.
I bought the pre-frenched racks of lamb at Costco, which required no additional butchering.
Nutrition facts are calculated for the lamb chops only.
Mint chimichurri will keep in the refrigerator for about a week. You can also freeze it in an air tight container for about a month.
*Due to the wide assortment of air fryers, as well as different possible sizes of lamb chops, it is difficult to provide an
exact
cook time for perfectly medium rare chops. If you prefer your lamb chops to be pink in the middle, you should try a test chop in the air fryer before cooking the rest. Use that chop as your guide in deciding whether to increase or decrease the cook time for the rest of the chops.
Nutrition
Calories:
881
kcal
|
Carbohydrates:
7
g
|
Protein:
91
g
|
Fat:
52
g
|
Saturated Fat:
16
g
|
Polyunsaturated Fat:
5
g
|
Monounsaturated Fat:
24
g
|
Cholesterol:
298
mg
|
Sodium:
910
mg
|
Potassium:
1265
mg
|
Fiber:
1
g
|
Sugar:
4
g
|
Vitamin A:
186
IU
|
Vitamin C:
17
mg
|
Calcium:
79
mg
|
Iron:
8
mg
Want to Save this Recipe? Pin it for Later!
Make sure to follow @yourhomemadehealthy for more delicious recipes!
Want more recipes like this delivered right to your inbox? Be sure to subscribe above and never miss a thing!