There's truly nothing better than a warm, garlicky slice of fresh-out-of-the-oven bread. And this quick and easy air fryer garlic bread is sure to check all the boxes. It's perfectly toasted and golden brown outside with a soft pillowy inside. Plus, it comes together with just 5 simple steps in under 15 minutes from start to finish.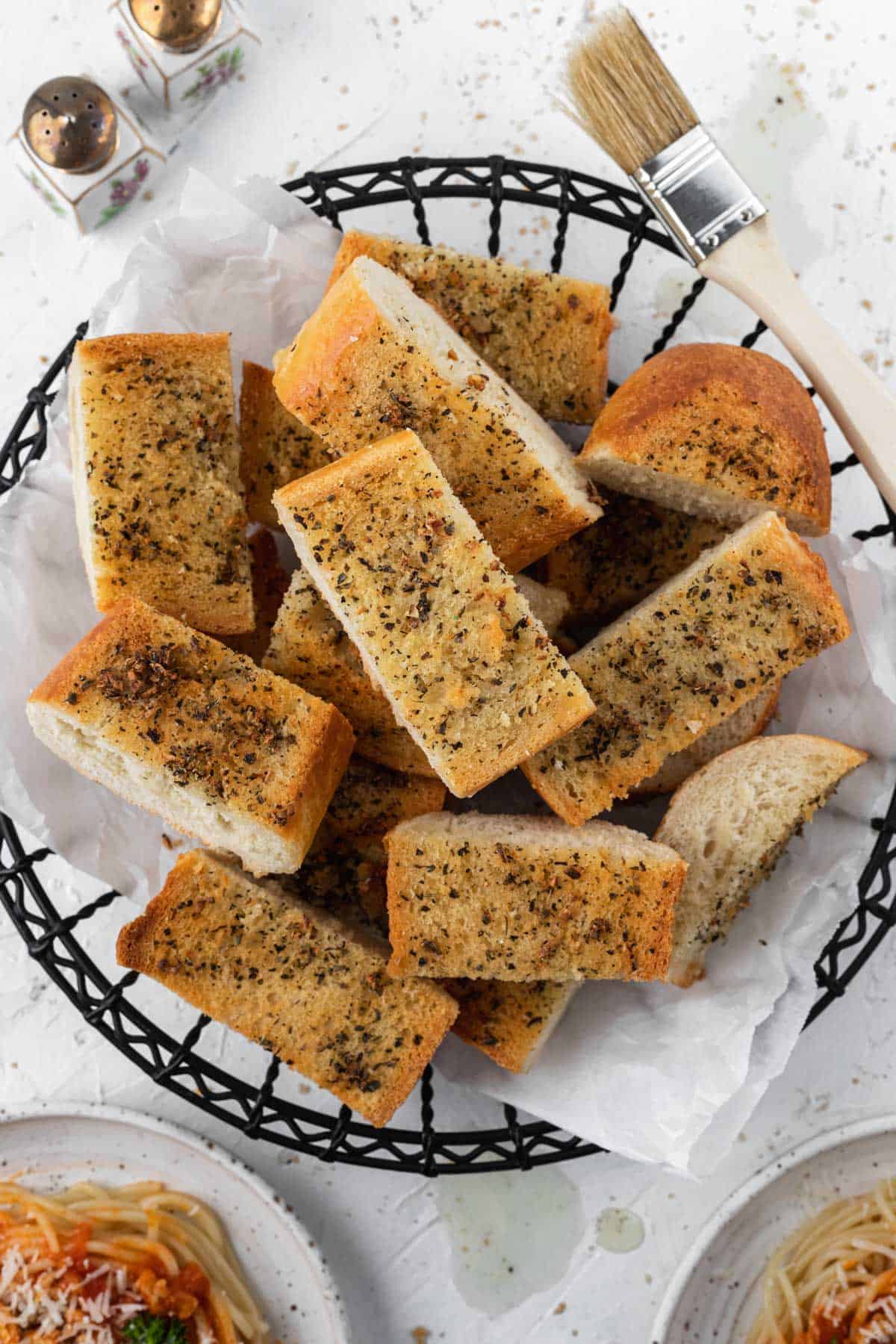 Jump to:
📋 About the Recipe
This is the absolute best garlic bread as it uses already delicious fresh baked bread from your local grocery store or bakery and transforms it into garlic bread made from scratch in a matter of minutes.
It's also a much healthier option compared to store bought or oil and butter-soaked breads. With just a few pantry ingredients, like olive oil, fresh garlic, herbs, salt, and pepper, you get that same punch of garlic flavor. Store bought or pre-made varieties often have loads of butter and added preservatives to keep it shelf stable.
Have leftover bread or dinner rolls going stale? This is a great way to repurpose that bread so it doesn't go to waste. The olive oil will help add moisture to the bread by preparing it according to the recipe instructions (you may need to add a touch more). The oil and the heat from the air fryer will soften the stale bread and make it edible again.
It's homemade so you get to decide how garlicky, salty, or oily you like your garlic bread. You can also use different seasonings or add cheese depending on your family's tastes.
It's so quick and easy to whip up that you should plan to make your meal first, then throw the bread right into the air fryer just before serving. In about 6 minutes, you'll have warm, comforting garlic bread ready to serve with dinner.
Pair air fryer garlic bread with any of your favorite dishes from chicken and meat entrees, like chicken marsala, classic Italian meals, like pink sauce pasta, or a lightened up combination of the two, like this Italian stuffed zucchini.
🛒 Ingredients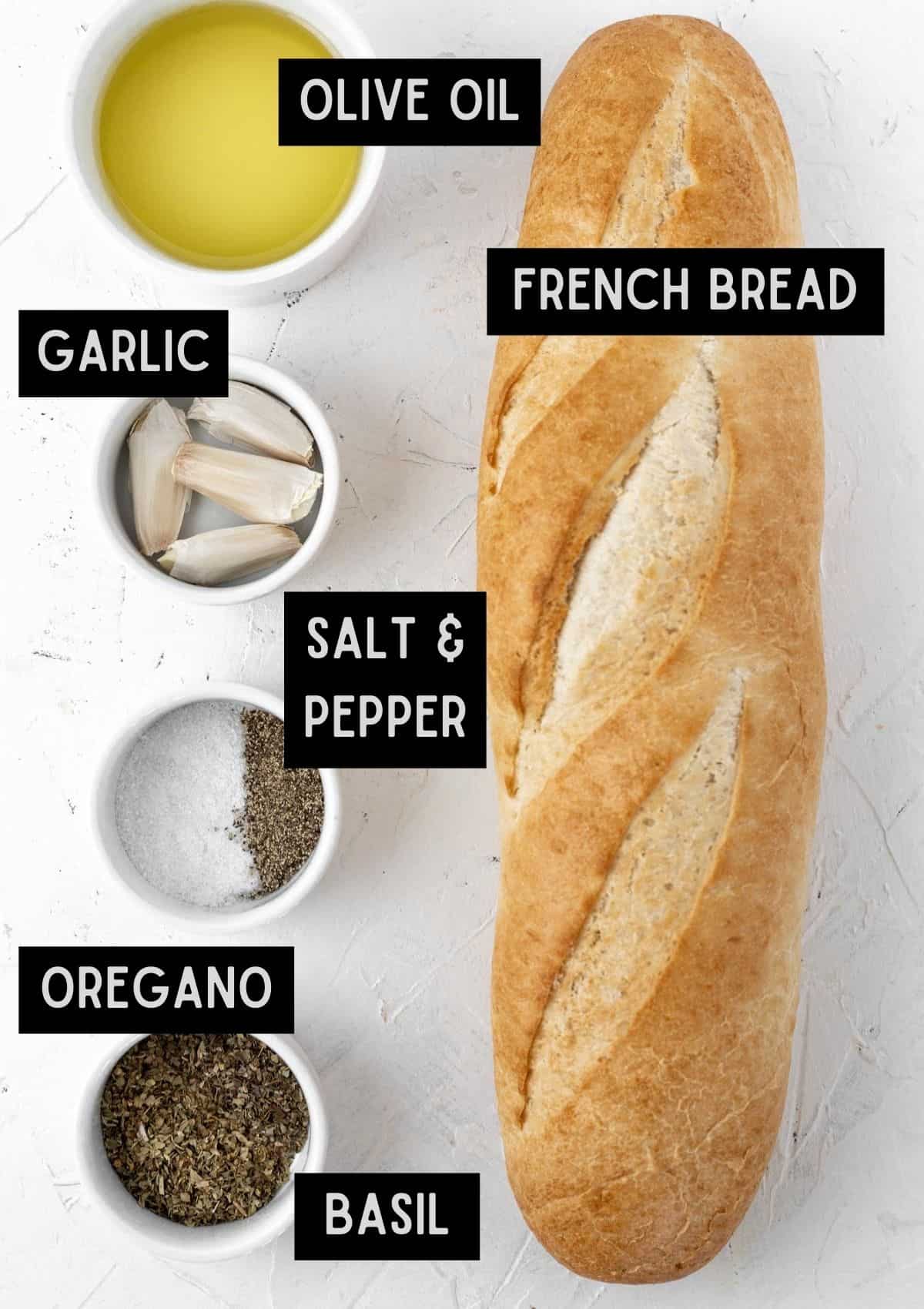 A few notes about the ingredients:
Fresh bakery bread - this recipe is best when made with a fresh baked bread. Do not use pre-sliced sandwich bread, as it won't offer the same soft texture inside and toasted, crusty crunch outside. Whole French or Italian loaves from your local bakery or the bakery section of your grocery store work best.
Olive oil - for delicious garlic bread without butter, opt for a good quality olive oil. Good olive oil is bright, peppery, earthy tasting and is always sold in a glass bottle because the oil is sensitive to temperature and light. Choosing quality oil, and quality ingredients in general, will provide you with the best flavor and health benefits.
Garlic cloves - always use fresh garlic over jarred for the best tasting bread. Garlic does not last long once it is minced, so the jarred stuff adds a ton of preservatives in order to try and keep it fresh. Thus resulting in lack of flavor and quality. You can try using garlic powder if you don't have fresh garlic, but I'd highly recommend trying fresh and comparing the two for next time!
Dried basil, oregano, salt, and pepper - I find this combination of seasonings gives the bread the extra flavor punch I desire in an Italian-style garlic bread. You can use fresh herbs if you'd prefer or substitute for other seasonings too.
📓 Instructions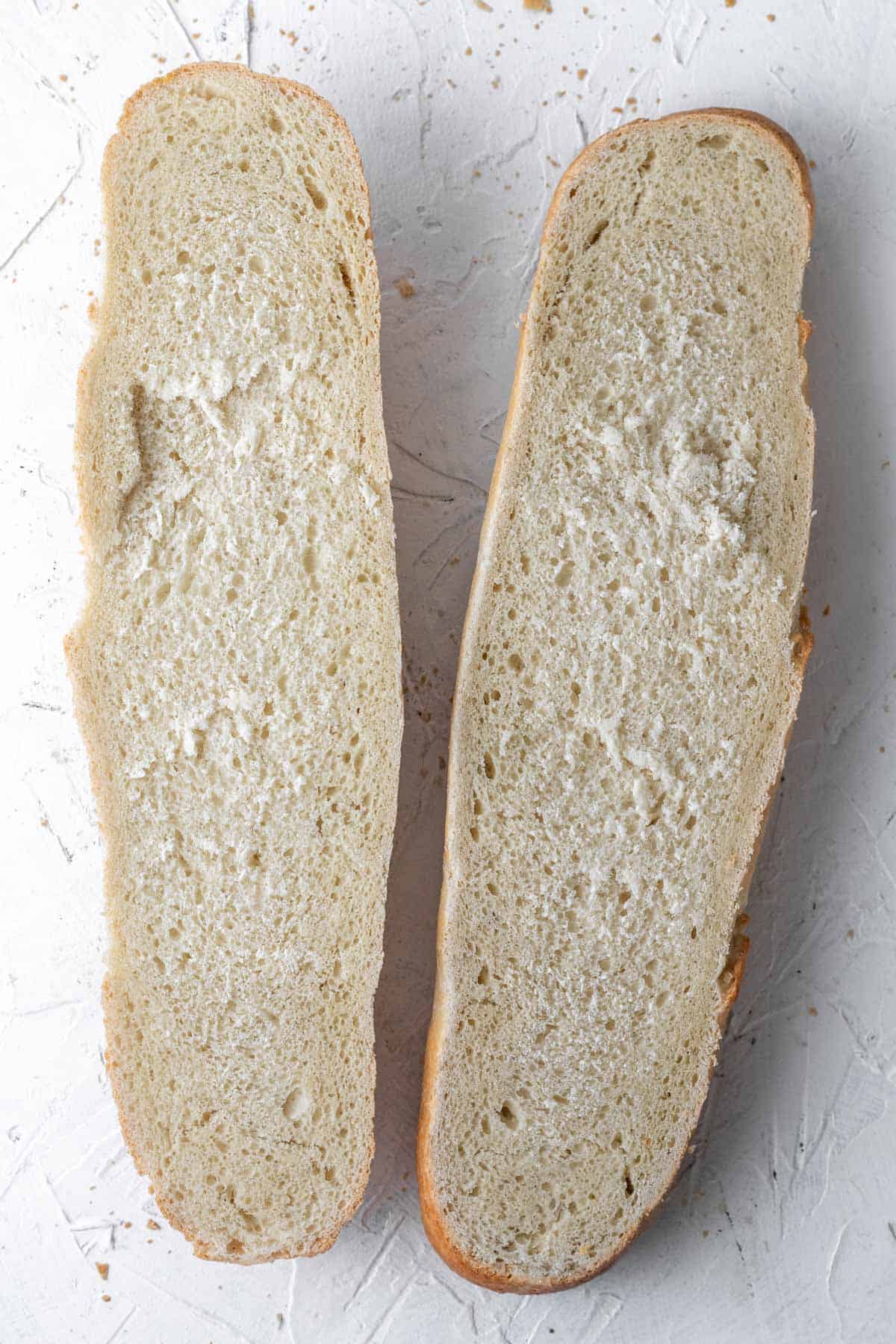 1. Cut loaf of bread in half lengthwise. Then, cut in half widthwise so each piece can fit inside your air fryer.
2. In a small bowl, combine olive oil, minced garlic, oregano, basil, salt, and pepper.
3. Brush herb and olive oil mixture on the sliced bread. If preferred, you can brush both sides for extra flavor.
4. Place bread in air fryer basket. Do not overcrowd. You may need to cook the bread in batches depending on the size of your machine. If using, sprinkle the tops with shredded parmesan cheese.
5. Air fry bread at 370 degrees F for 6 minutes, or until the outside becomes perfectly golden brown, while the inside remains soft, but warm.
6. Serve this quick and easy air fryer garlic bread with your favorite pasta dishes, like bucatini cacio e pepe or mediterranean garlic and olive oil pasta. It's also great served as a side dish with Italian zucchini, healthy chicken marsala, or ground chicken meatloaf.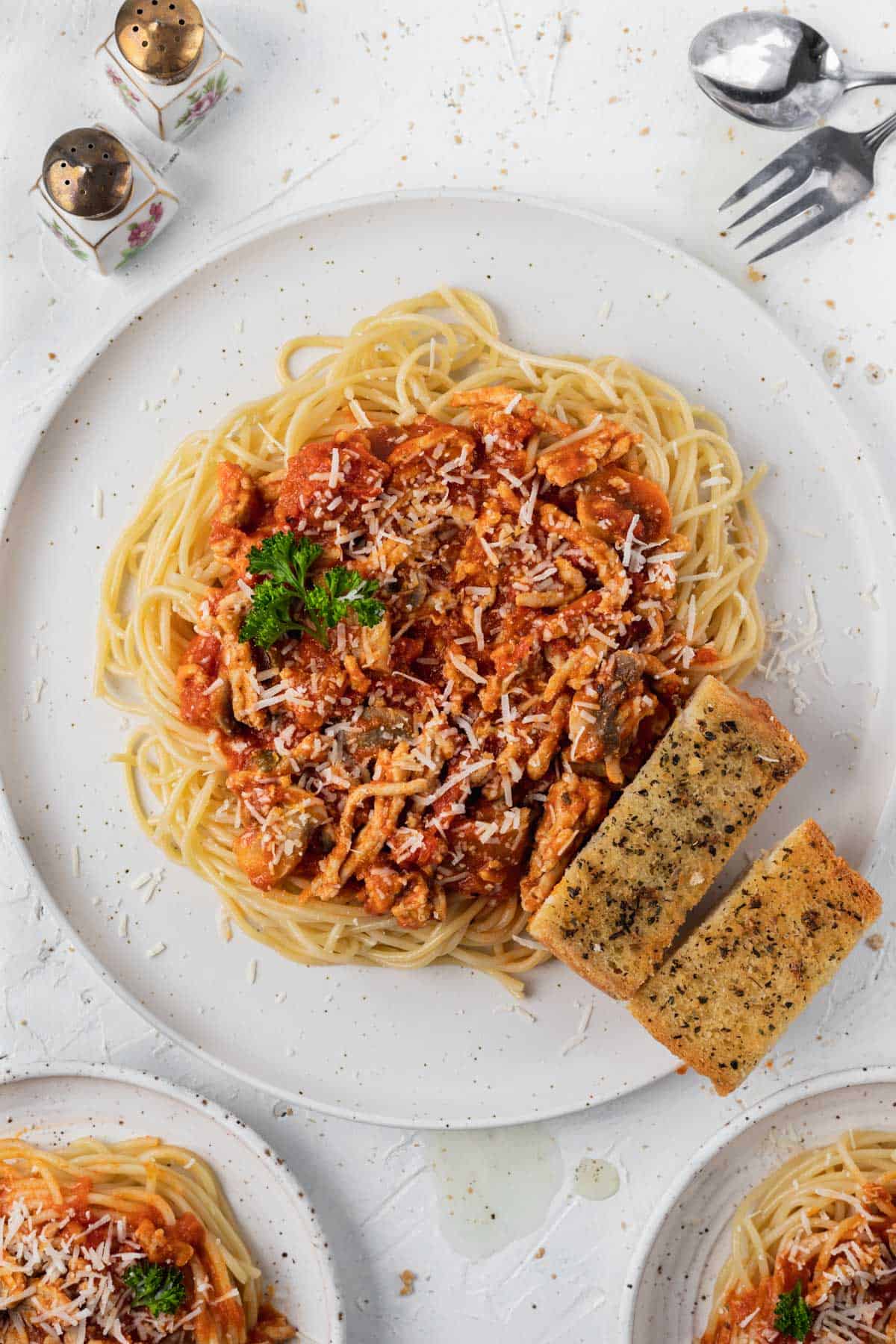 ⁉️ Substitutions and Alterations
Different kinds of bread: this recipe would be great with nearly any crusty bread. Make sure to use a whole loaf so you can cut it to fit. French, Italian, ciabatta, pumpernickel, and sourdough are all great options.
Instead of olive oil: you can use softened butter if you prefer. Mix the garlic cloves, salt, pepper, and dried herbs right into the butter before spreading it onto the sliced bread.
Instead of fresh garlic cloves: you can use garlic powder. In my opinion fresh cloves taste better, but a few dashes of garlic powder would be the next best substitute.
Other seasoning ideas: instead of dried oregano and basil, you can chop up fresh herbs, like oregano, basil, or parsley. You can also add a touch of spice with a dash of cayenne or sprinkle on some cheese, like parmesan or mozzarella, for a cheesy herb garlic bread.
❄️ How to Store
To store: Air fryer garlic bread is best served hot and fresh. However, if you have some leftover, you can store it in a Ziploc bag or airtight container on your counter.
To reheat: You may be able to revive leftover bread by warming it in the air fryer at 350 degrees F for just a few minutes.
To freeze: Freezing leftovers of this bread is not recommended.
🔍 FAQs
Can I make this without an air fryer?
If you don't have an air fryer, you can make this in your oven instead.

Preheat your oven to 350 degrees F.

Place the oil and garlic coated bread on a baking sheet.

Place the baking sheet in the oven and bake for about 15 minutes. Keep a close eye on the bread, making sure it doesn't burn.

Add more time in small increments if the bread needs more toasting.
💭 One More Tip
Adjust the cook time depending on your tastes. If you like a crispier, darker bread, add more time. If you like a softer, lighter bread then take a minute off.
Air fryers vary by size and shape, which makes determining a universal cook time very difficult. Your bread may take a bit more or less time depending on the size and shape of your machine.
Also, be sure not to overcrowd or stack the bread. If necessary, cook it in batches instead, so that you end up with evenly toasted garlic bread.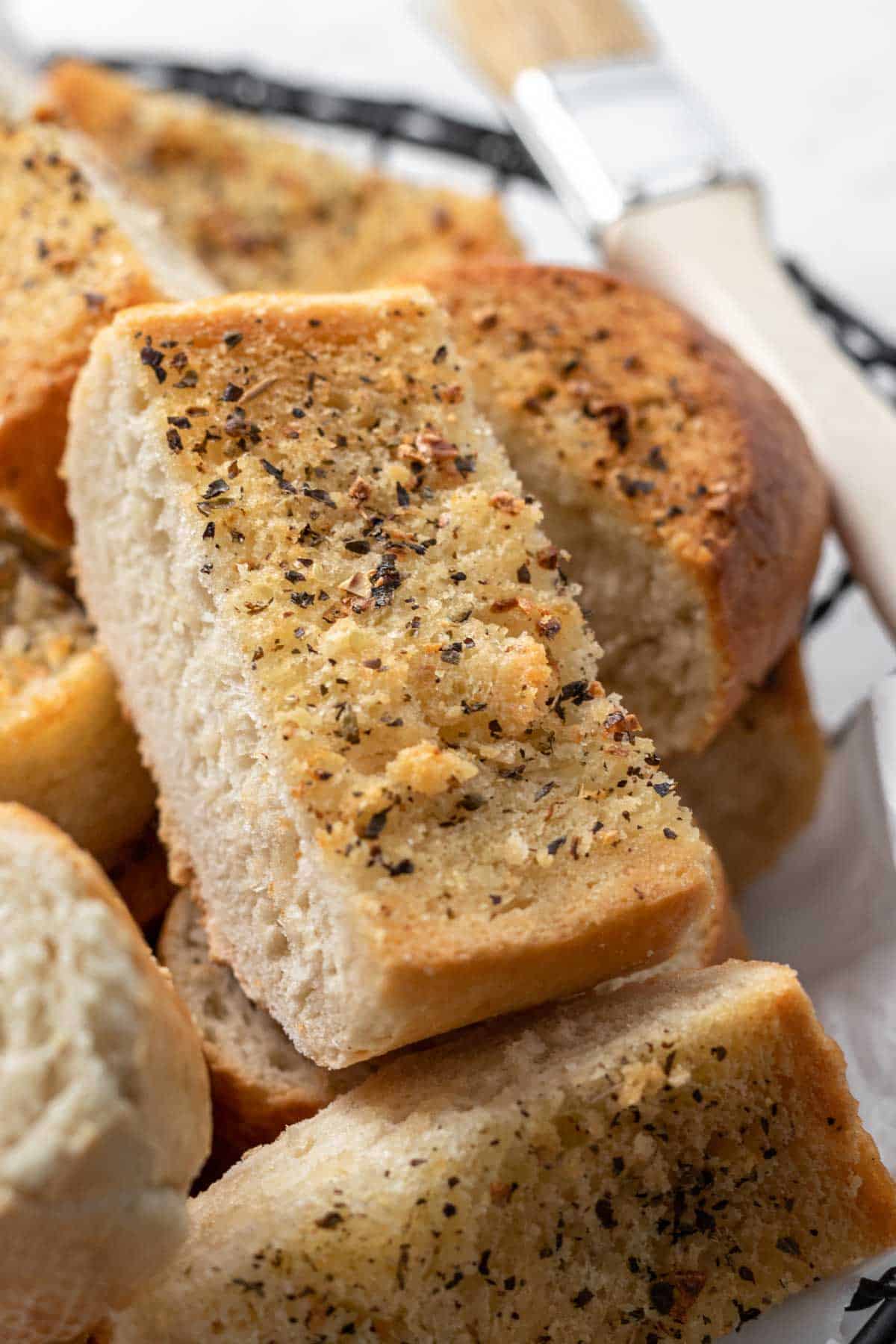 🍴 Related Recipes
Share your cooking with me! If you make this recipe, I'd love to know! Tag @yourhomemadehealthy on Instagram or leave a comment with a rating and some feedback at the bottom of this page!
📖 Recipe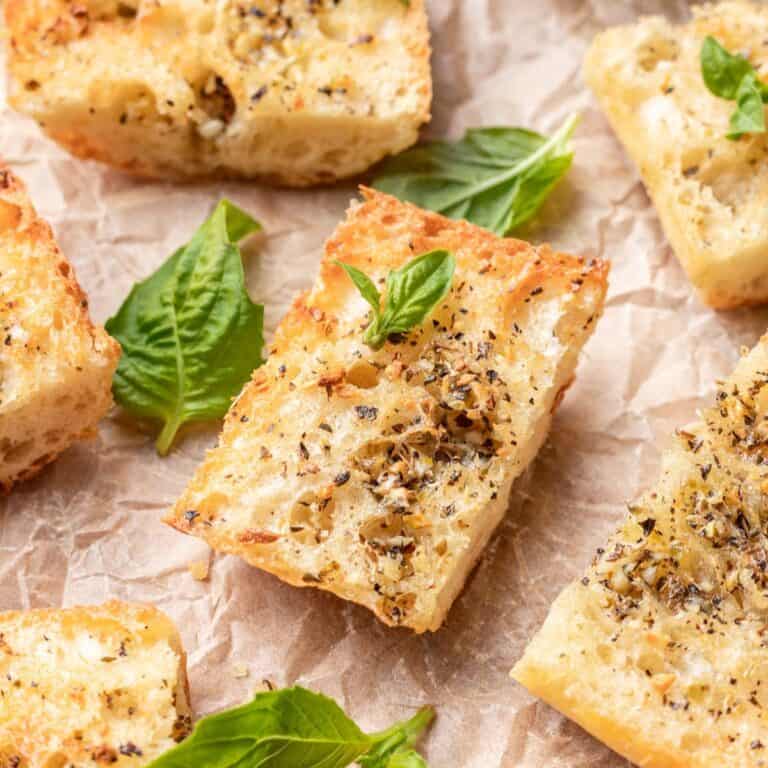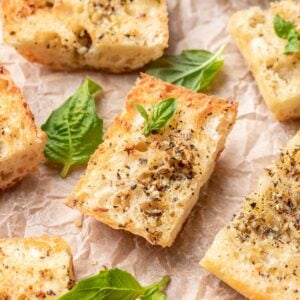 Want to Save this Recipe? Pin it for Later!
Make sure to follow @yourhomemadehealthy for more delicious recipes!
Want more recipes like this delivered right to your inbox? Be sure to subscribe above and never miss a thing!