This Salmon with Mango Salsa is a gorgeous main dish for warm summer nights! It's light, sweet, savory, and the ultimate match for your favorite fluffy rice. All you need is 12 simple ingredients to put together this healthy meal.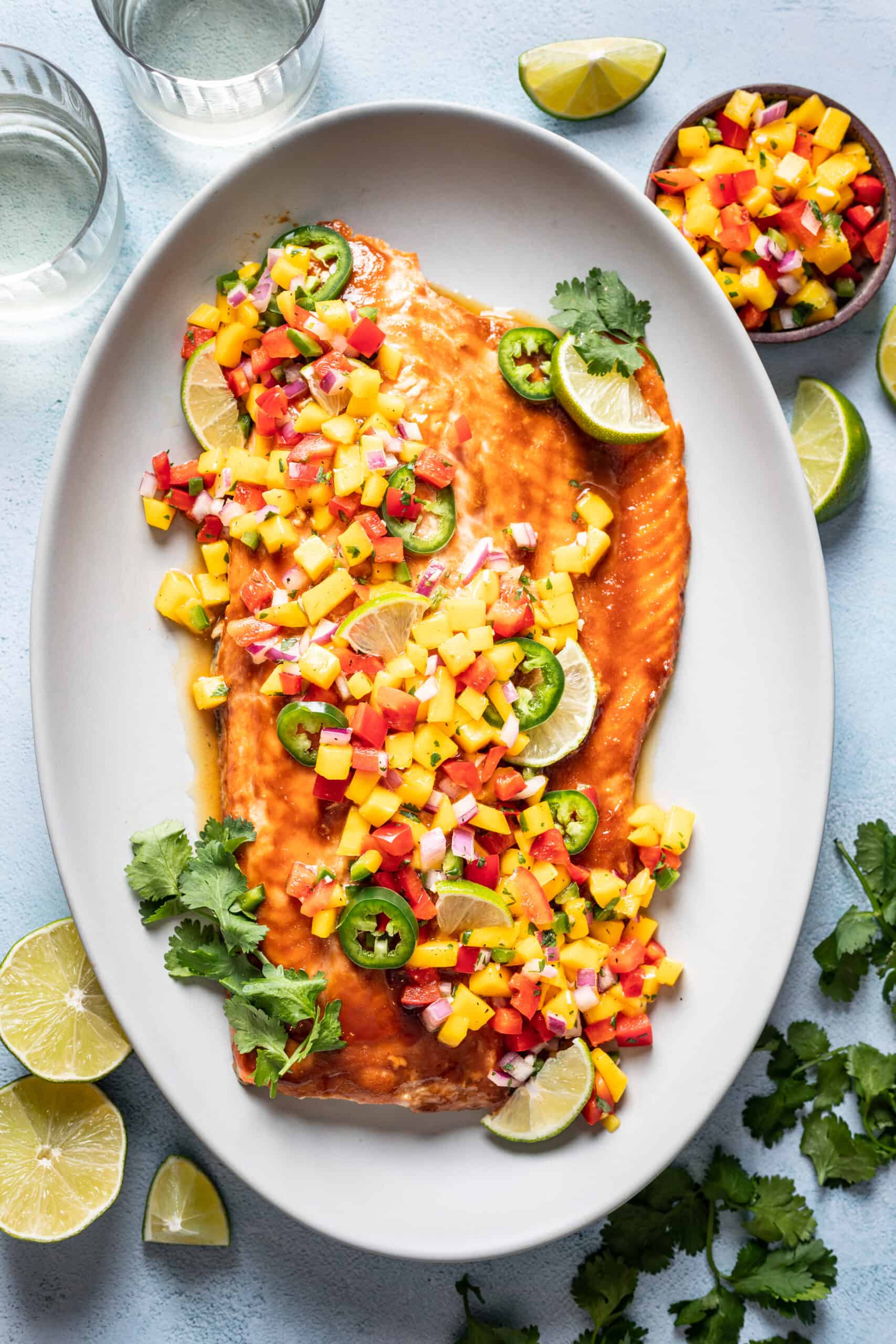 Jump to:
📋 About the Recipe
Ready in 45 minutes. All you need is 20 minutes to prep this salmon, including making a delicious tangy, sweet mango salsa from scratch! The timing's realistic enough for weeknights, or simple enough for stress-free entertaining, just like these salmon sliders. 
Made 100% from scratch. Making homemade sauces and salsas from scratch is a lot simpler than you think and so much better for you! Skip the additives, preservatives, and unhealthy ingredients in the store-bought versions and learn how to make a delicious salmon glaze and colorful salsa from scratch.
Pairs perfectly with my Coconut Lime Rice! ​There are a number of ways to enjoy this light dinner, but I can't recommend my Coconut Lime Rice enough. It's soft, fluffy, and cooks from start to finish in just 30 minutes.
🛒 Ingredients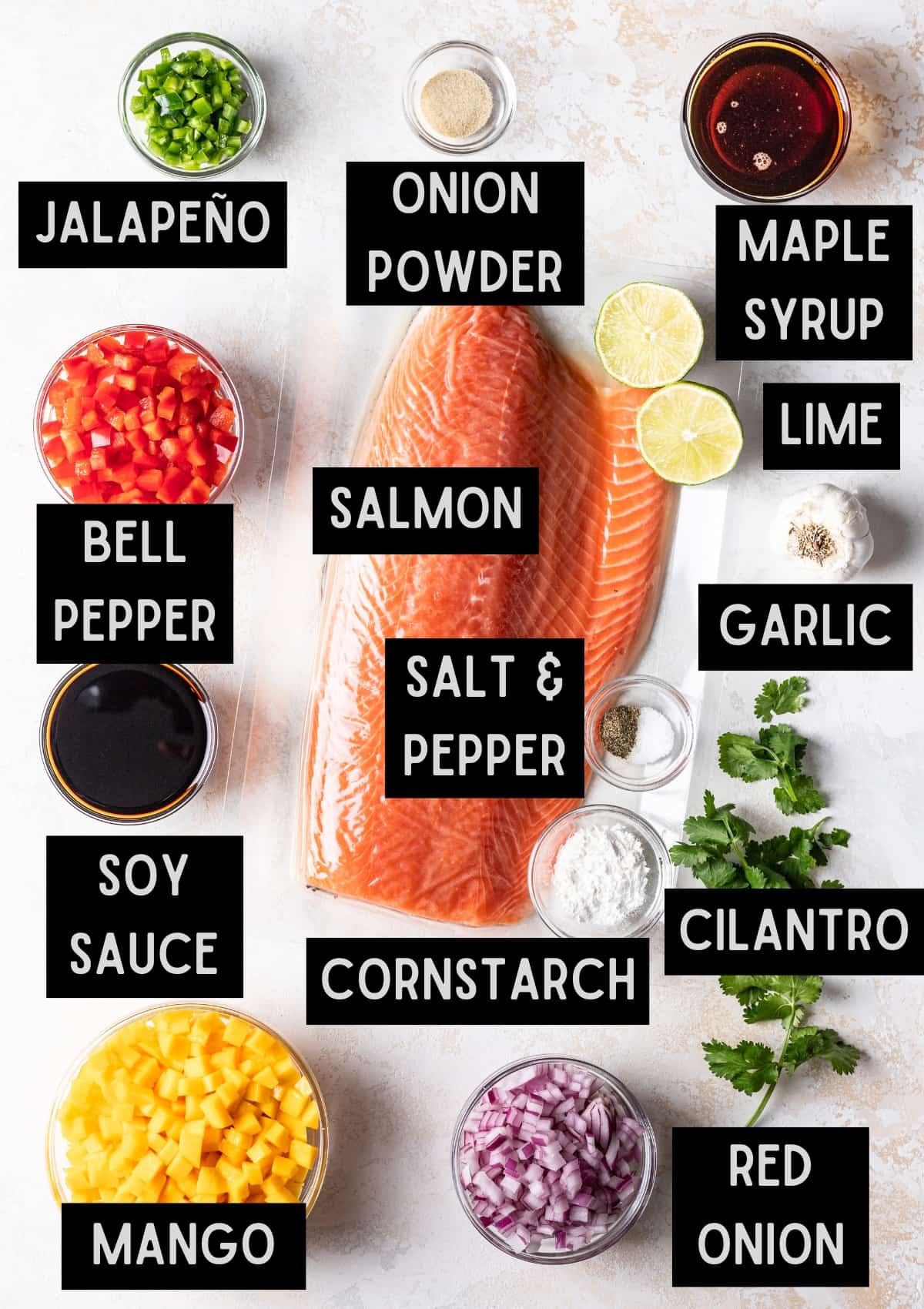 A few notes about the ingredients:
Salmon - If you're new to shopping for salmon, check out this helpful post: How to Buy Salmon at the Grocery Store Like a Pro.
Soy sauce - Adds a salty, umami flavor that makes the sauce complex in flavor. It also helps add a glossy sheen to the top of the glazed salmon and is as beautiful as it is delicious.
Maple syrup - A sweet, rich flavor that helps caramelize the fish when baked and balances the saltiness in the soy sauce perfectly.
Corn starch - This starch helps thicken the sauce and prevent it from running off the sides of the salmon.
⁉️ Substitutions and Alterations
Low-sodium soy sauce substitutes: You can replace the soy sauce with low-sodium tamari.
Salsa substitutes: I love using my simple homemade mango salsa recipe made with mango, bell peppers, onion, and jalapeño but you can use a store-bought mango salsa for a quicker prep. Or, if you love a spicy salsa, try my Spicy Mango Habanero Salsa.
📓 Instructions
Preheat and prep. Preheat the oven to 350 degrees F and line a sheet pan with parchment paper.
Prepare the mango salsa. In a medium bowl, add the diced mango, red bell pepper, red onion, diced jalapeño, minced garlic, chopped cilantro, fresh squeeze lime juice. Stir the mango salsa ingredients gently to combine, then season with salt and black pepper to taste.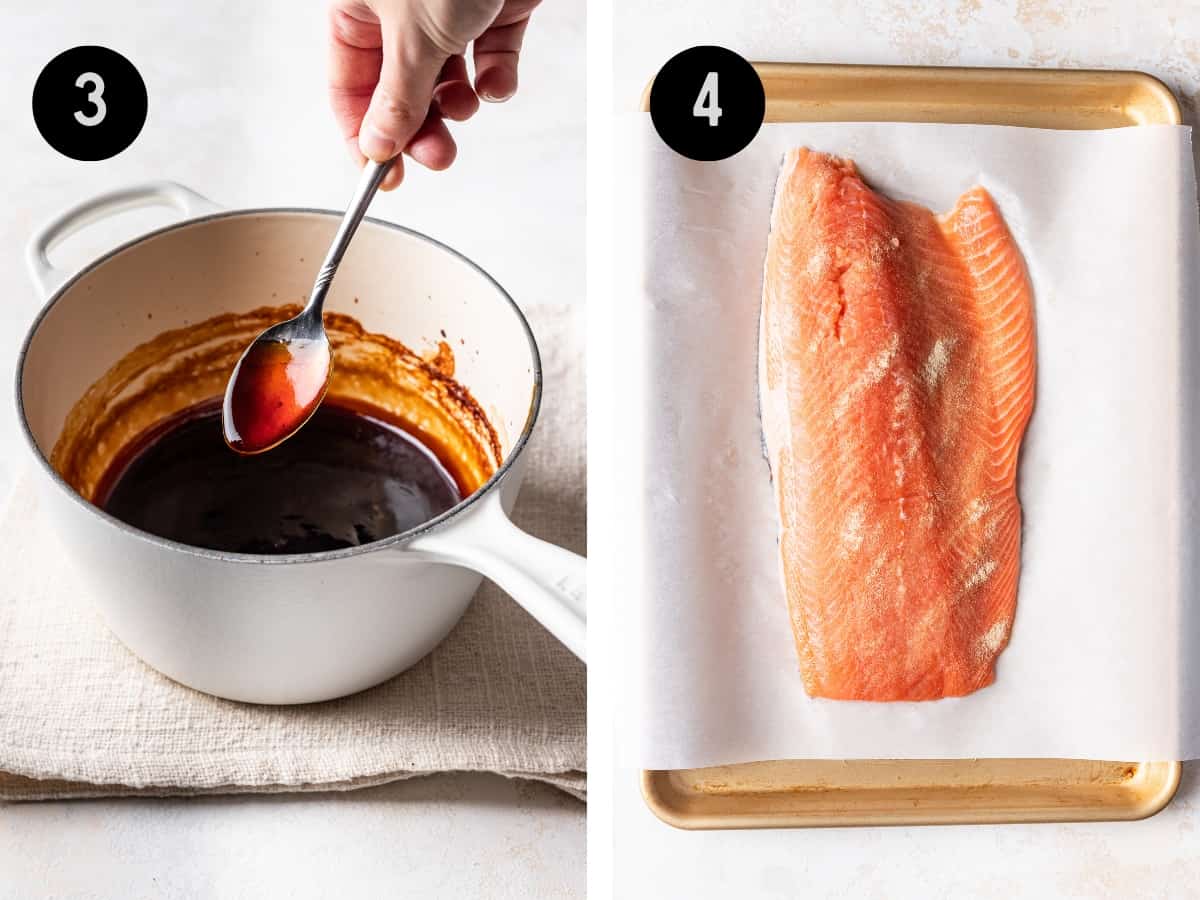 Make the maple soy sauce. In a saucepan, combine the soy sauce, maple syrup, water, and cornstarch. Whisk until the cornstarch is fully dissolved and simmer for 6 to 8 minutes, or until thickened and syrup-like in consistency.
Sprinkle the salmon with onion powder. Transfer the salmon to the parchment lined sheet pan, then sprinkle with onion powder.
Top the salmon with sauce. Brush the top and sides of the salmon with a thick layer of sauce.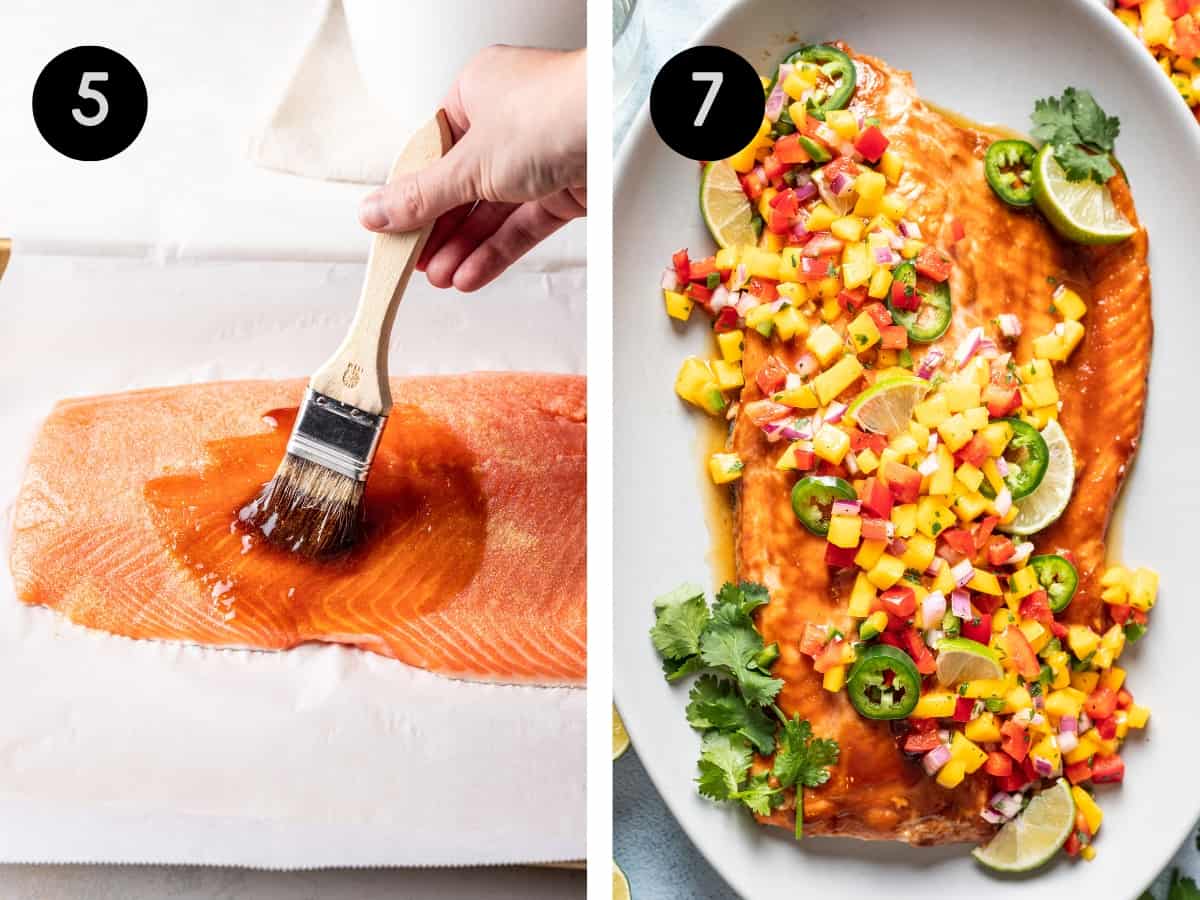 Bake. Transfer the salmon into the oven and bake for 10 minutes. After 10 minutes, brush the fish with another thick layer of maple soy sauce and bake for an additional 10 minutes, or until the salmon is flaky and the thickest part of the fillet reaches 145 degrees F with a meat thermometer.
Serve. Transfer the tender salmon to a serving platter and spoon the quick mango salsa on top of the salmon.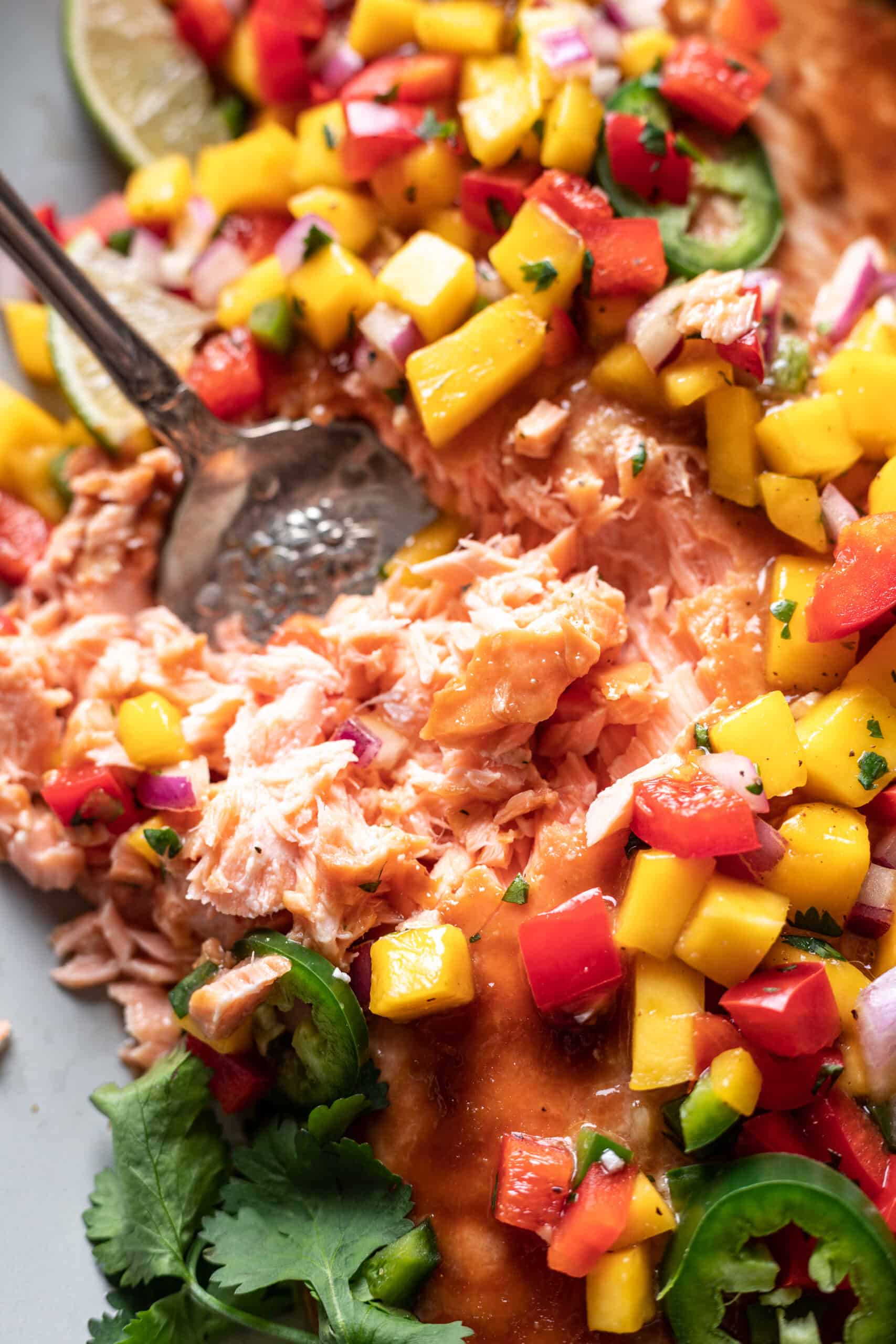 ❄️ How to Store
To store: Place the salmon in an airtight container for up to 4 days. Discard any fish that has an off odor, feels slimy, or has become discolored.
If you have leftover tangy mango salsa, store it in a separate airtight container for up to 3 days.
To freeze: Leftover salmon can be frozen, but freezing the mango salsa is not recommended. If you are freezing leftover salmon, allow it to cool completely, then wrap it tightly first in a layer of plastic wrap and then a layer of aluminum foil.
Transfer the fish to a freezer bag and freeze for up to 1 month for ultimate freshness.
To reheat: There are a couple of ways to reheat salmon. When reheating a single portion, microwave the fish or heat it until warmed through in a non-stick frying pan.
To prevent the fish from drying out, add a drizzle of broth or oil over the fish before heating or cover the salmon with a lid or sheet of foil. When reheating several servings, place the fish in an oven-safe dish or on a baking sheet and bake, covered, for 10 minutes, or until warmed through.
Top the salmon with mango salsa once warmed through again.
🔍 Recipe FAQs
Is it better to cook salmon covered or uncovered?
This will depend on the recipe you're making, but for this specific oven-baked salmon, I highly recommend baking uncovered. This allows the top of the fish to develop a nice crispy glaze and helps the salmon cook through quickly. 
Can I make this recipe with several smaller fillets?
Absolutely. I used a large 2 pound fillet of salmon to make this recipe suitable for dinner parties or feeding a larger crowd. Feel free to use smaller fillets, as desired. Depending on the thickness of your fillet, you may need to adjust the cook time.

Similarly, if you use just 1 pound of fillets, you can halve the maple soy sauce to suit the smaller amount of fish. 
💭 One More Tip
Adjust the cook time based on the thickness of the fillet. Every fillet of fish will vary. 20 minutes was the right time for my salmon fillet, but depending on the thickness of your fillet, you may need more or less oven time.
Keep your meat thermometer handy and don't be afraid to use it. If your fish is on the thicker side, I'd plan on an additional 5 minutes or so.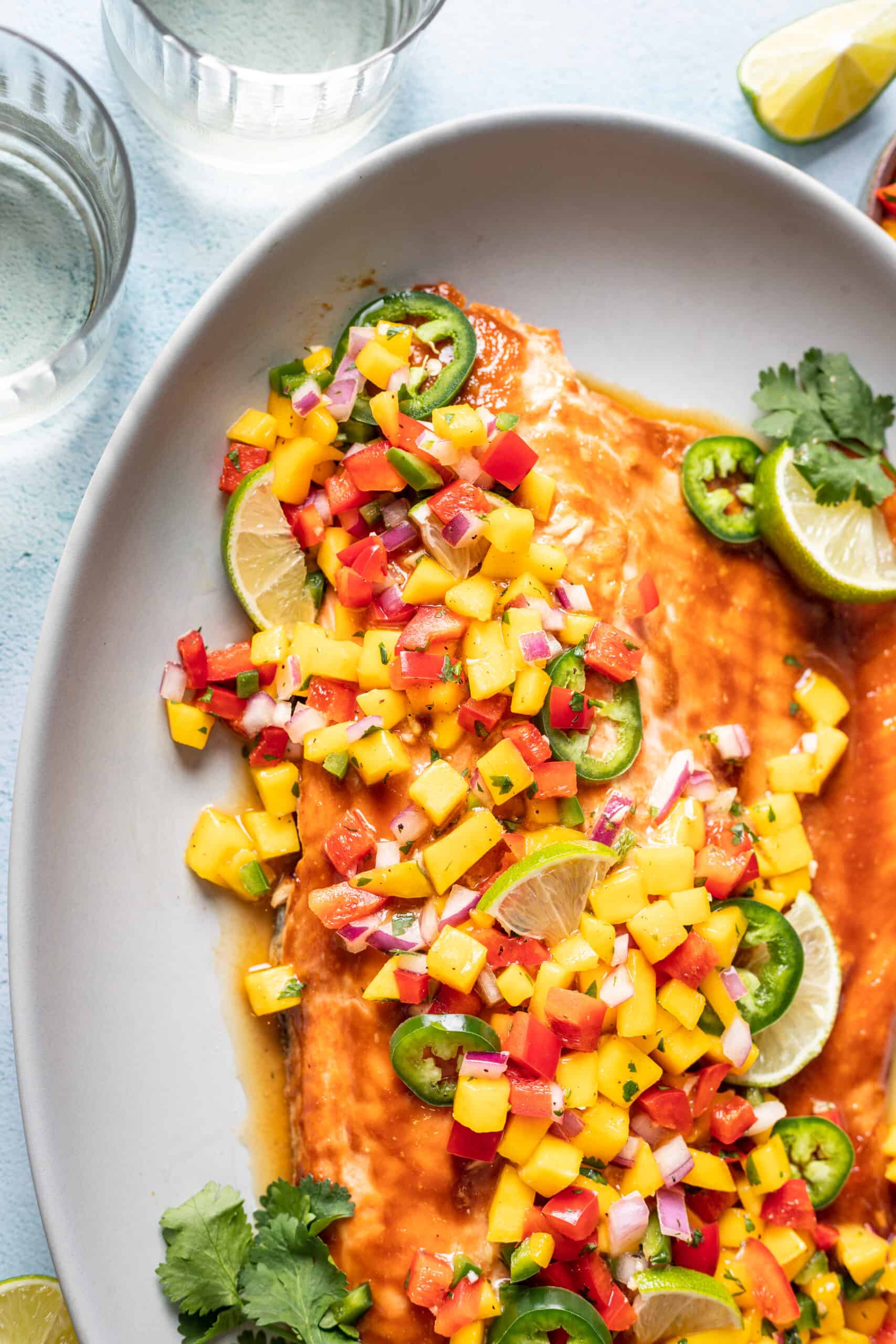 🍴 Related Recipes
Share your cooking with me! If you make this recipe, I'd love to know! Tag @yourhomemadehealthy on Instagram or leave a comment with a rating and some feedback at the bottom of this page!
📖 Recipe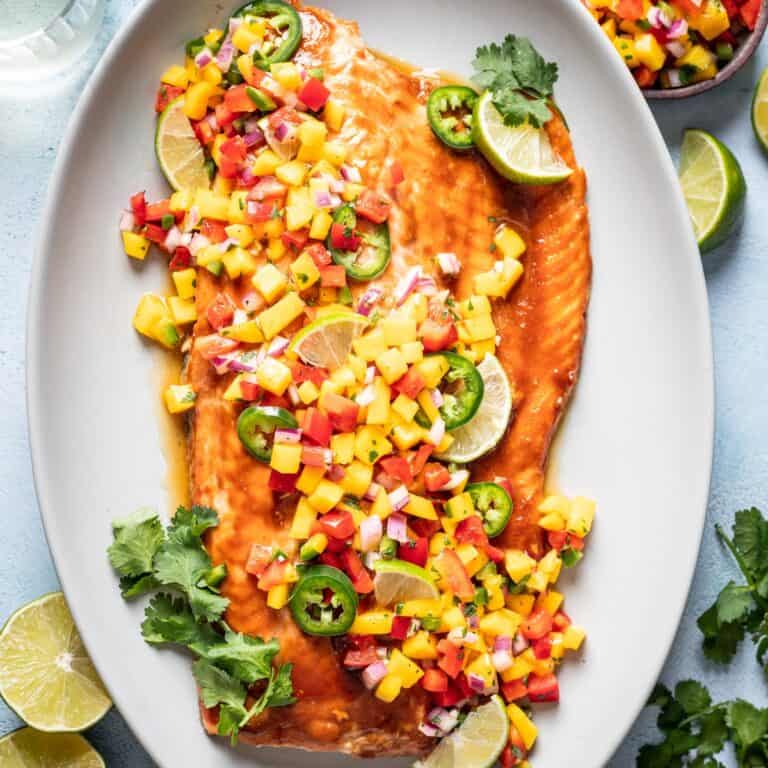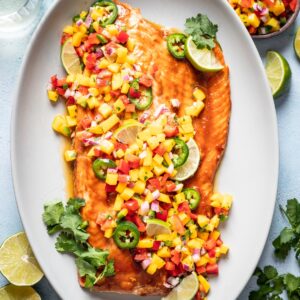 Salmon with Mango Salsa
This Salmon with Mango Salsa is the gorgeous main dish your warm summer nights need! It's light, sweet, savory, and the ultimate pair for your favorite fluffy rice. All you need is 12 simple ingredients to put together this healthy meal.
Print
Pin
Rate
Ingredients
For the Mango Salsa
1

cup

diced mango (about 1 mango)

½

cup

diced red bell pepper (about ½ a pepper)

¼

cup

diced red onion (about ⅛ red onion)

1 ½

tablespoons

diced jalapeño (about 1 jalapeño)

1

teaspoon

minced garlic (about 1 garlic clove)

½

tablespoon

chopped fresh cilantro

1

tablespoon

fresh squeezed lime juice (from about ½ a lime)

pinch of kosher salt

pinch of black pepper
For the Salmon
2

pounds

salmon

1

teaspoon

onion powder

¼

cup

low sodium soy sauce

¼

cup

pure maple syrup

½

tablespoon

cornstarch

¼

cup

water
Instructions
Preheat oven to 350 degrees F. Prepare a sheet pan by lining it with parchment paper.

Make salsa by combining all ingredients in a large bowl.

Combine soy sauce, maple syrup, water, and cornstarch in a saucepan. Whisk until cornstarch is fully dissolved. Cook over medium heat. Simmer for 6 to 8 minutes, until thick and a syrup-like consistency.

Place salmon on the prepared sheet pan. Sprinkle onion powder over top.

Brush a thick layer of sauce over salmon.

Bake salmon for 10 minutes, brush with another thick layer of sauce, and bake another 10 minutes, or until the internal temperature reaches 145 degrees F.

Transfer salmon to a large serving platter and serve with mango salsa over top.
Notes
If you prefer a crispier salmon, you can broil the salmon in the last 2 to 5 minutes of cooking. Watch the salmon carefully so the sauce does not burn.
If making this ahead of time, store salmon and salsa separately in the refrigerator to keep both as fresh as possible.
Nutrition
Calories:
285
kcal
|
Carbohydrates:
17
g
|
Protein:
31
g
|
Fat:
10
g
|
Saturated Fat:
2
g
|
Polyunsaturated Fat:
4
g
|
Monounsaturated Fat:
3
g
|
Cholesterol:
83
mg
|
Sodium:
452
mg
|
Potassium:
906
mg
|
Fiber:
1
g
|
Sugar:
13
g
|
Vitamin A:
790
IU
|
Vitamin C:
31
mg
|
Calcium:
45
mg
|
Iron:
2
mg
Want to Save this Recipe? Pin it for Later!
Make sure to follow @yourhomemadehealthy for more delicious recipes!
Want more recipes like this delivered right to your inbox? Be sure to subscribe above and never miss a thing!