Healthy and chocolate in the same sentence? Yeah, you read that right. Healthy chocolate popsicles are my go-to late night snack when I want something sweet and indulgent without the major sugar rush. Think: healthy and added-sugar-free fudgesicles. With only 4 ingredients, 1 mixing bowl, and some popsicle molds, you'll have a wonderfully decadent (yet healthy!) treat in no time.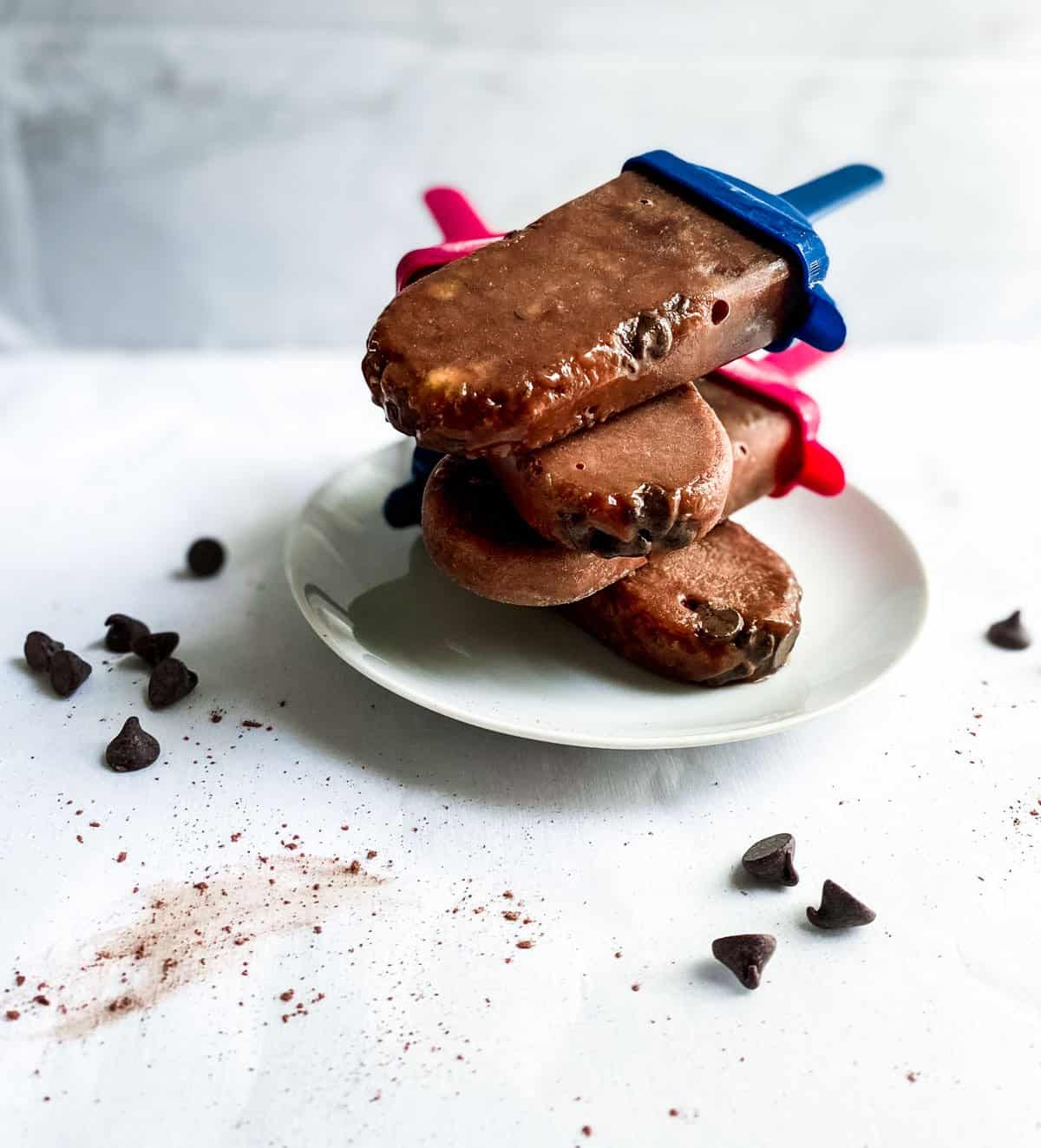 What makes these healthy chocolate popsicles so good?!
To be honest, these popsicles were a stroke of genius. Not to toot my own horn or anything. But when I was a junior in college, I looked at my overripe bananas sitting on our dirty kitchen counter in a small house that I shared with 4 other girls and somehow my brain thought "mmm popsicles." So, popsicles were made, and made, and made almost every week for the past 5 years. This same recipe. No changes. No diversification.
THEY ARE THAT GOOD.
I know, most normal people would see overripe bananas and think "banana bread" or "into the freezer for smoothies" but I guess I really just needed a vehicle to consume as many chocolate chips as possible. Mean Girls must have been talking about chocolate when they said "the limit does not exist" because truly there is no limit to the amount of chocolate chips you can add to these and that is the true ingenuity here.
So of course, I had to share these bad boys with my roommates and these guys got us through some of those dog days of college. You know, like the it's-hot-and-we-don't-have-air-conditioning-in-this-old-house first few weeks of fall semester, the let's-binge-watch-every-episode-of-Gilmore-Girls-on-Netflix days, nights, and weekends, and the all too familiar late nights drinking er, studying.
With rave reviews from those that have tried them thus far, I knew I needed to share them with you as well.
Ingredients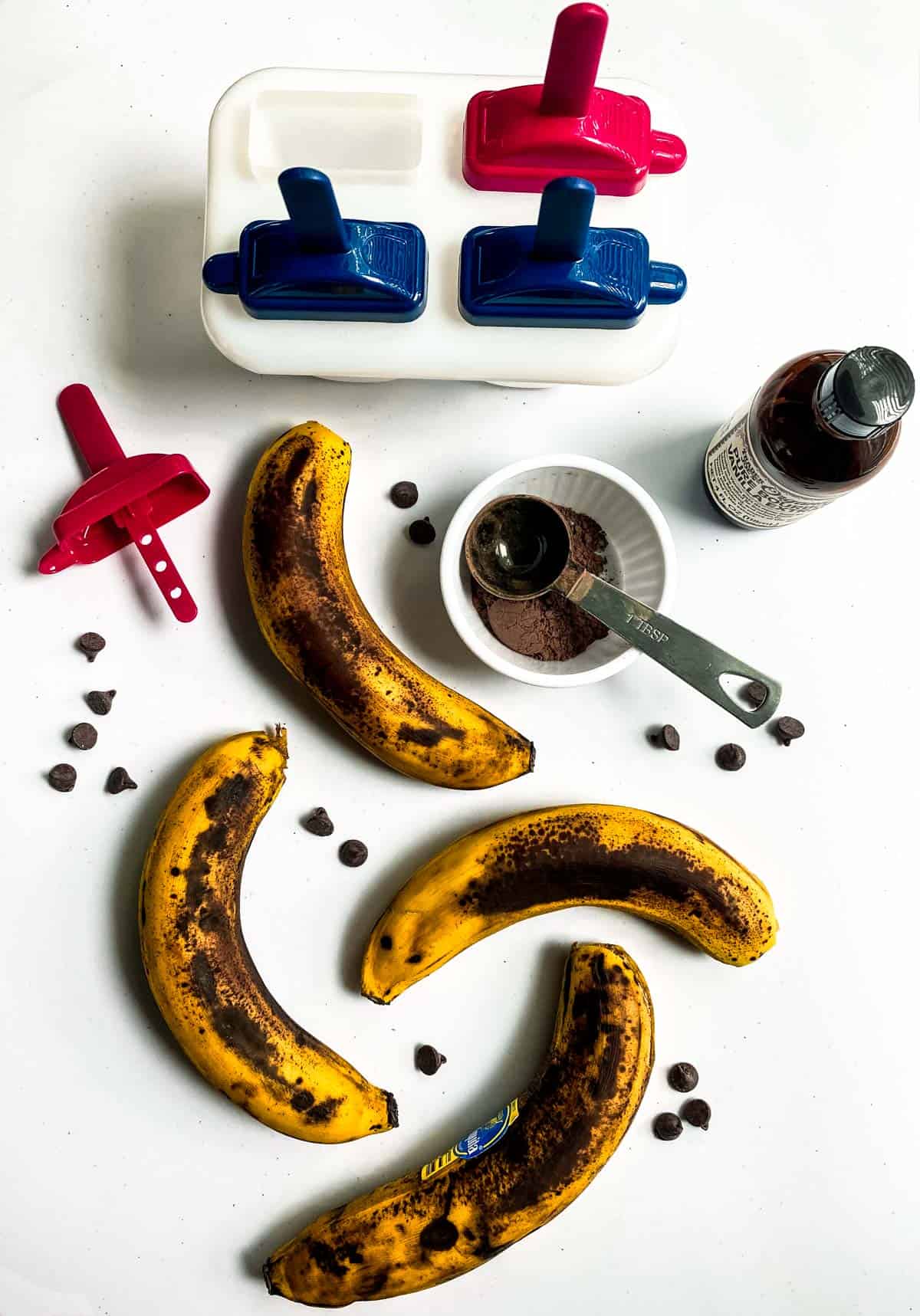 Just 4 simple ingredients!
Ripe or overripe bananas
Cacao powder (can substitute unsweetened cocoa powder instead)
Vanilla extract
ALL the chocolate chips 😋
A few notes about the ingredients:
As long as your bananas are mashable, you can use them at any stage. I prefer mine a little overripe so they're sweeter!
Make sure to use pure vanilla extract and NOT imitation vanilla. Although pure vanilla can be a bit costly, you only use a little bit and it truly affects the flavor soo much. Like my idol Ina Garten always says, use "the good vanilla."
I use semi-sweet chocolate chips. I prefer the bitter to sweet ratio and feel that milk chocolate chips are too sweet when paired with the banana. However, feel free to play around with your favorite chocolate chips and mix-ins to get the flavors you like the best!
How do you make healthy chocolate popsicles?
Use roughly about 1 banana per popsicle.
Let them get nice and ripe with a good combination of bright yellow skin with lots of dark brown spots.
Peel them and place the peeled bananas into a mixing bowl. Mash away until the bananas resemble a puree and are a nice, thick consistency. Some lumps are fine but try to get the mixture as smooth as possible.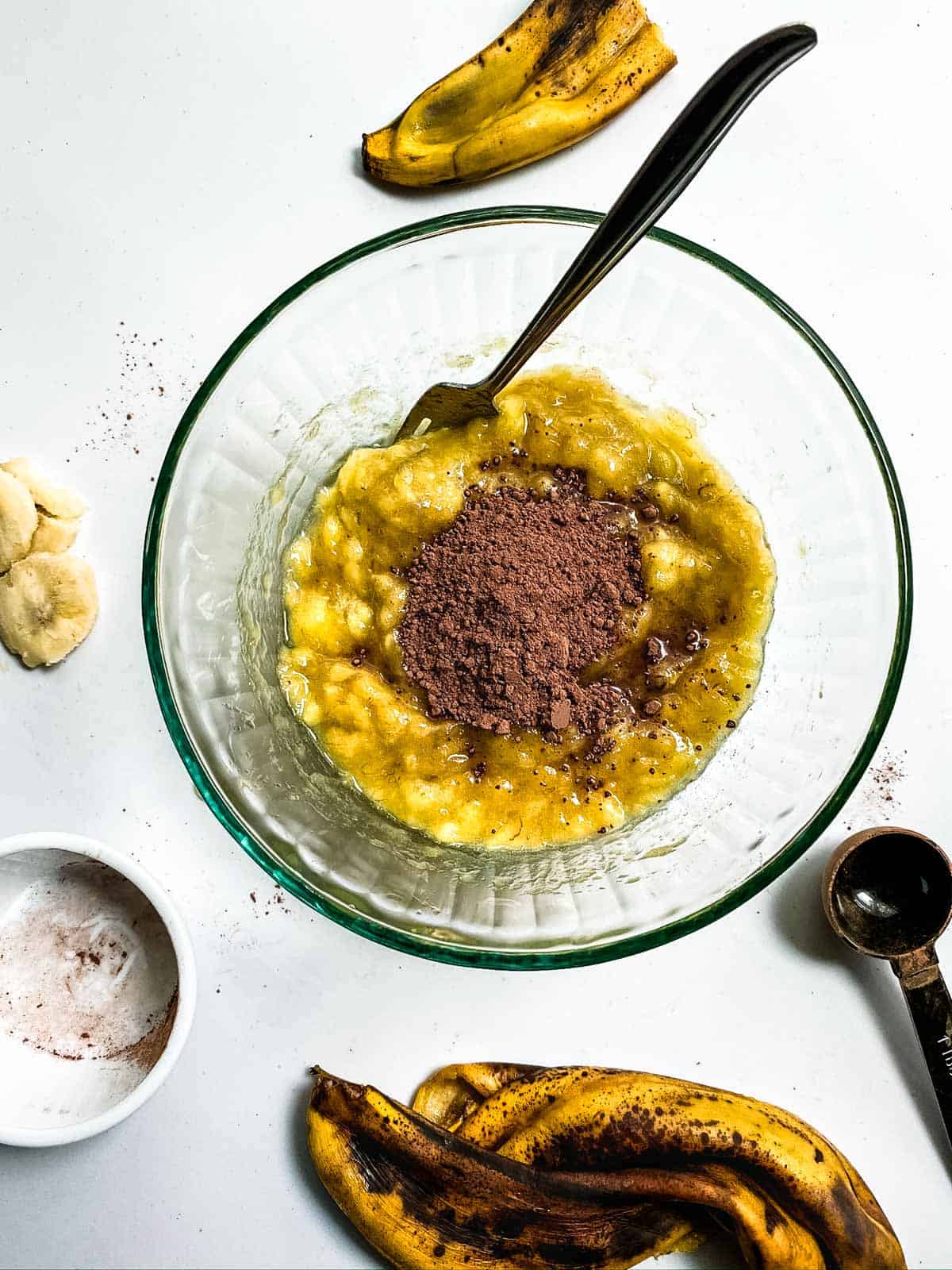 Add your cacao powder (unsweetened cocoa powder works well too) and vanilla. Mix it all together.
I like to add layers of chocolate chips throughout the popsicle molds but if you'd rather have them spread throughout then you can add them to the mix.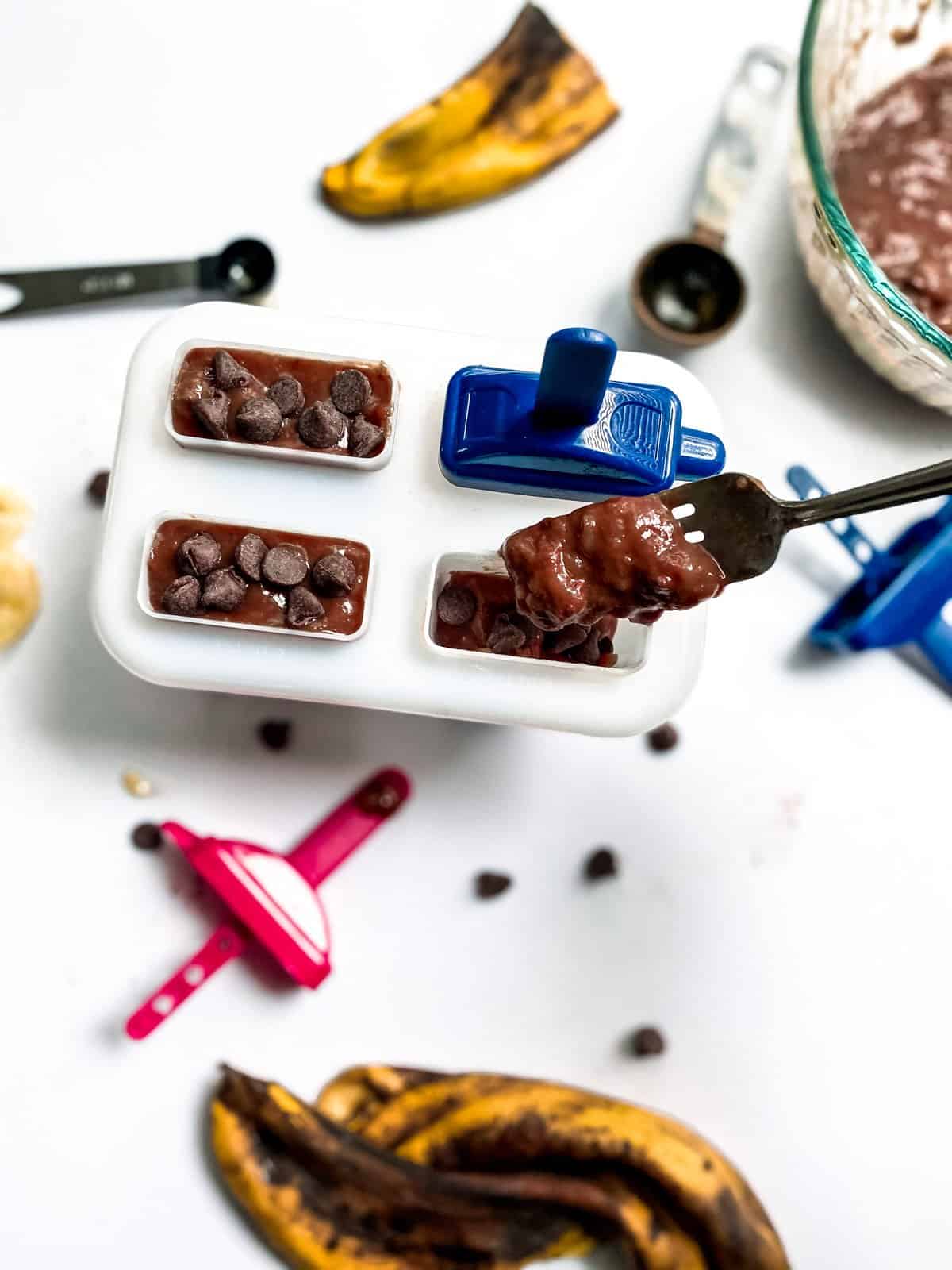 I add a few chocolate chips to the very bottom of the molds. Then, I use a fork to drop the mixture onto the chocolate chips. Forks are more narrow than spoons and seem to make less of a mess when doing this. Keep alternating between a layer of chocolate chips, the mixture, more chocolate chips, then mixture, etc. Add as many chocolate chips as your little heart desires!
When the rest of the banana mixture is all gone, add your popsicle sticks into your molds and pop the entire thing in the freezer for at least 3 hours or overnight.
Voila! Healthy chocolate popsicles. It's that easy.
Healthy, vegan, paleo, whole30, no added sugar... this recipe meets all dietary rules for almost any diet but it doesn't even feel restrictive. Feel free to switch things up by adding your favorite nut butters or nuts, additional fruits, or even a pinch of cinnamon. To be honest, I've never tried them any other way so I'd be interested to hear how you've transformed them. Have fun with it and let me know how you switched things up by commenting below or tagging @yourhomemadehealthy on Instagram!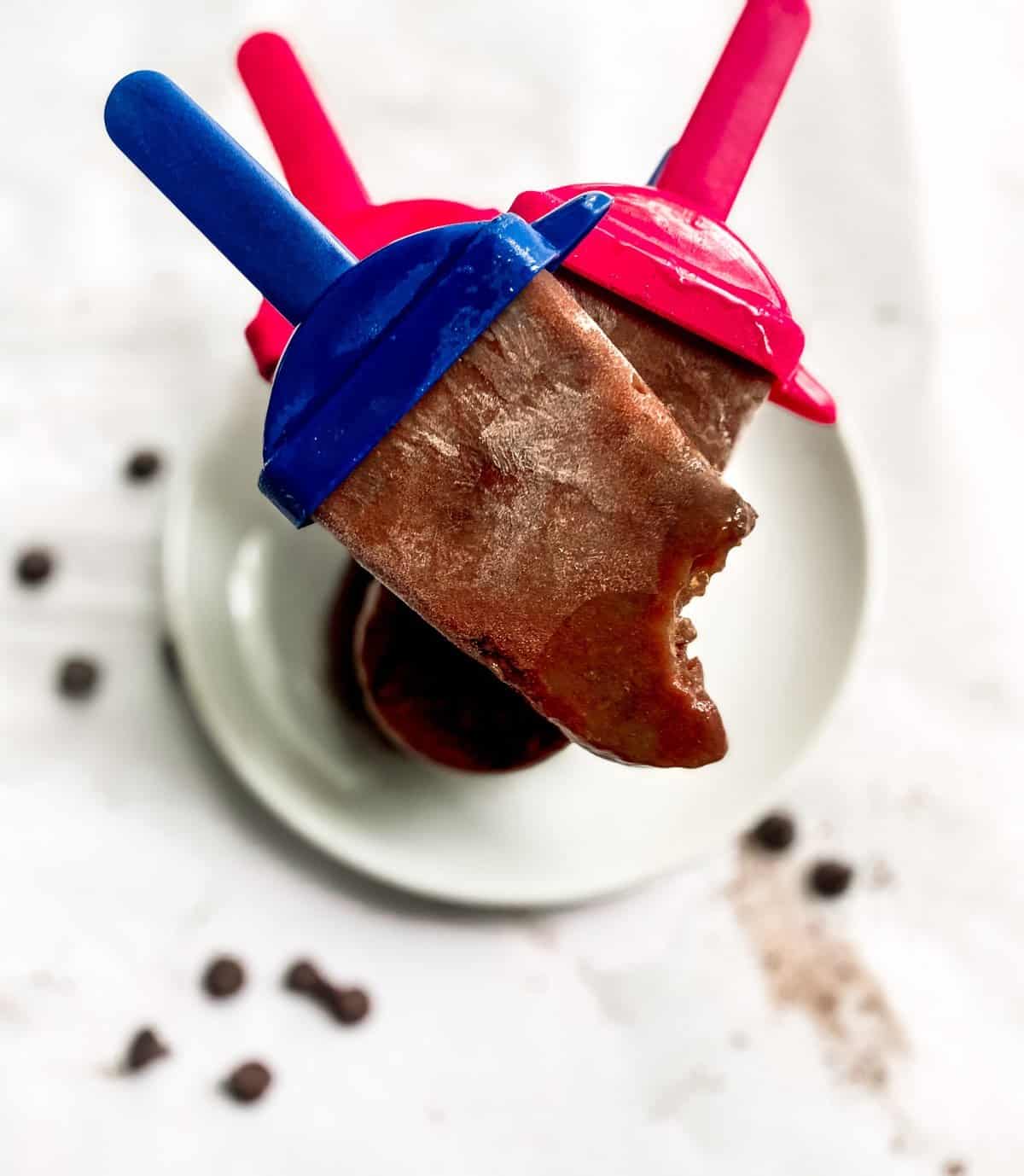 Why are popsicles "bad" for you?
So it's not that popsicles are necessarily that bad for you, but you do have to consider what a lot of them are made of. Many are high in sugar or have added high fructose corn syrup which is why I prefer to make them myself, allowing me to determine how much sugar I want to add and ultimately consume. Since these popsicles are so quick and easy to make, they don't have any added sugar, and I know the fruit sugars I'm consuming are more natural, it's a no-brainer for me. When compared side-by-side, I'd much rather eat a popsicle that I know is made with fresh ingredients than ones with ingredients I can't even pronounce.
What makes these popsicles better than fudgesicles?
Fudgesicles have been around for nearly 100 years. They have become somewhat of a household name and I loved them as a kid. However, if you look at the ingredients written on the packaging, there aren't too many recognizable items on there. Polydextrose? Tricalcium Phosphate? Polysorbate 80? No thank you. Instead, these banana chocolate popsicles provide the same chocolatey goodness with all recognizable ingredients - bananas, check! vanilla, check! cacao, check! chocolate chips, check! And even better, they are a no milk (nondairy) popsicle alternative to fudgesicles - one of the only ingredients I actually recognize on their packaging.
What makes this a healthy recipe?
This recipe is considered healthy because 1. It uses fresh produce and fresh ingredients, 2. has no dairy, no added sugar, and no preservatives, and 3. It is whimsical and reminiscent of a childhood treat, bringing joy to those who eat it --- 3 great reasons to make this recipe ASAP!
One more reason to LOVE these healthy chocolate popsicles:
The good news is that these frozen chocolate pops actually last in the freezer for a while. If you happen to forget about them and find them just a few weeks (or months, eek!) later, you can still enjoy them without worrying too much about freezer burn.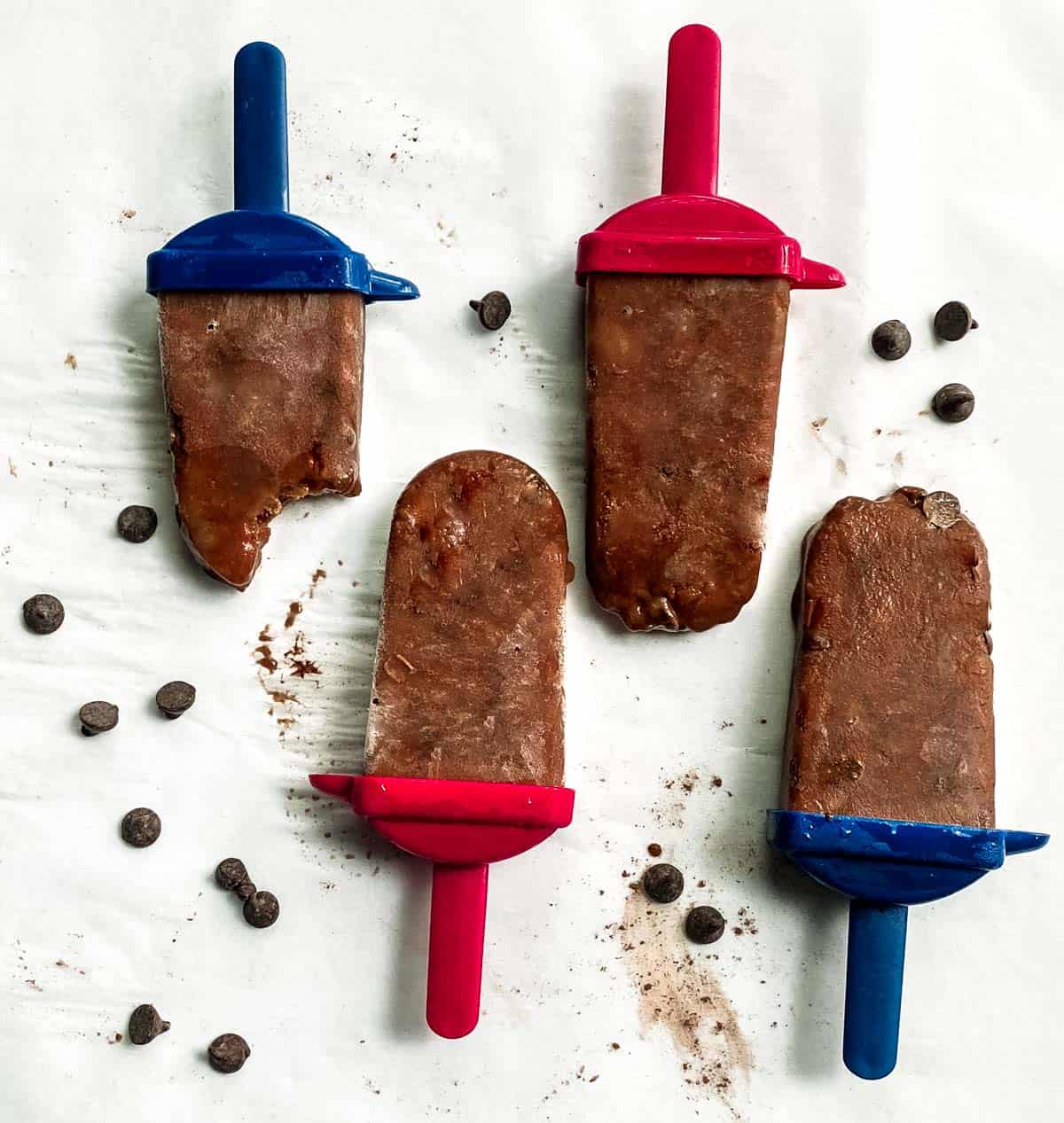 Looking for more healthy recipes? Try these:
Share your cooking with me! If you make this recipe, I'd love to know! Tag @yourhomemadehealthy on Instagram or leave a comment with a rating and some feedback at the bottom of this page!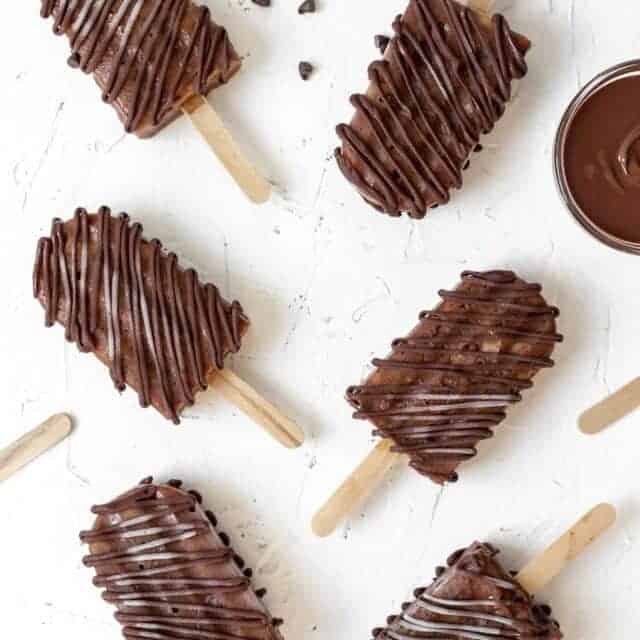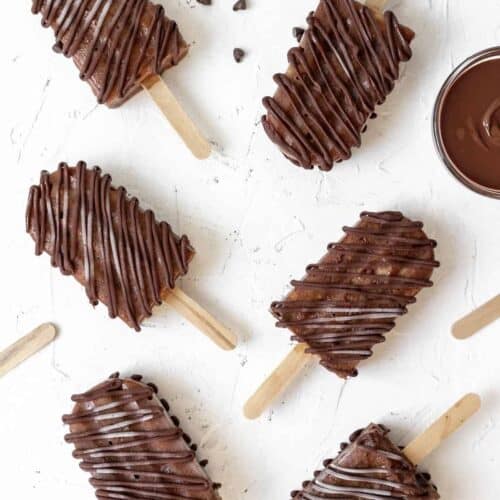 Creamy Banana Fudge Chocolate Popsicles
Creamy chocolate fudge popsicles made with bananas and 4 other pantry ingredients. They're healthy, easy to make, and absolutely delicious!
Equipment
Mixing bowl

Popsicle molds
Ingredients
8

bananas

ripe or overripe

2

tbsp

cacao powder

can also use unsweetened cocoa powder

1

tbsp

corn starch

1

tsp

vanilla extract

mini chocolate chips

optional
Instructions
Peel the bananas and place them in a large mixing bowl.

Mash the bananas with a fork or potato masher until they're a pureed consistency. (Small lumps are okay.)

Add in the rest of the ingredients besides the chocolate chips. Mix to combine.

Stir in the chocolate chips, if using.

Spoon the mixture into a popsicle mold and place a few chocolate chips on top of each one.

Add the popsicle sticks and place the mold in the freezer for at least 3 hours, or until firm.

Optional:

Place additional chocolate chips in a Ziploc bag. Microwave for 30 seconds, mix, then microwave another 30 seconds. Continue until the chocolate is melted and smooth.

Once frozen, remove popsicles from the mold, cut a small piece off the corner of the bag, and drizzle melted chocolate over the popsicles. Place them back in the freezer to harden before serving.
Storage
To store: Place homemade popsicles in an airtight container or Ziploc bag and store them in your freezer for up to a month.
Notes
If you don't have a popsicle mold, you can use small dixie cups with wooden popsicle sticks instead. Pour the banana cacao mixture into the dixie cups. Cover each cup with tin foil. Cut a slit in the top of the tin foil just big enough for the popsicle stick to stick through. Place the popsicle stick through the tin foil and put the cups in the freezer so the popsicles can harden. When solid, peel the cups off the chocolate fudge popsicles, drizzle them with melted chocolate, and enjoy! Or place them in individual Ziploc bags to enjoy later.
Instead of semi-sweet chocolate chips: you can use dark or white chocolate, butterscotch, espresso, caramel, or peanut butter chips. And during the holiday season, you may also like peppermint chips to get a flavor similar to my peppermint death by chocolate zucchini bread.
Want more recipes like this delivered right to your inbox? Be sure to subscribe below and never miss a thing!