Make Instant Pot Apple Butter this fall after a trip to the apple orchard! It's so delicious, you'll want to slather it on toast, waffles, ice cream and way more all season long.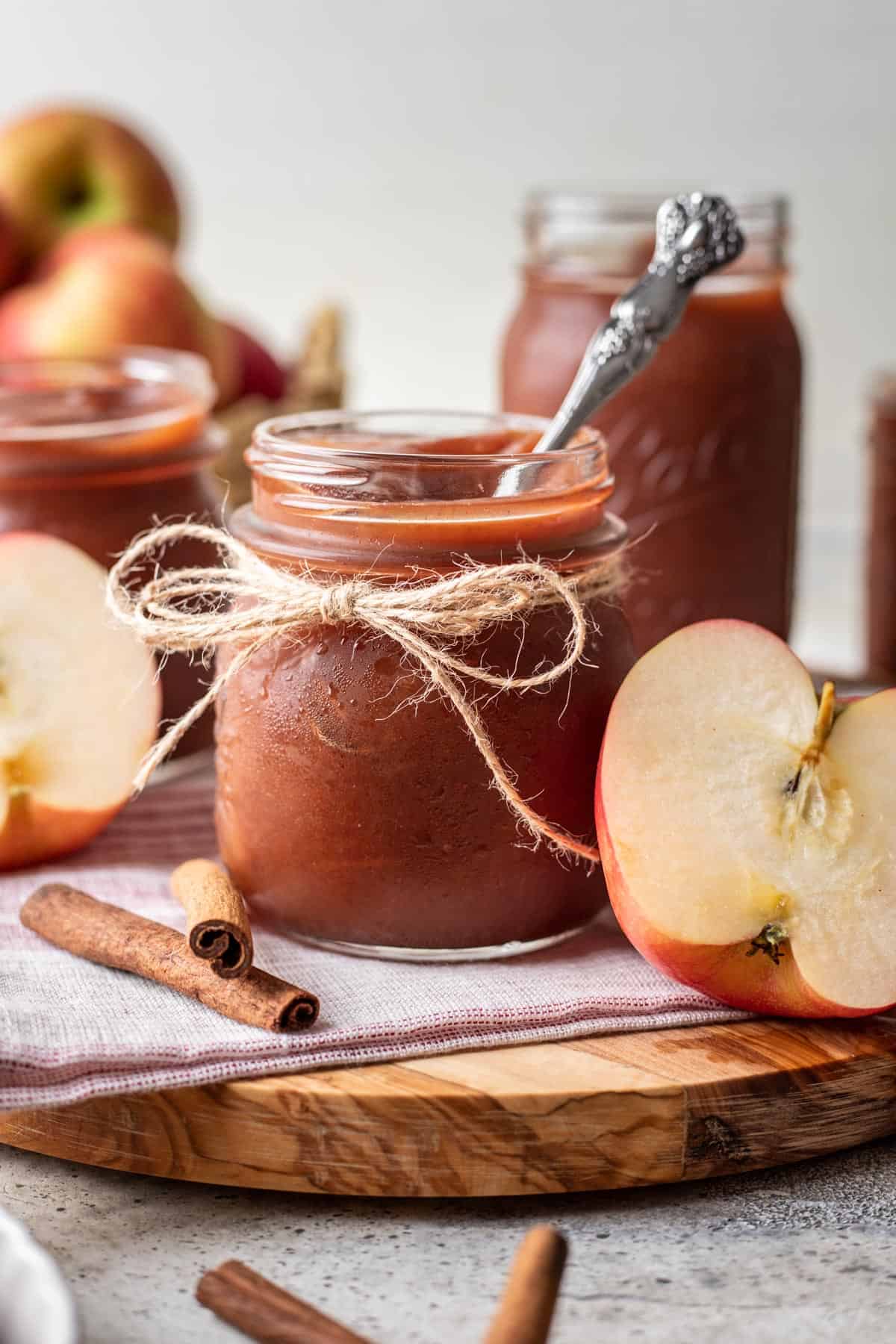 Jump to:
📋 About the Recipe
Just 20 minutes prep time. Making apple butter requires a longer cook time, but there is really only 20 minutes of hands on time. As long as you have time to start the pressure cooker and occasionally stir, making Instant Pot apple butter is easier than you think!
Makes for a great gift. This recipe makes 8 cups of fruit butter, so plenty to share! Gift to your neighbors, friends, school teachers, and family!
Easy to customize. Use your favorite apples or favorite combination of apples and make the flavor of the Instant Pot apple butter your own.
🛒 Ingredients
A few notes about the ingredients:
Apples - This recipe calls for 6 pounds of apples. Wash the apples thoroughly and remove the apple cores. For a quick way to do this, see my easy tutorial on how to cut an apple.
Sugar - Using a combination of granulated and brown sugar creates a greater depth of flavor in the sweet butter. Avoid substituting these sugars with liquid sugars or the Instant Pot apple butter will be runny in consistency and difficult to thicken.
Apple juice - The only ingredient in the apple juice should be apples. Avoid using sweetened apple juices or your fruit spread may be too sweet.
Lemon juice - The acidity in the fresh lemon juice helps balance the sweetness in the apples and sugar.
📓 Instructions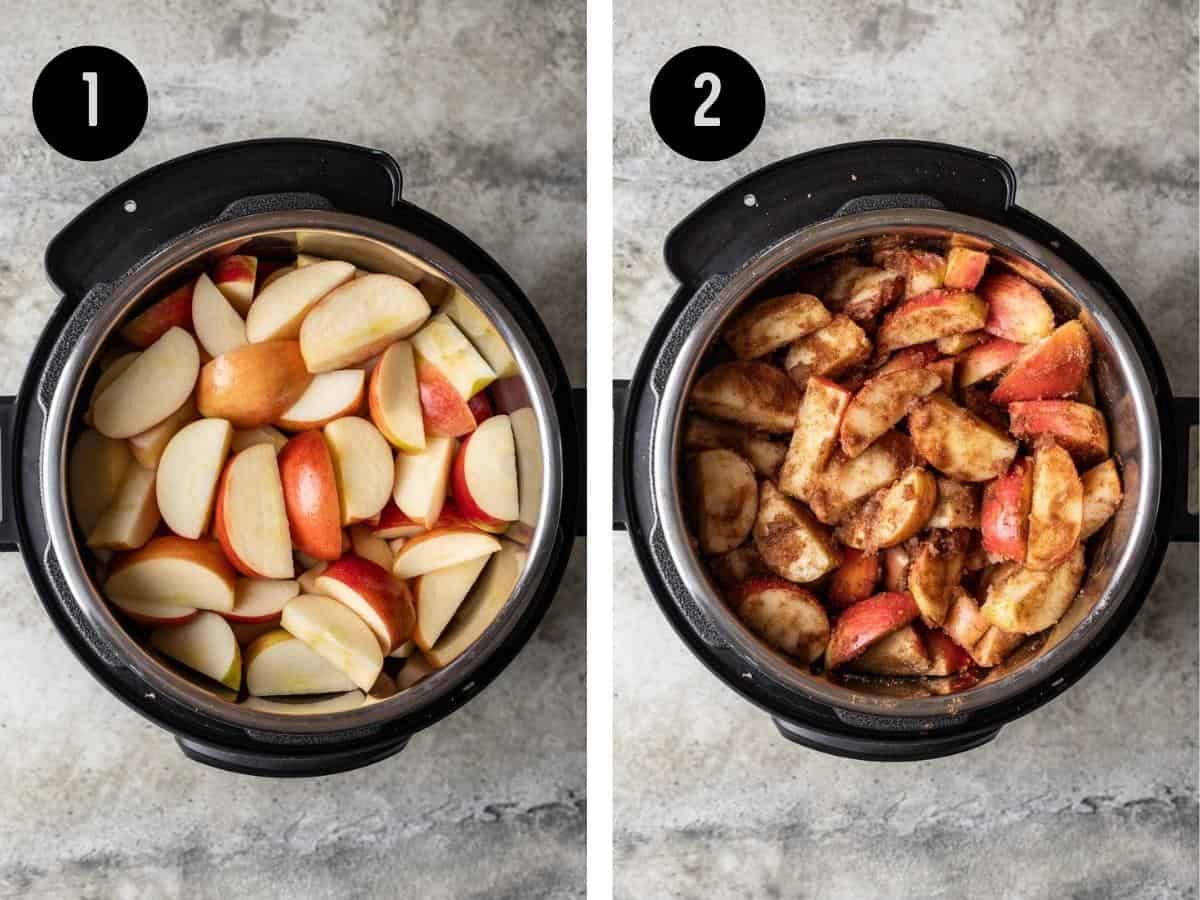 Cut the apples. Once the apples are washed and cored, slice the apples into eighths and place them in the bottom of the Instant Pot.
Add remaining ingredients. Add the granulated sugar, brown sugar, apple juice, lemon juice, cinnamon, vanilla, nutmeg, cloves and salt. Gently stir to combine.
Cook on manual high pressure. Secure the Instant Pot lid and set the valve to the "sealing" position. Pressure cook the apples on high for 15 minutes.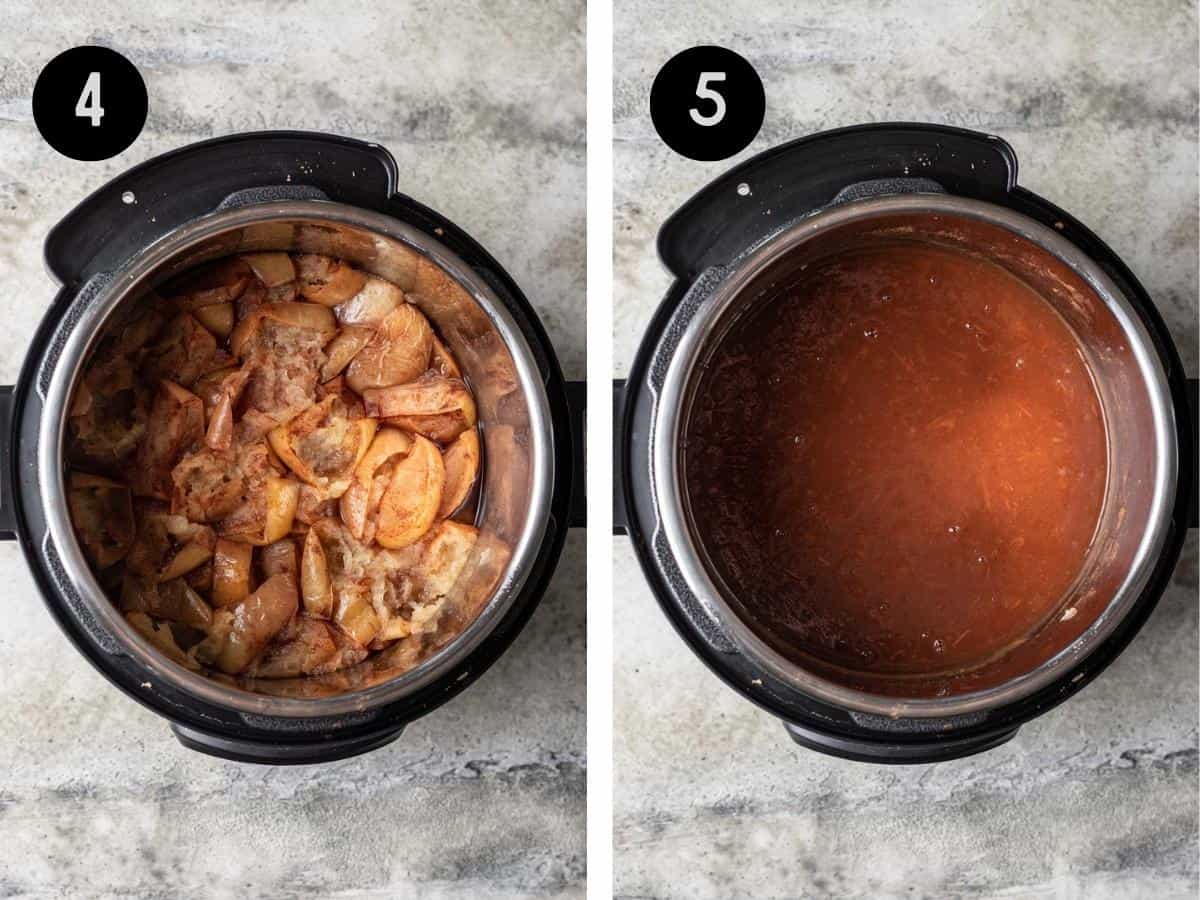 Naturally release pressure for 20 minutes. After the Instant Pot has cooked at high pressure for 15 minutes, allow the pressure cooker to naturally release pressure for at least 20 minutes, then release the remaining pressure by switching the valve from seal to vent.
Blend the apple butter smooth. Using an immersion blender, puree the apples until smooth. Be careful because the butter ingredients will be very hot. To be safe, start with the immersion blender on the lowest power and increase slowly as needed.
Slow cook the apple butter. Set the pressure cooker to the slow cook setting, then set to "more." Slow cook for about 2 hours, or until the butter is thickened to your desired consistency. The longer you slow cook, the thicker it will get. Stir occasionally to prevent the bottom from burning.
Allow apple butter to cool completely. Once cool, store in an airtight container in the refrigerator. Glass jars are perfect for this. Serve this sweet sauce slightly chilled, on toast, waffles, crepes, or with ice cream.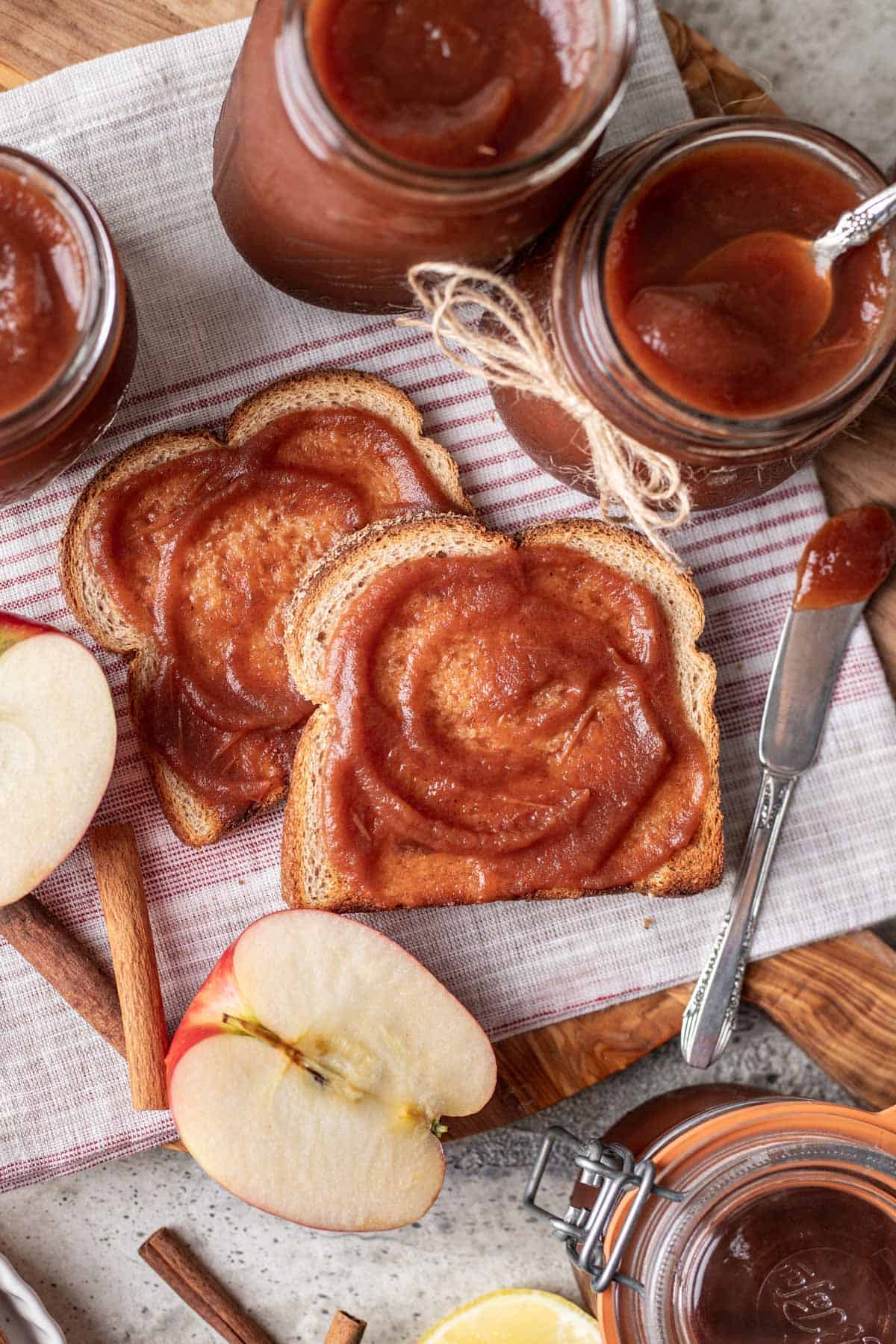 ⁉️ Substitutions and Alterations
Use a combination of apples. In my apple butter, I used Honeycrisp, but if you have a combination of a few different kinds of apples that will work really well, too. Check out this article for the best apples for apple butter.
Apple juice substitute: If you have apple cider leftover from making Kale Apple Slaw or Apple Cider Martinis, you can substitute it 1:1 for the apple juice in this recipe. Do not use apple cider vinegar - it is not the same.
Brown sugar substitute: Both light brown sugar and dark brown sugar are both an option. Use dark brown sugar for a more caramel-like deep, flavor.
Halve the recipe. This recipe does make a large amount of apple butter, so if desired, halve the ingredients to make a smaller serving size.
❄️ How to Store
Does apple butter need to be refrigerated? Yes, because apple butter is made with fresh ingredients, it should be refrigerated (unless the fruit butter is properly canned, then it can be left at room temperature). It will last in the refrigerator for up to 1 week. If stored in an airtight glass container, it may last a little bit longer.
Can apple butter be frozen? Yes, it can be frozen! To freeze, allow the butter to cool completely before transferring to a freezer safe jar or container. This Instant Pot apple butter can be stored for up to 1 month for optimal freshness.
Keep in mind that it's very important to not overfill a jar when freezing because when frozen, food expands. If the jar is too full, it is very likely to break the glass. Check your jars for a freezer line and stay well below it.
🔍 FAQs
Will apple butter thicken as it cools?
Yes, it will. Avoid adding thickening agents like cornstarch or flour in an attempt to make the fruit butter thicker. If you want a thicker consistency, just keep it on the heat on the slow cooker setting until you've almost reached your desired thickness. As it cools, it will thicken up even more and be perfect.
Can apple butter be canned?
It can be! I've personally never canned apple butter, but this is a very popular thing to do. Follow this tutorial on A Beginner's Guide to Canning and apply it to apple butter and anything else you'd like to can this fall season!
Is apple butter vegan and gluten free?
Yes, apple butter is both vegan and gluten free because it doesn't actually contain any butter. It makes a great gift for family and friends of any diet!
💭 A Few More Tips
Be patient with the thickening process. It may be tempting to rush this process after pressure cooking, but it is worth it to take the time to get the right consistency!
Use a splatter guard, if you have one. When at the slow cooking step, the apple butter may splatter as it thickens (similar to simmering a tomato sauce). If you don't have a splatter guard, leave the Instant Pot lid slightly ajar on top of the pressure cooker to prevent splattering.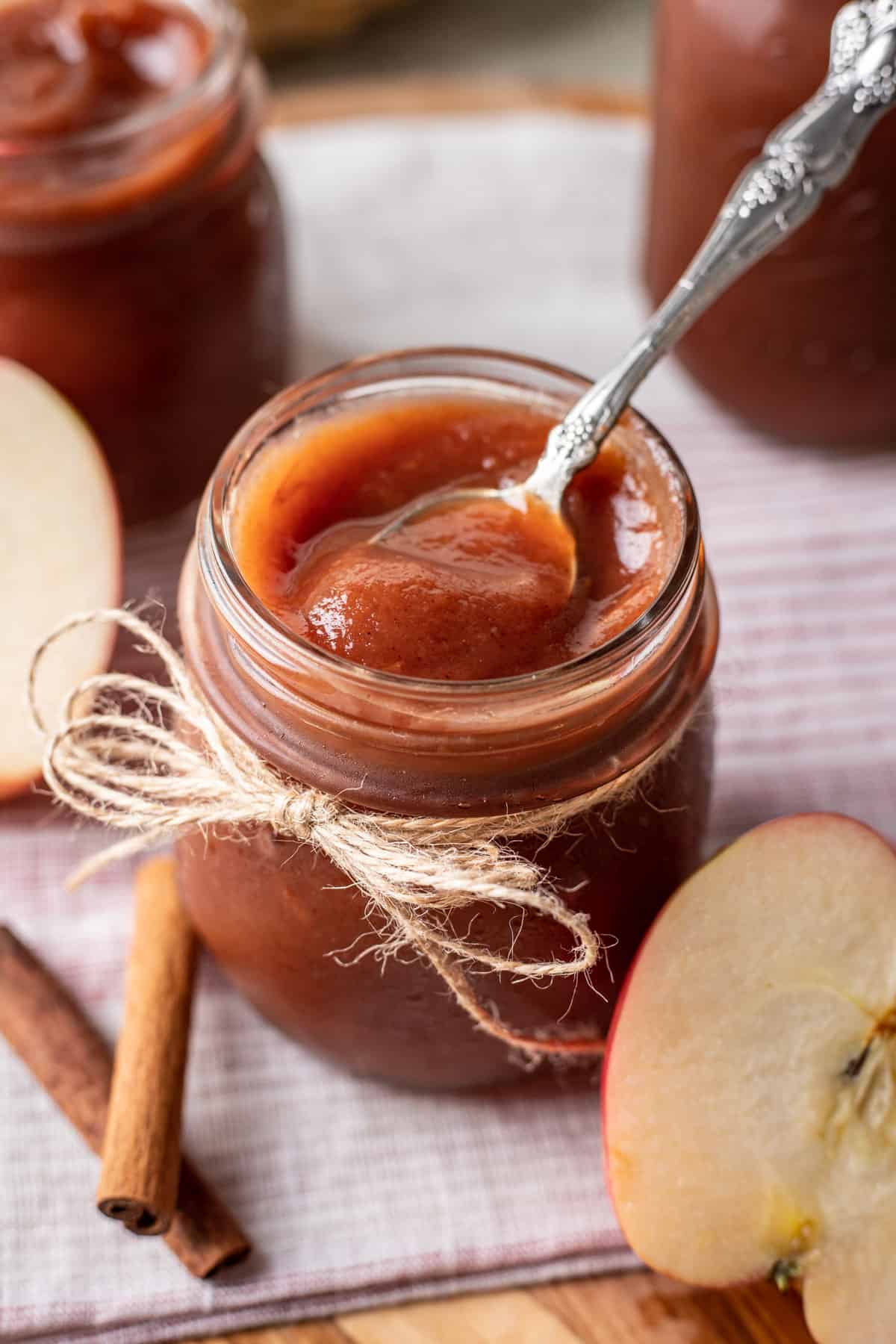 🍴 Related Recipes
Share your cooking with me! If you make this recipe, I'd love to know! Tag @yourhomemadehealthy on Instagram or leave a comment with a rating and some feedback at the bottom of this page!
📖 Recipe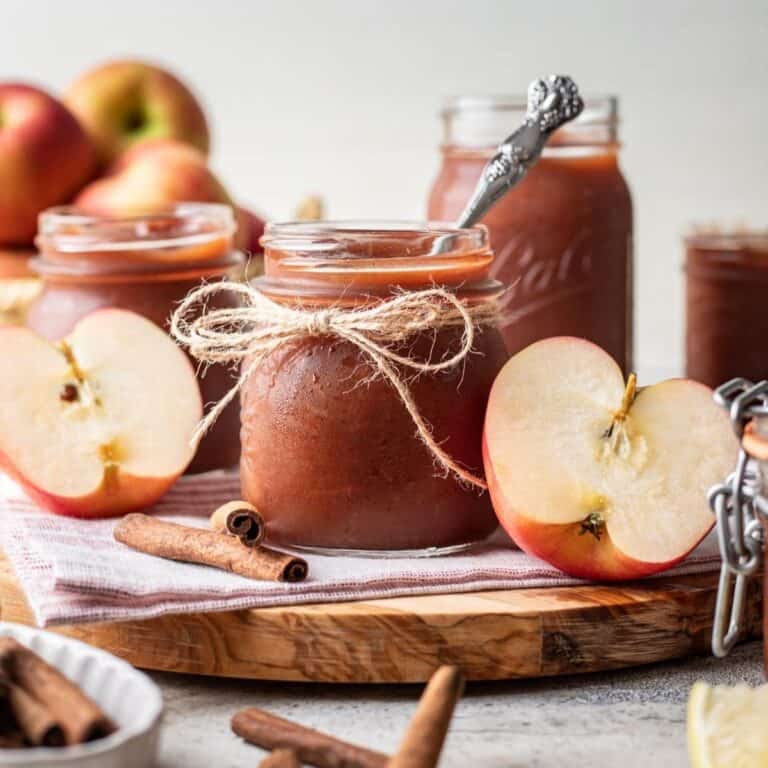 Instant Pot Apple Butter
Make Instant Pot Apple Butter this fall after a trip to the apple orchard. You'll want to slather it on toast, waffles, ice cream and much more all season long.
Print
Pin
Rate
Ingredients
6

pounds

honeycrisp apples, washed and cored

¾

cup

granulated sugar

¾

cup

light brown sugar

½

cup

apple juice (or apple cider)

1

tablespoon

lemon juice (from about ½ a lemon)

1

tablespoon

ground cinnamon

1

teaspoon

vanilla extract

¼

teaspoon

ground nutmeg

¼

teaspoon

ground cloves

¼

teaspoon

kosher salt
Instructions
Cut apples into eighths. Add them to the instant pot.

Add the rest of the ingredients to the pot. Gently stir to mix everything around.

Cover with the lid. Set the valve to the "sealing" position and pressure cook on high for 15 minutes.

Allow pressure to naturally release for 20 minutes, before turning the valve to the "venting" position and manually releasing any remaining pressure.

Using an immersion blender, carefully puree the apples until they're smooth.

Turn the instant pot to the slow cook setting, set to "more." Slow cook for about 2 hours, until thick or your desired consistency. Make sure to stir occasionally so the bottom doesn't burn.

You may also want to use a splatter guard or loosely cover with the lid to prevent the apples from splattering everywhere (just make sure steam can escape from the sides of the lid so the apple butter can become nice and thick).

Allow apple butter to cool completely before storing in an airtight container in the refrigerator. Serve apple butter slightly chilled, spread on toast, waffles, or crepes or added on top of ice cream.
Notes
I like the flavor of honeycrisp apples for this recipe. However, you can also use gala apples for a cheaper option.
I did not peel the apples. I felt it didn't make a difference in the final product, as long as you have a high-powered immersion blender or counter blender to blend up the apple skin. However, if you prefer, you can peel the apples before cooking for an even smoother texture.
Apple butter will thicken as it cools. When done slow cooking, make sure it can coat the back of a spoon. It will become a jam-like consistency once chilled in the refrigerator.
Apple butter can be kept in the fridge for 1 week or stored in the freezer up to 1 month, for best quality. If you'd like to can the apple butter to preserve for a longer period of time, follow this tutorial on A Beginner's Guide to Canning.
Nutrition
Calories:
339
kcal
|
Carbohydrates:
89
g
|
Protein:
1
g
|
Fat:
1
g
|
Saturated Fat:
1
g
|
Polyunsaturated Fat:
1
g
|
Monounsaturated Fat:
1
g
|
Sodium:
83
mg
|
Potassium:
415
mg
|
Fiber:
9
g
|
Sugar:
76
g
|
Vitamin A:
187
IU
|
Vitamin C:
17
mg
|
Calcium:
50
mg
|
Iron:
1
mg
Want to Save this Recipe? Pin it for Later!
Make sure to follow @yourhomemadehealthy for more delicious recipes!
Want more recipes like this delivered right to your inbox? Be sure to subscribe above and never miss a thing!