Change up your snacking routine with one of these Must Try Bliss Balls Recipes! I've rounded up some of the best, most delicious recipes from extra healthy protein balls to chocolate covered cookie dough bites. No matter your mood, you'll be able to find something to satisfy your taste buds!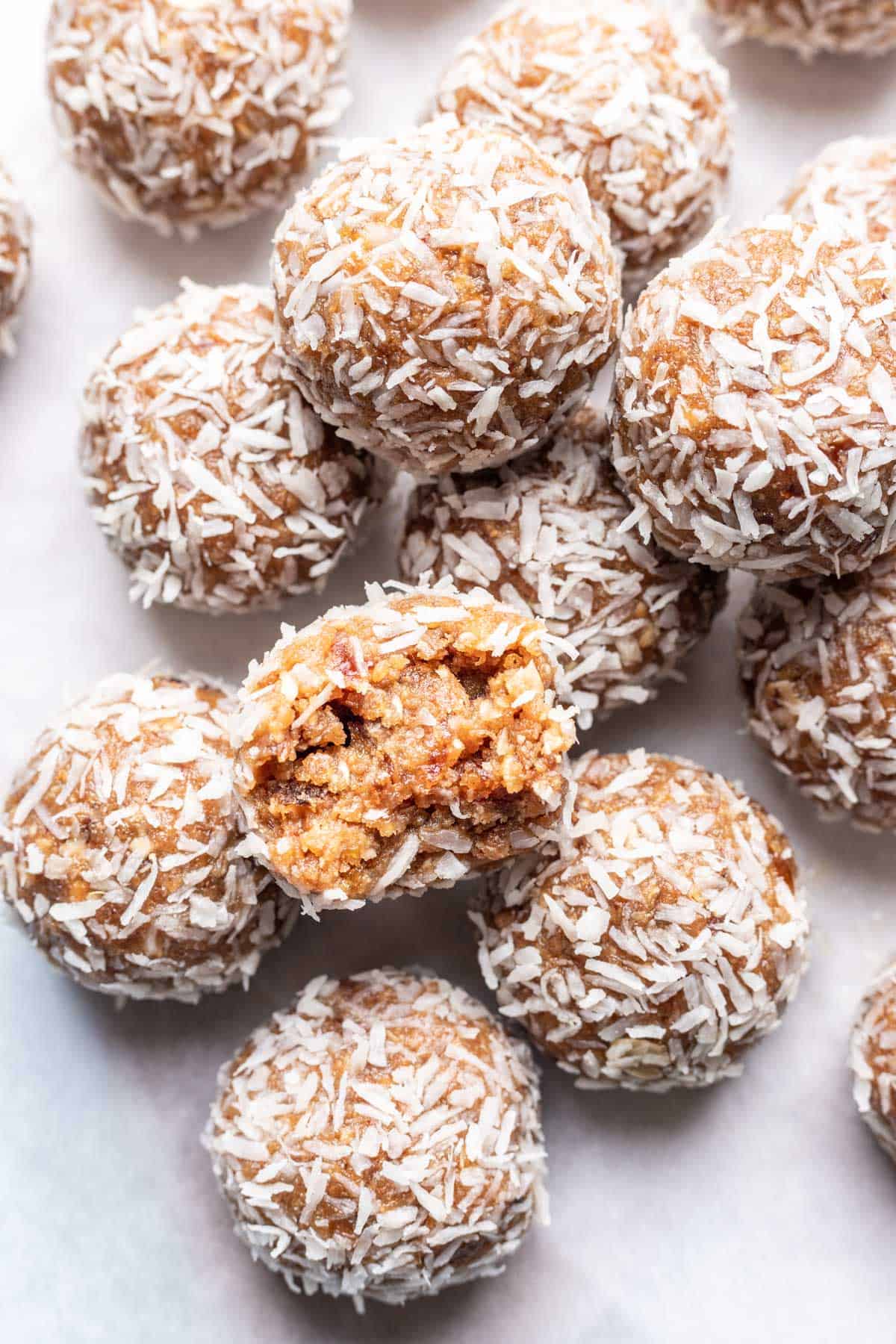 What are bliss balls?
Bliss balls are small, bite-sized balls made from a combination of nutrient-rich ingredients. They are typically raw or no-bake and require minimal preparation. Because of their size, simplicity, and energy boosting effect, they're a popular convenient snack or healthy dessert for busy days or snacking on the go.
🔍 FAQS
📖 RECIPES
Browse through these 21 bliss ball recipes that are suitable for breakfast, snacking, or even a healthy dessert. There's guaranteed to be something for everyone here - perfect for quick and easy meal prep!
1. Peanut Butter Bliss Balls
2. Lemon Bliss Balls
3. Chocolate Bliss Balls
4. Classic Date Balls
5. Apricot Bliss Balls
6. Easy Oatmeal Balls
7. Coconut Bliss Balls
8. Strawberry Bliss Balls
9. Pistachio Date Balls
10. Matcha Bliss Balls
11. Almond Pulp Energy Balls
12. Carrot Cake Energy Balls
13. Almond Butter Protein Balls
14. Golden Berry Turmeric Bliss Balls
15. Cherry Almond Date Bliss Balls
16. Brownie Batter Bliss Balls
17. Edible Cookie Dough Bites
18. Pecan Pie and Date Energy Balls
19. No-Bake Cashew Coconut Balls
20. Healthy Chocolate Hazelnut Truffles Recipe
21. Pumpkin Cookie Dough Bites
What Can I Serve Bliss Balls With?
Bliss balls are delicious served on their own as a light snack or on-the-go breakfast. If you're looking to make them a complete meal, serve them on top of a Strawberry Smoothie Bowl, alongside your favorite fresh fruit, or with your favorite breakfast proteins such as Instant Pot Bacon or Turkey Bacon.
More Healthy Snack Recipes To Try