Look no further for an epic holiday treat! This Holiday Rice Krispie Treats Dessert Board is perfect for your Christmas celebrations. It's made with all of my super simple homemade rice krispie treats and is guaranteed to impress a crowd. Get the recipes, along with my tips and tricks for creating the best spread for holiday parties, Christmas gatherings, and kid-friendly events down below!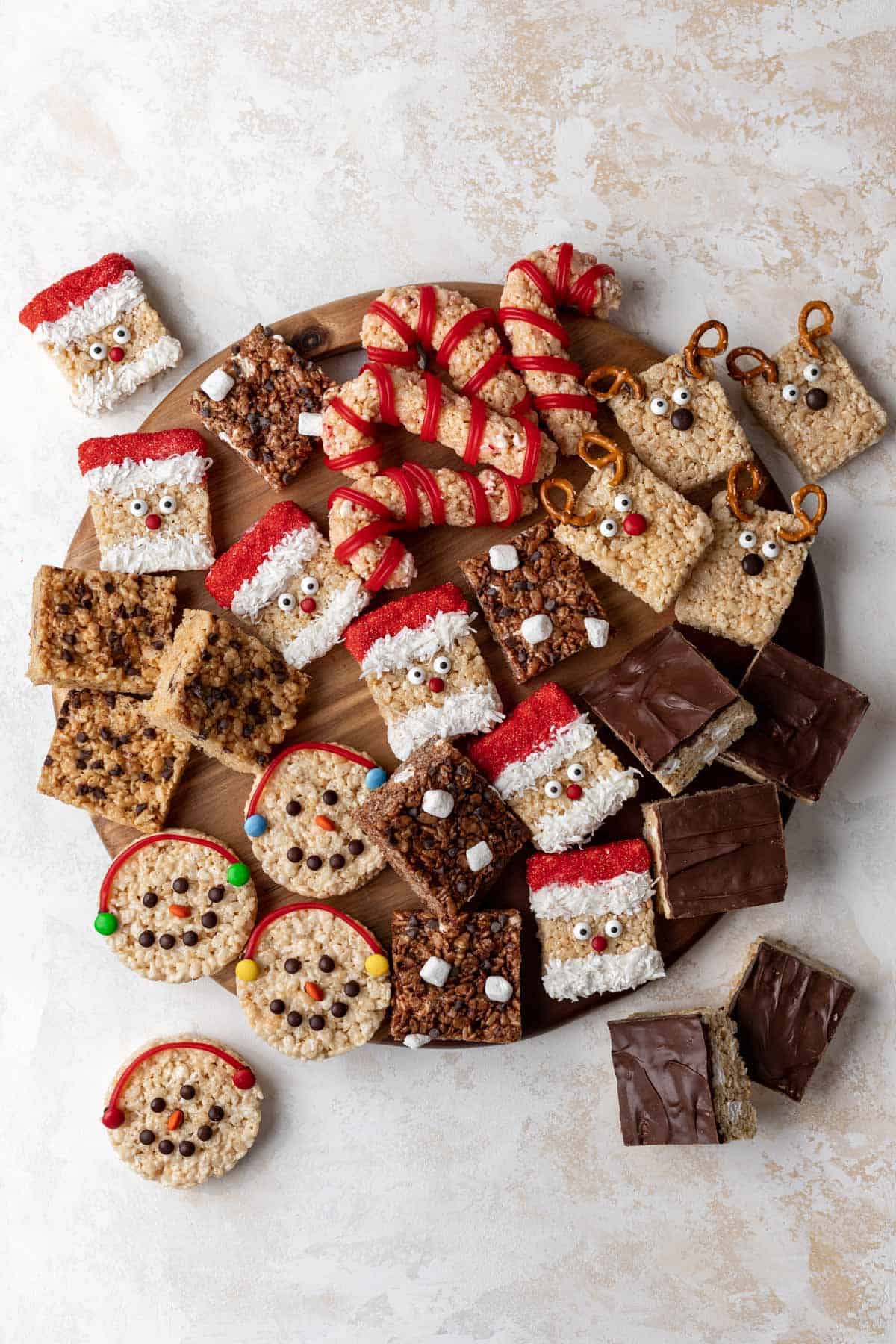 Jump to:
If you're like me, you love hosting family and friends around the winter holidays. Planning a cozy, festive gathering is one of the best parts of this time of year, and any good host gives extra attention to one detail...the food!
That's why today I am sharing my super simple, affordable, and delicious Holiday Rice Krispie Treat Dessert Board with you. Every rice krispie treat recipe is made with the same 5 base ingredients and are made from start to finish in 30 minutes or less.
They're even easy enough to get the kids involved! Just like these christmas pretzels! Have them help you prep by decorating each treat with chocolate candies, edible candy eyes, and candy ropes.
As an added bonus, almost every holiday treat is both make-ahead friendly and freezer friendly, meaning if your guests don't finish every treat, you can stick them in the freezer for later enjoyment. No waste!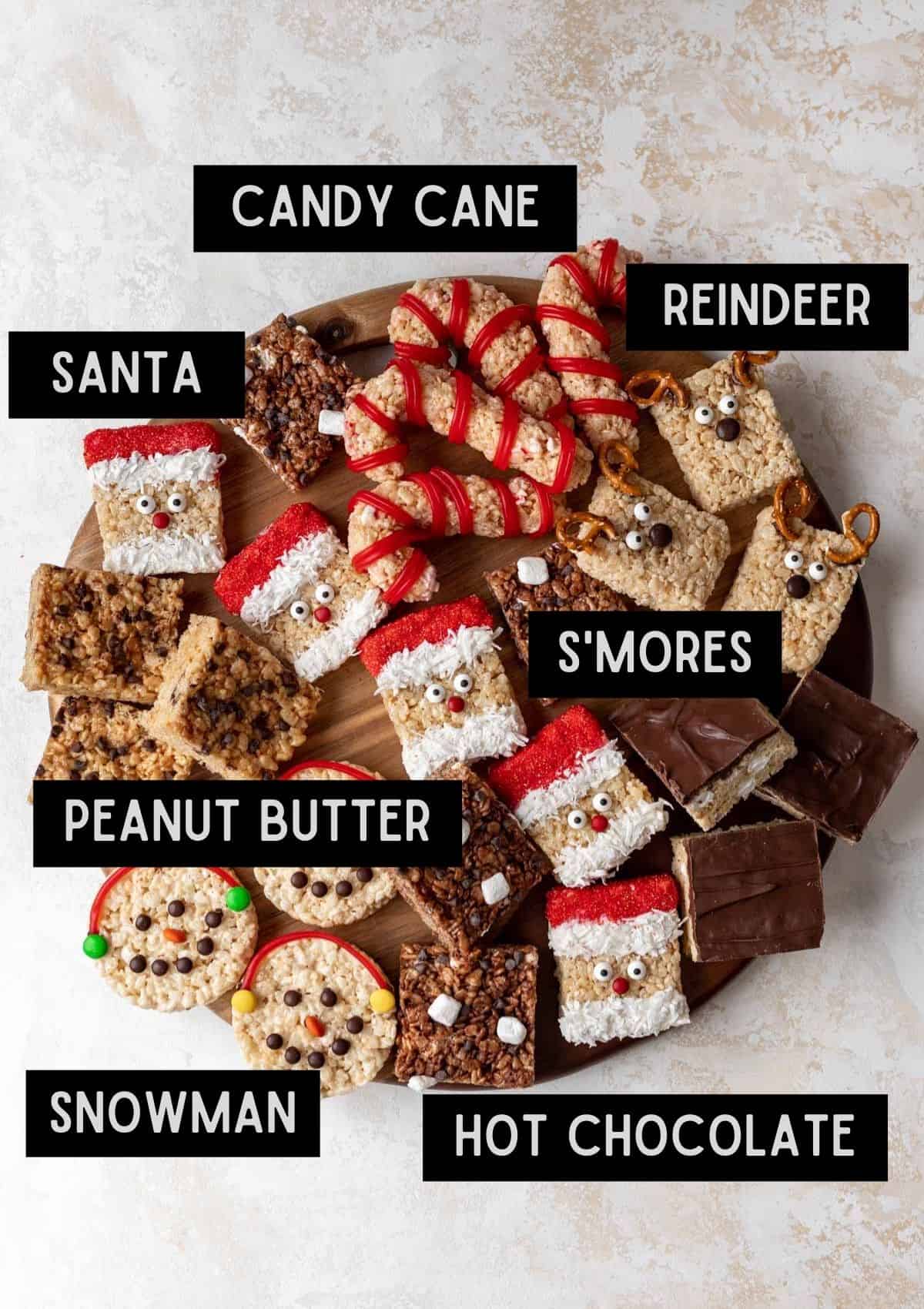 🎅🏼 Holiday Treats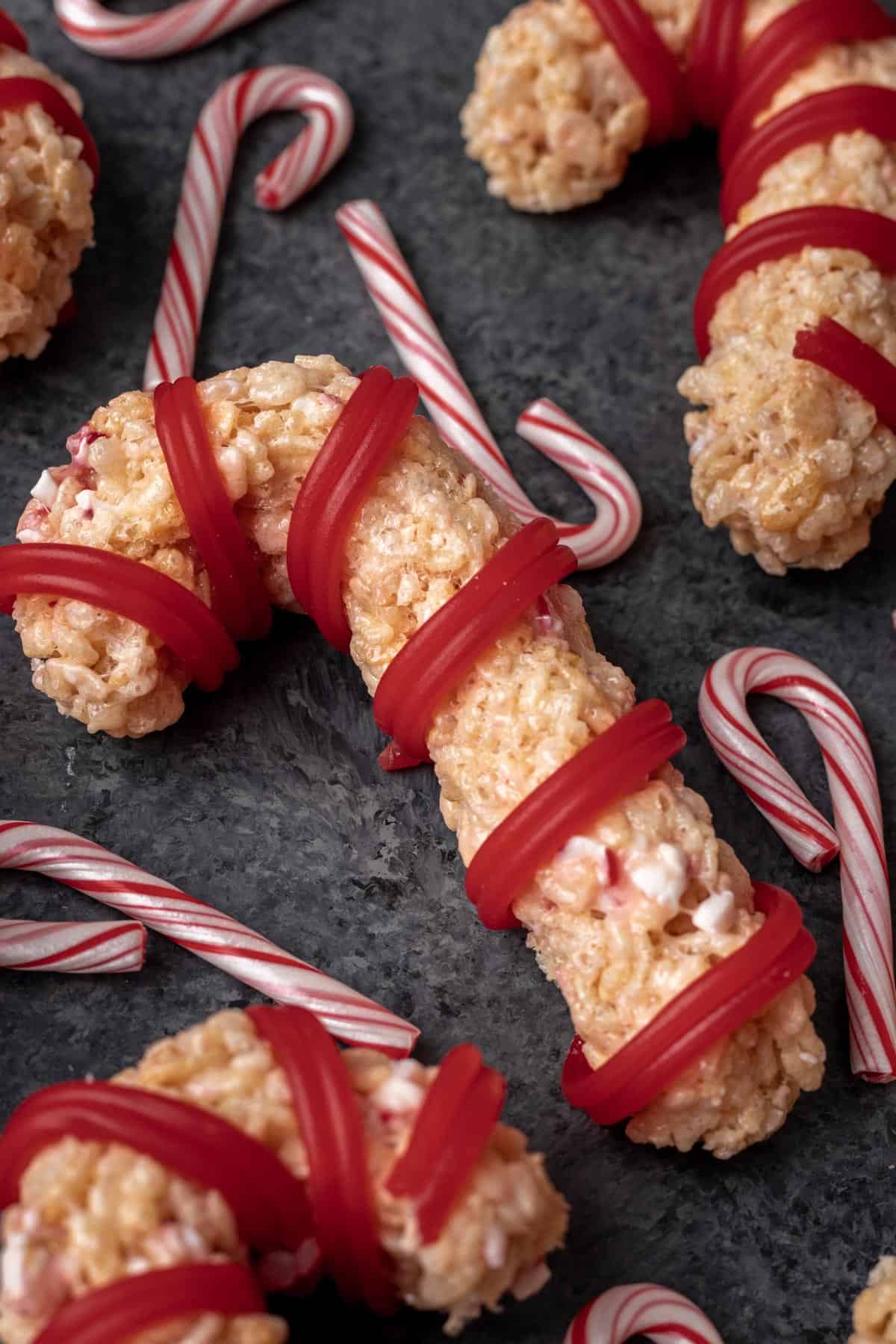 Peppermint Candy Cane Rice Krispie Treats
Candy cane shaped rice krispie treats filled with peppermint flavor and crushed candy canes. A festive treat for the holiday season!
Check out this recipe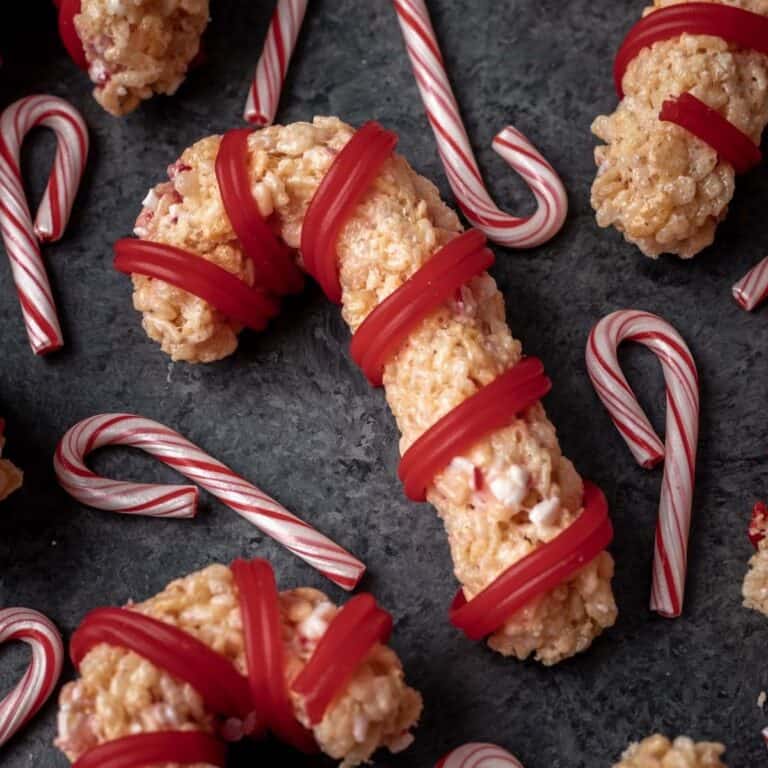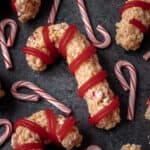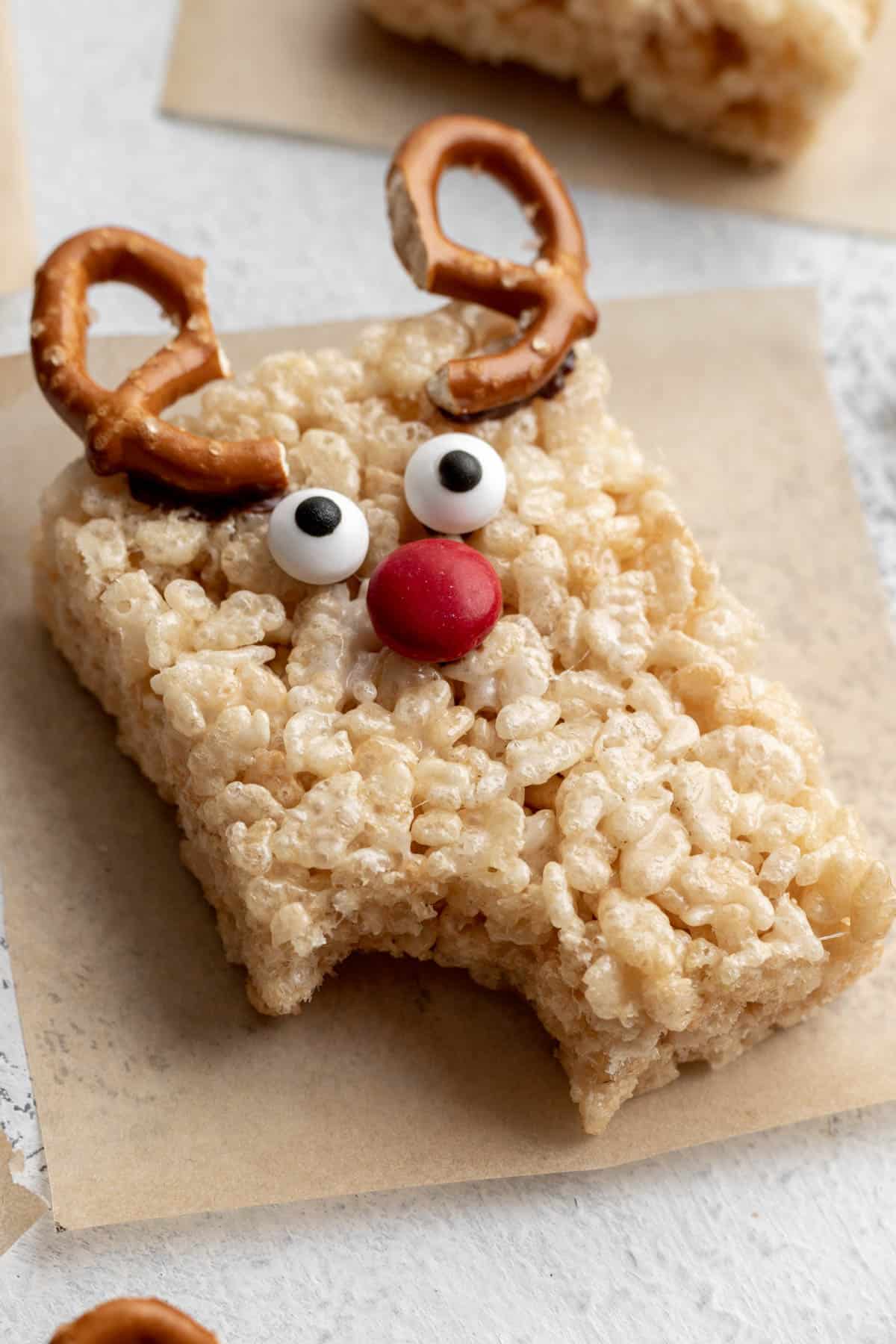 Reindeer Rice Krispie Treats
Soft and chewy rice krispie treats with festive reindeer decorations. The perfect Christmas activity for young helpers!
Check out this recipe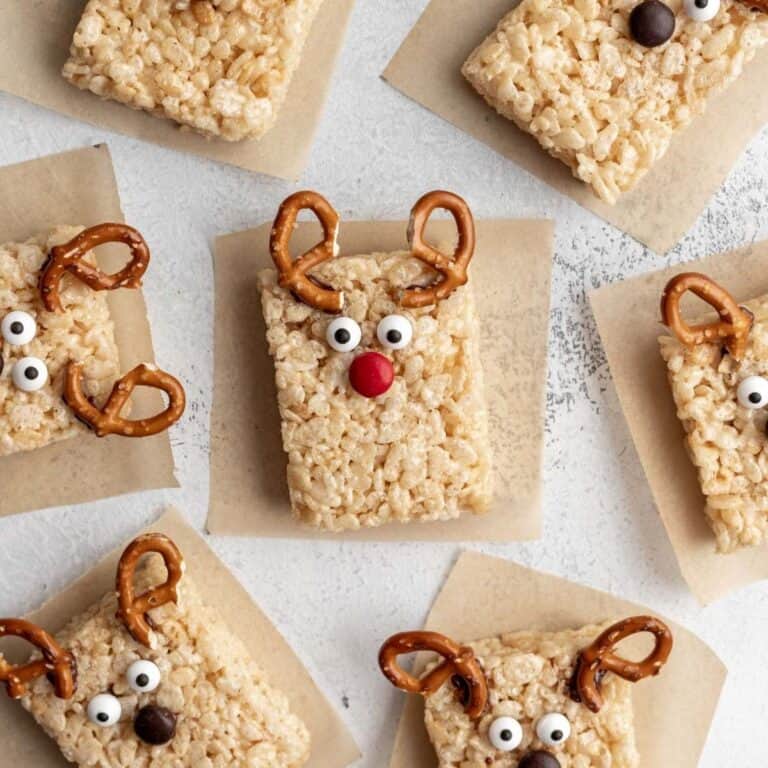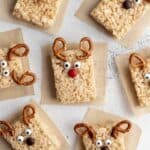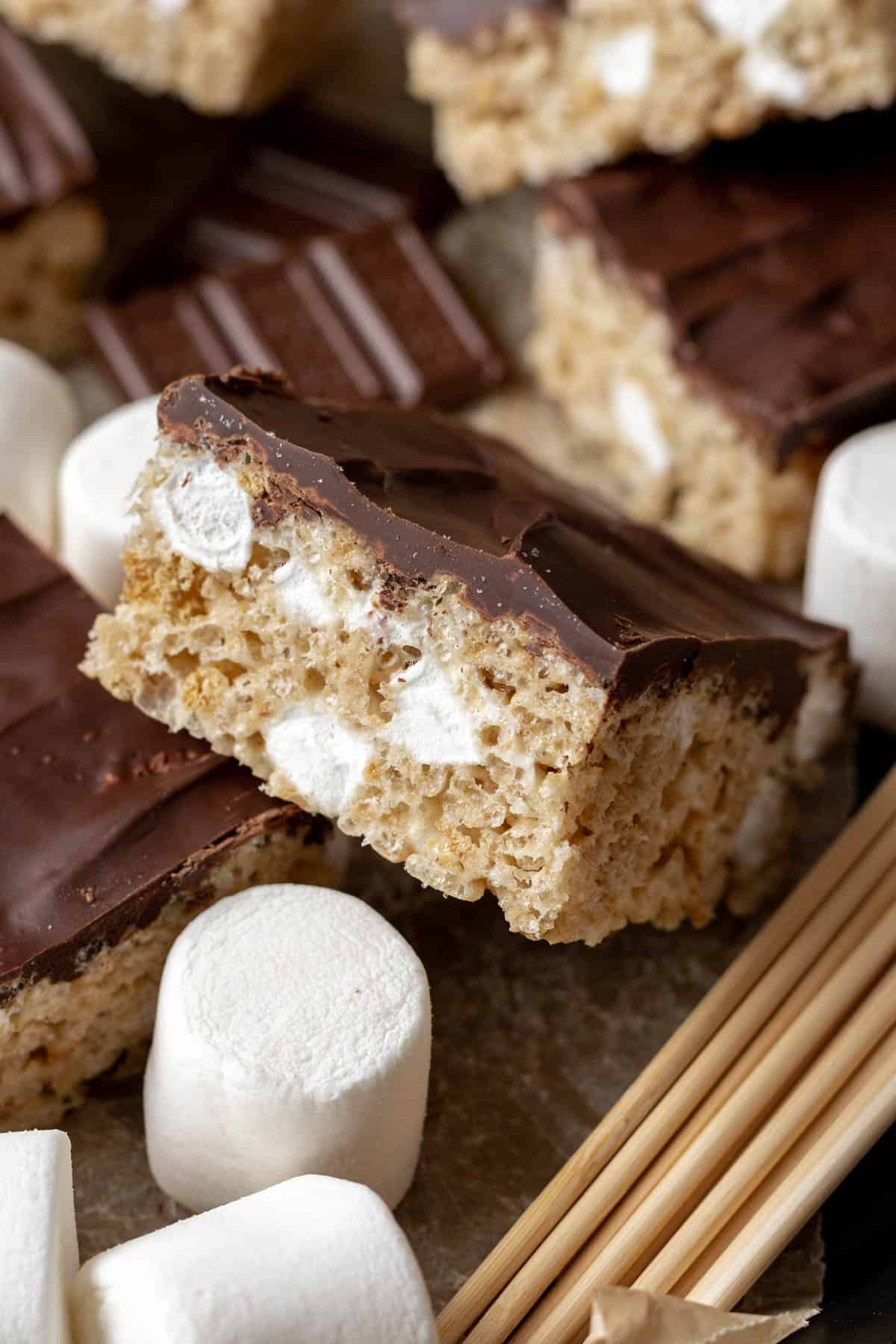 Chocolate Covered S'mores Rice Krispie Treats
S'mores rice krispie treats filled with marshmallows and graham cracker crumbs, then topped with melted chocolate. A delicious sweet treat perfect for any season!
Check out this recipe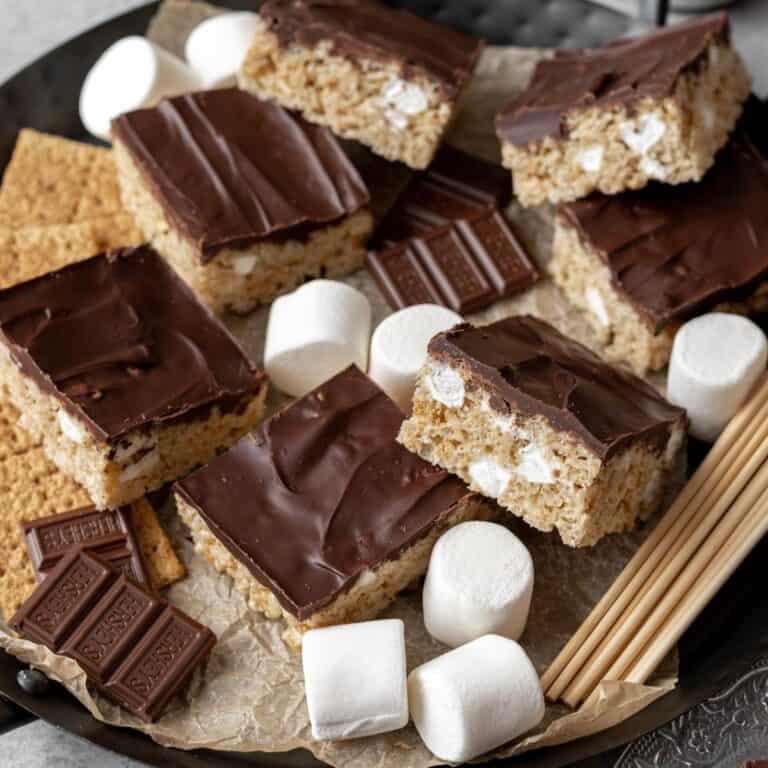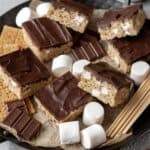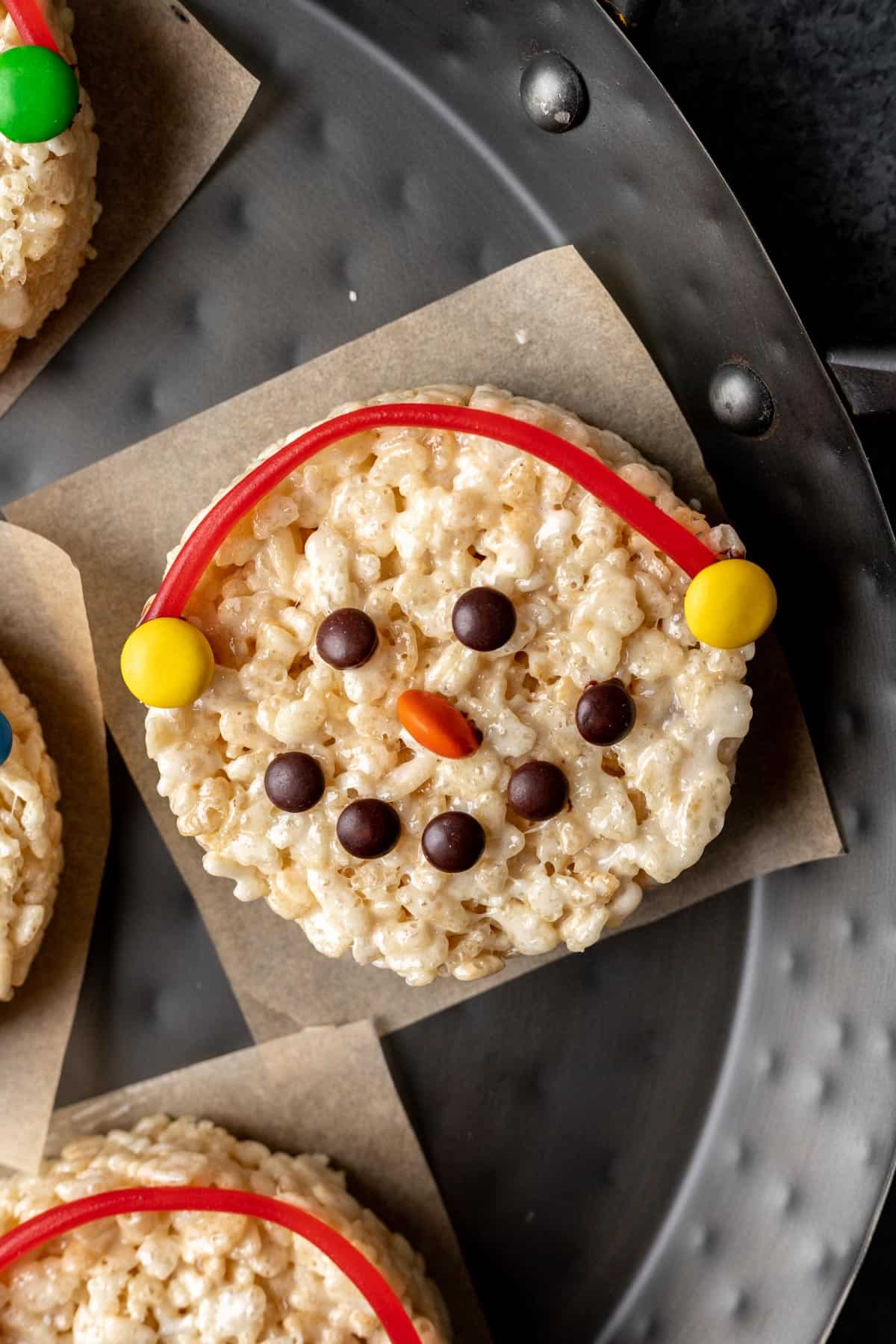 Snowman Rice Krispie Treats
Soft and chewy rice krispie treats with festive snowman decorations. The perfect winter activity for young helpers!
Check out this recipe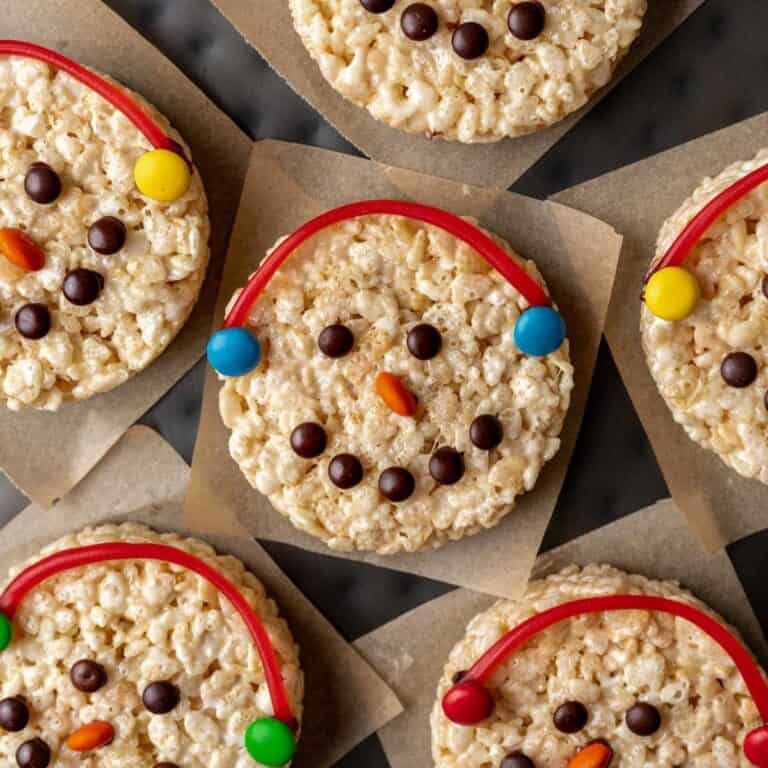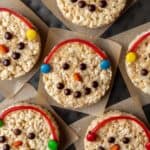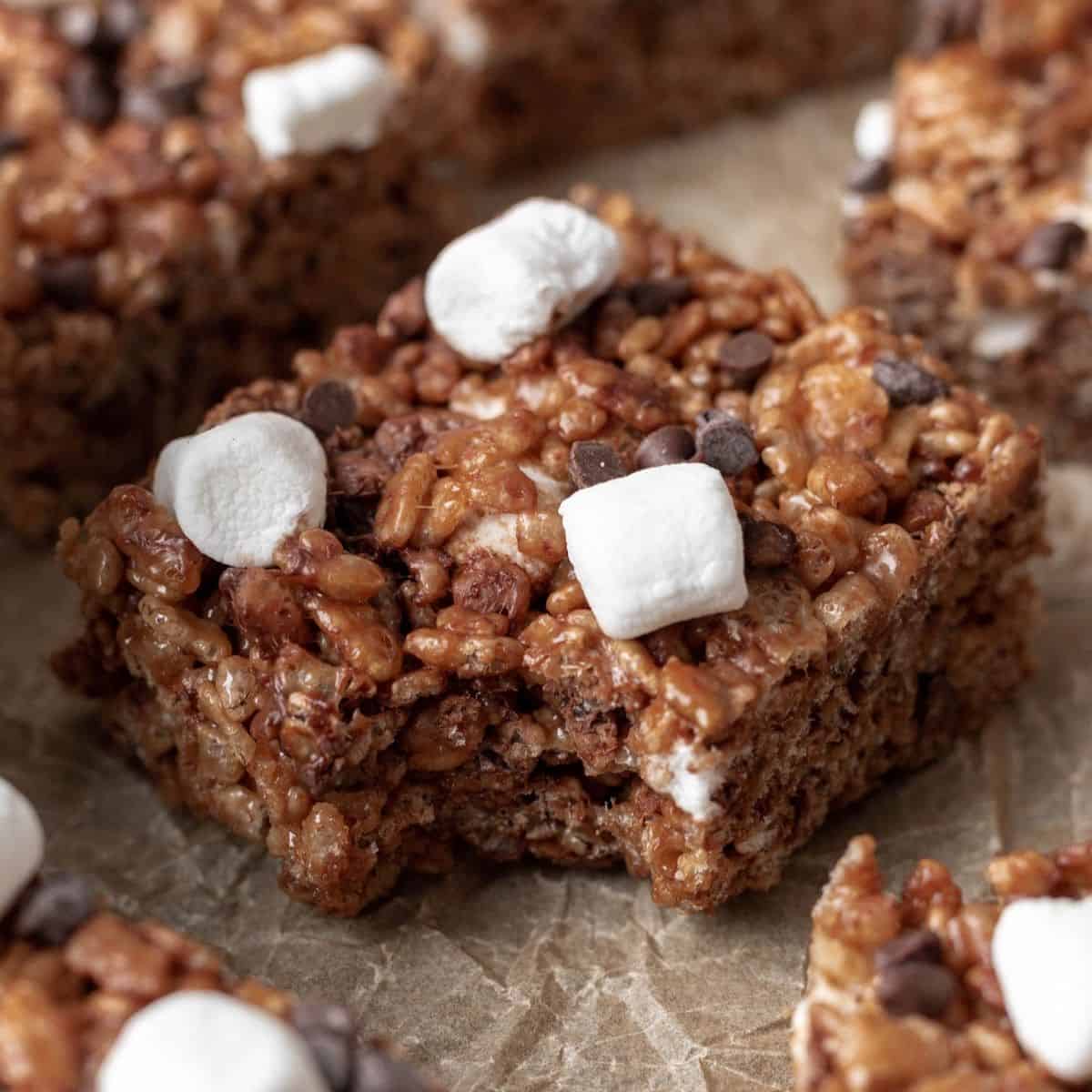 Hot Chocolate Rice Krispie Treats
Rich and chocolatey rice krispie treats filled with mini marshmallows and chocolate chips. A warm and comforting treat to pair with your favorite cup of hot cocoa!
Check out this recipe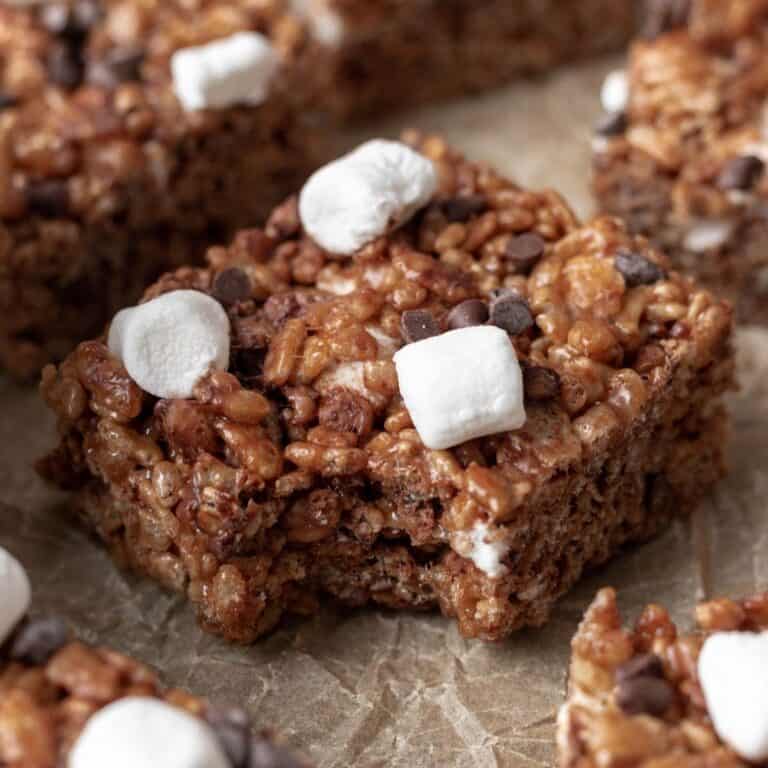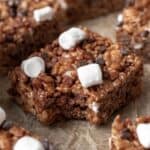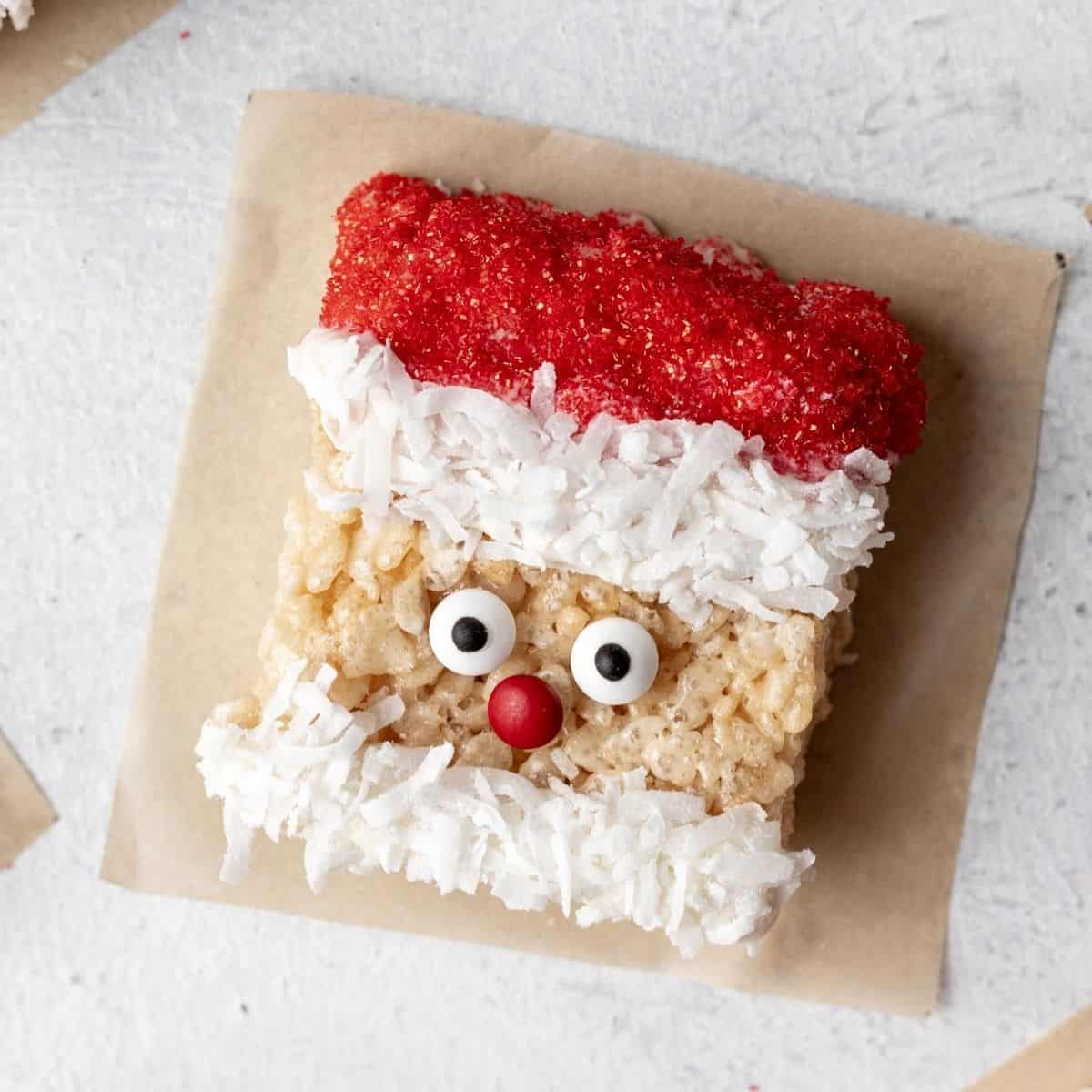 Santa Rice Krispie Treats
Soft and chewy rice krispie treats decorated as Santa Claus. The perfect Christmas treat for all ages!
Check out this recipe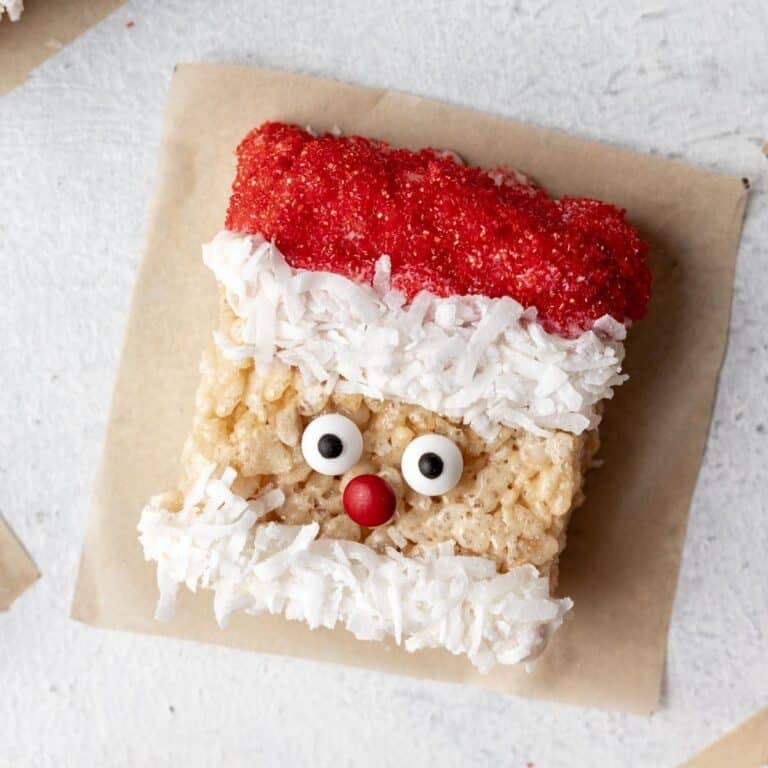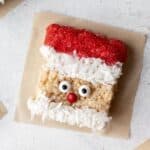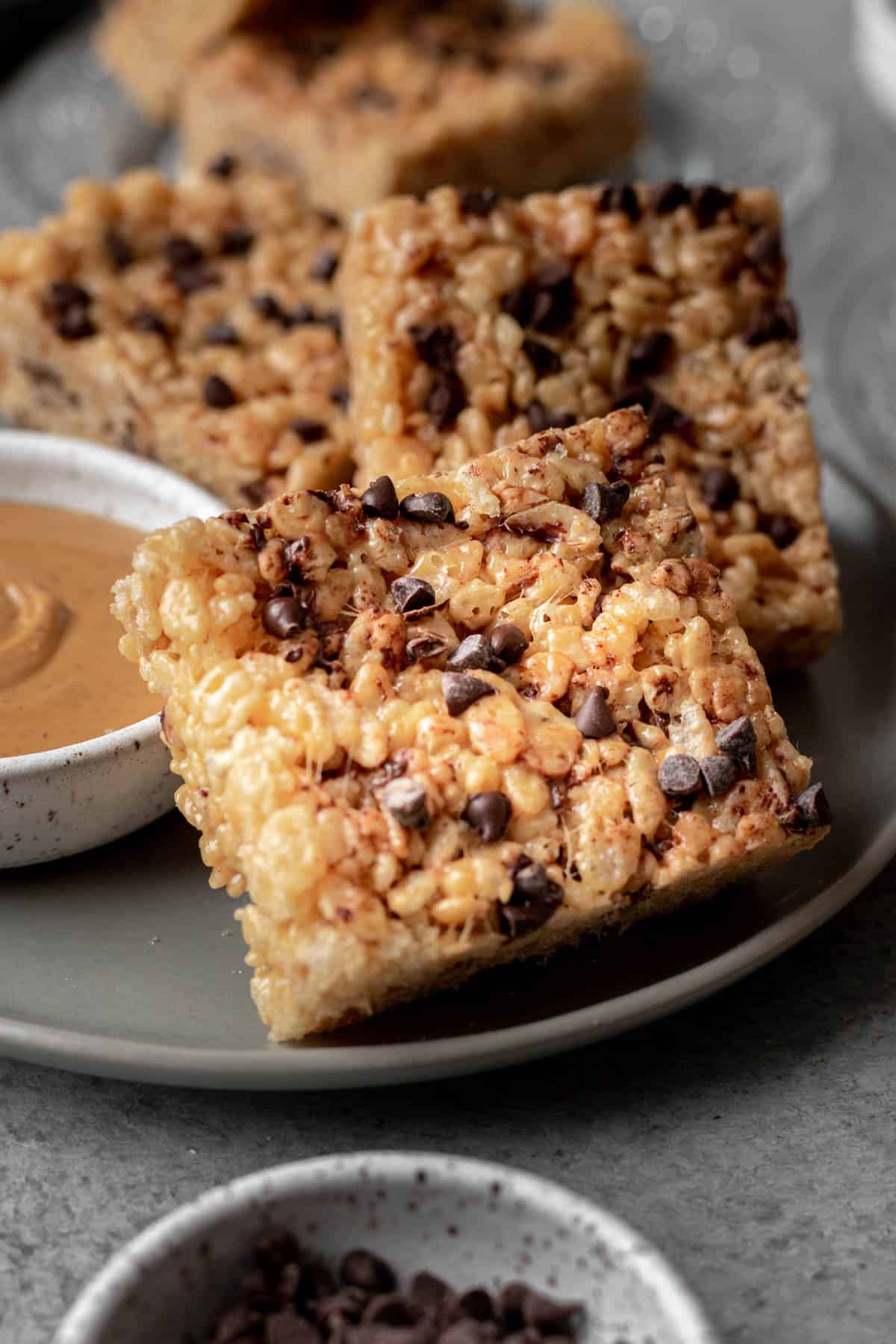 Peanut Butter Chocolate Chip Rice Krispie Treats
Peanut butter rice krispie treats filled with mini chocolate chips and plenty of delicious peanut flavor!
Check out this recipe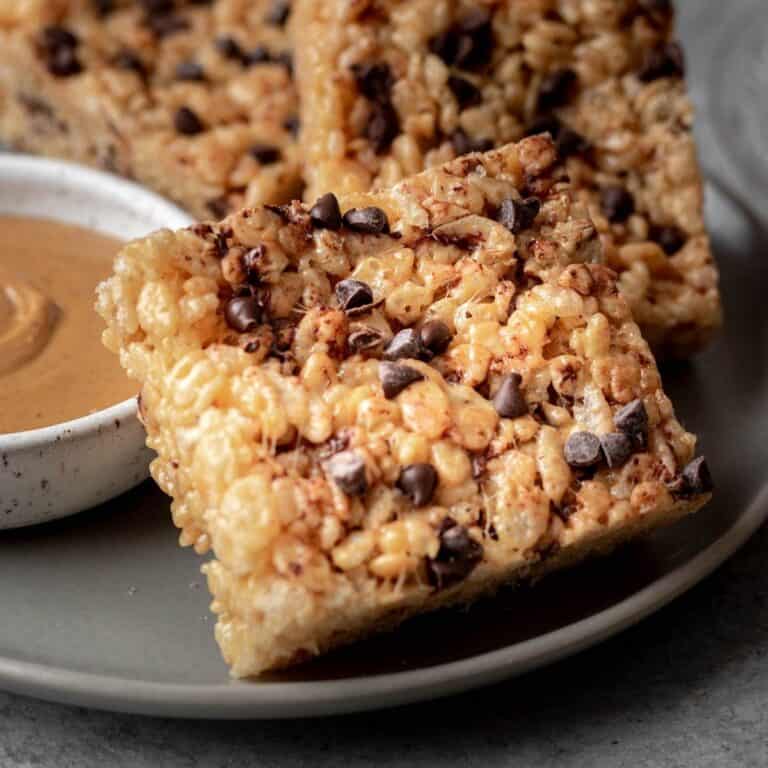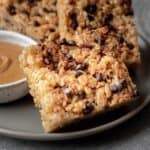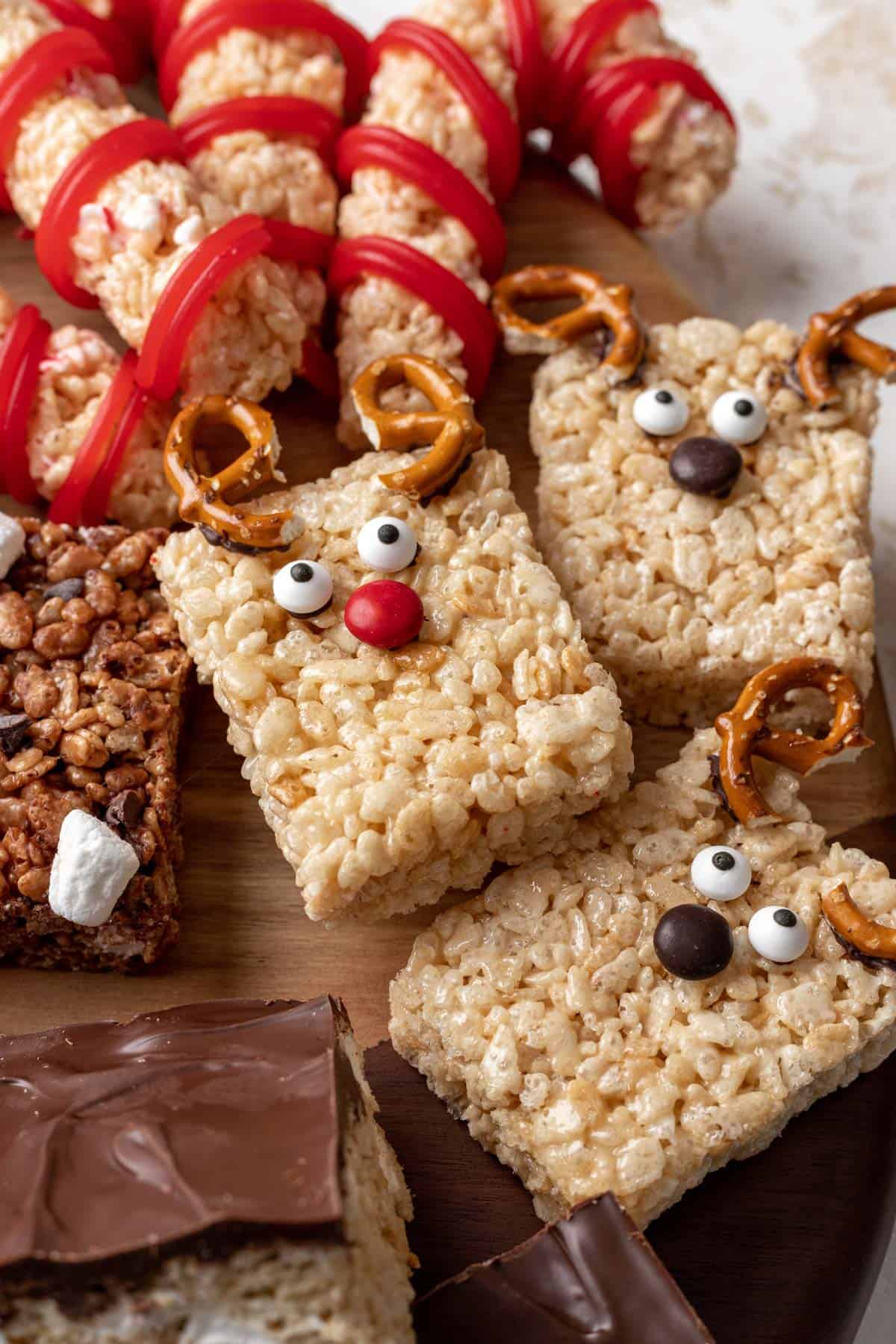 ❄️ How to Store
To store: For optimal, long lasting results, store your treats at room temperature in an airtight container for up to 5 days. Refrigeration is not recommended as this will harden the marshmallows and alter the texture of your treats.

When serving for guests, I'd recommend making them no more than 24 hours in advance to ensure they are as soft and chewy as possible.
To freeze: All holiday treats (with the exception of the Candy Cane Rice Krispie treats) freeze well for up to 6 months in a freezer-safe zip top bag. Be sure to allow them to fully thaw on the counter for about 15 minutes before enjoying.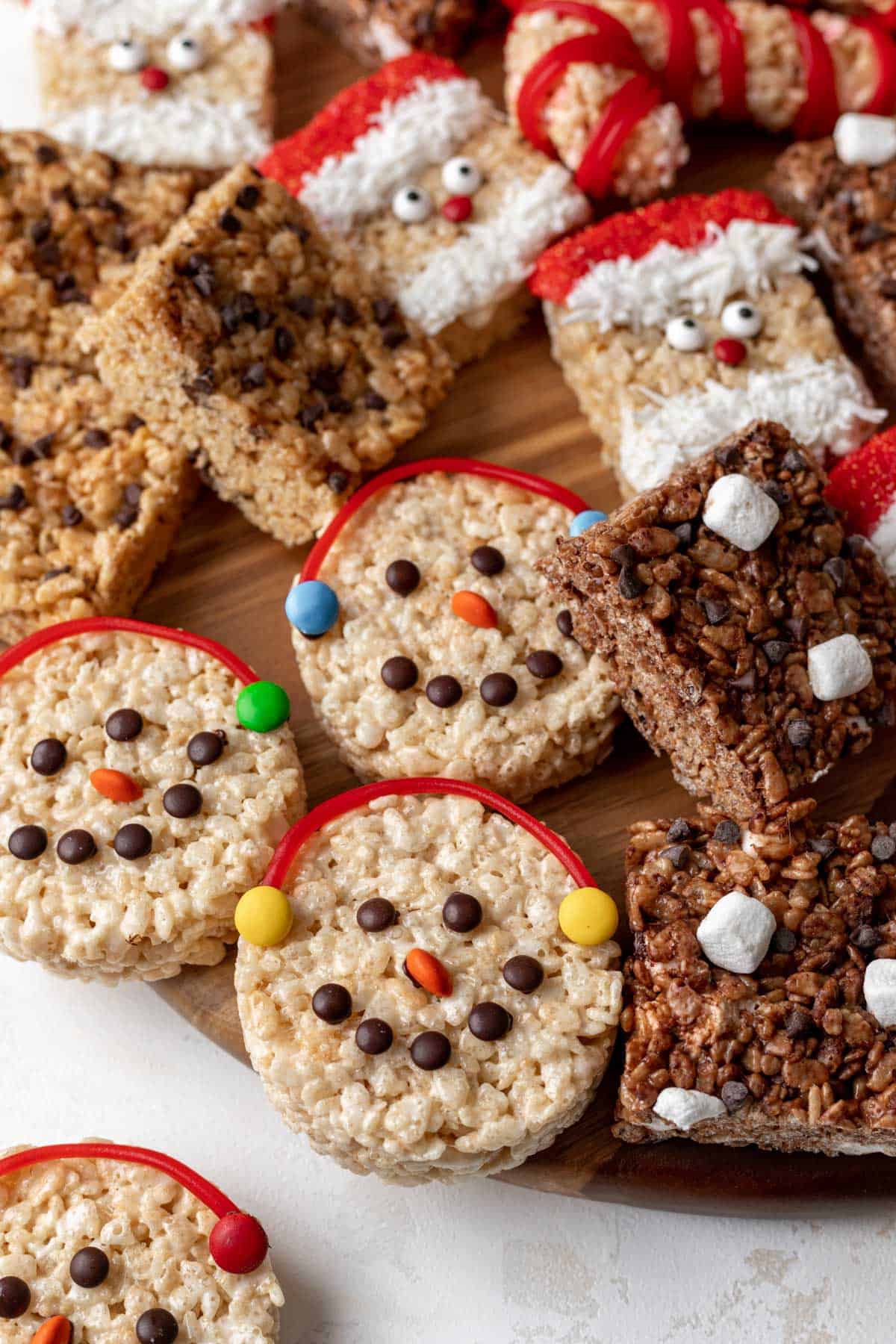 📋 How to Assemble a Dessert Board
Make as many holiday rice krispie treats as you'd like. A mix of all the different kinds is best for a variety of flavors, shapes, and textures.
Once they're made, start to assemble them on a large board, tabletop, or serving dish. It's usually easier to add larger items first before adding smaller snacks to fill any gaps.
Start by grouping similar treats together in sections on the board. Then, fill in any empty spaces throughout with additional treats. You can also use other holiday candies and snacks to fill in any holes.
The boards always look best when they are full, have tons of bright color, and an array of shapes, sizes, and flavors.
Other treats may include: candy canes, chocolates, caramels, popcorn, cookies, marshmallows, pretzels, and fresh fruit.
💭 A few tips for easier prep
Use a 5+ quart pot and make a double batch of the "base" of the rice krispie treats. Then spread half of the mixture in a 9x13 pan and reserve half in the pot. Decorate half of the treats in the 9x13 pan as Reindeer and half as Santa! Then, with the remaining rice krispie treats in the pot, form them into rounds to decorate as the Snowmen.
Making a double batch of the "base" will also use up three (10 ounce) bags of mini marshmallows, so you'll have no wasted marshmallows leftover!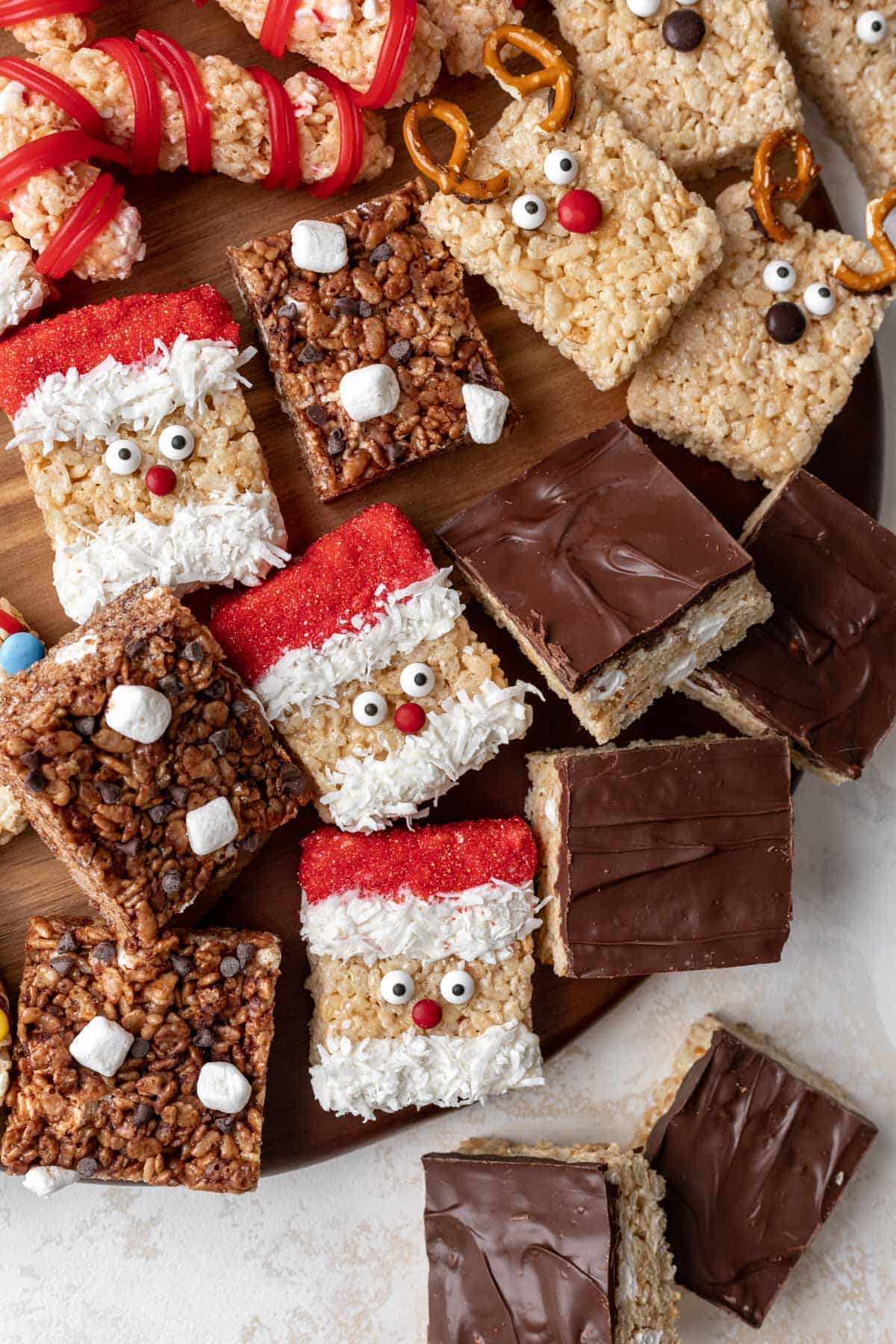 Share your cooking with me! If you make this recipe, I'd love to know! Tag @yourhomemadehealthy on Instagram or leave a comment with a rating and some feedback at the bottom of this page!
🍴 More Holiday Hosting Recipes You'll Love
Want more recipes like this delivered right to your inbox? Be sure to subscribe above and never miss a thing!